Since marketing fosters development and growth, it is a crucial component of the SaaS industry's expanding network.
The needs and qualities of SaaS services differ from those of tangible things. Hence SaaS enterprises are unable to employ conventional marketing tactics. SaaS companies confront a specific set of marketing issues, so you'll need a specialized toolkit to get over these obstacles and accomplish your objectives.
Software firms have a long, challenging customer journey to optimize, from converting existing users into paying subscribers, fine-tuning your sales funnel, and keeping users to maximize lifetime value.
The good news is that most marketing tasks that will assist you in achieving these objectives may be partially or completely automated with the correct technologies. 'In this article, we will tell you about 10 new-age content marketing tools which can help SaaS businesses level up their marketing strategies and grow like never before. But before, here is why marketing is more important for SaaS companies.
How Content Marketing Helps SaaS Businesses To Grow?
Convenience is one of the most alluring benefits SaaS consumers experience. They have the option of setting their subscription to renew automatically or upon button click. To purchase software, there is no need to visit a store or shop online. It is an ongoing client relationship.
Therefore, these brands require a marketing plan that fosters that relationship. Helpful content includes information on what the service may provide potential clients. Additionally, blog entries, videos, and other forms of material that help current clients maximize their SaaS investment are effective strategies for fostering repeat business and recommendations.
Content marketing is inexpensive for small- to medium-sized SaaS businesses and can increase revenue more than conventional marketing techniques.
DemandMetric claims that compared to advertising and other marketing tactics, it costs 62 percent less and generates three times as many leads.
Prospects can better understand the value your service can add to their lives or businesses by reading informative articles. With content that highlights the benefits of working with them, SaaS services can set themselves apart from their rivals.
Importance of SaaS Content Marketing Tools
There are a few factors that make marketing tools necessary for SaaS firms.
They support client segmentation, which is the primary benefit. SaaS companies must first pinpoint their target audience before creating marketing messages that resonate with them. By offering features like consumer segmentation and persona creation, marketing tools can aid with this.
The ability of marketing tools to automate routine work is the second justification. For instance, when a customer hasn't utilized the product in a while, automatic emails can be sent to them. This gives the startup team more time to work on other projects.
The ability of marketing tools to aid in lead generation is the third justification. SaaS firms need to create leads in order to develop their business. And SaaS content marketing tools can easily help with these thanks to the features like lead capture forms and lead tracking.
11 Best New-Age Content Marketing Tools SaaS Companies Need
1. Video Ask
In the SaaS sector, Video Ask has just recently started, and experts are applauding it for its high-quality leads. The solution can be utilized at various points in your marketing funnel, from cold outreach to the customer acquisition stage (and even later). Engagement rates grow because both parties must leave videos on each other's response platforms.
A SaaS firm called Video Ask is aiming to dominate the market by offering higher quality leads than ever. They achieve this through their creative SaaS marketing approach and high-caliber service offerings for businesses, all of which are supported by actual outcomes from professionals who have used them themselves.
With the help of this software, your company can have individual interactions at scale!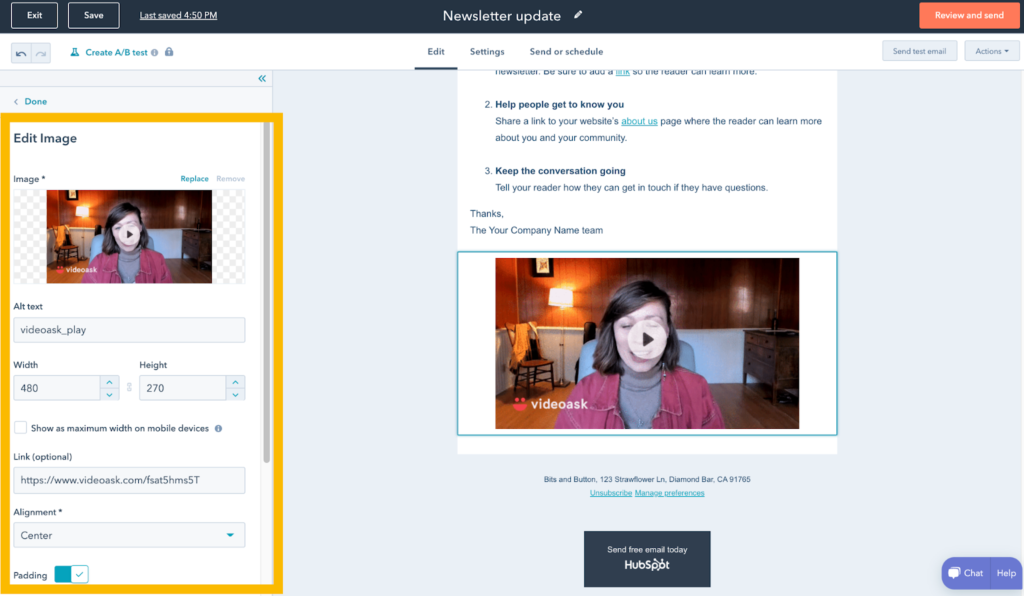 2. Visme
Businesses may create, modify, and share presentations, infographics, films, charts, and more using the straightforward and user-friendly visual content production platform known as Visme. Visme is an example of a DIY strategy that enables people to make branded visual material on their own, even if they lack creative expertise. It is a useful tool for organizations to reduce expenses and make marketing and data presentations simpler.
Charts, infographics, films, and other interactive visual material may be easily created using a drag-and-drop interface.
Visme also has animation tools that can be used to produce even more visually appealing designs. A large collection of templates makes visual design simple for everyone, not just designers. Fantastic collaboration options include Slack integrations, commenting possibilities, and more. Alternatively to Visme you can also choose to use a graphic maker to design banners, social media posts in a few minutes online.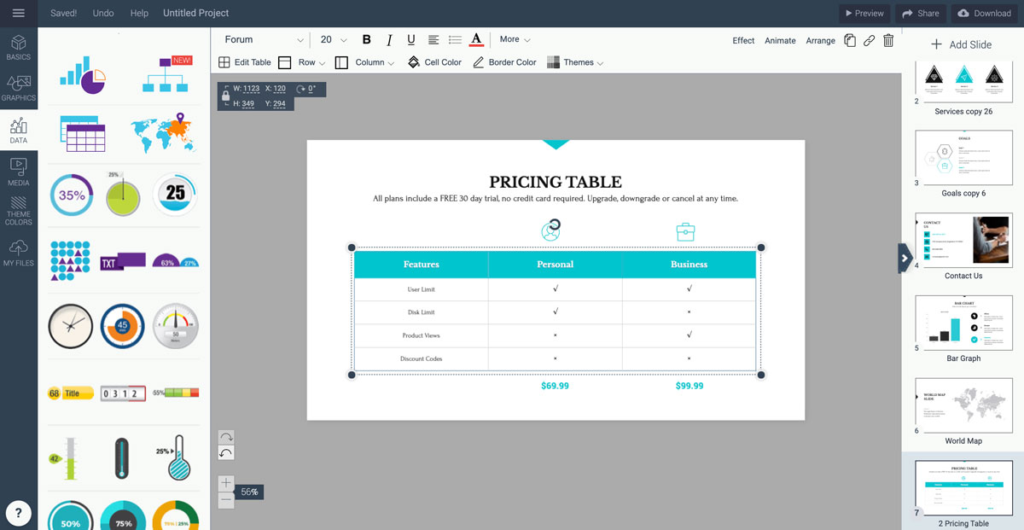 3. EasySendy Pro
EasySendy Pro is an email marketing platform for digital marketing teams. It integrates with multiple email delivery API relay service providers and enables delivery of email campaigns to a list of opt-in emails.
You can split test email deliveries across the relay servers, do email list cleaning, email warmup and check reports, track email clicks, and open each email campaign. It also has smart autoresponder and email list segmentation.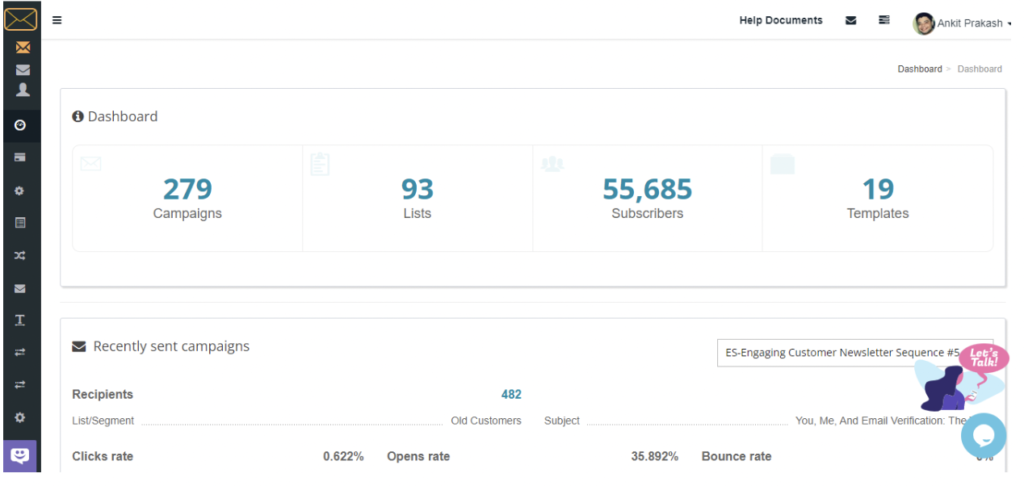 4. SE Ranking
In order for potential clients to locate your page and know about your SaaS solution, you must first make absolutely sure that your website is well-optimized for search engines. Your marketing strategy needs a search engine optimization (SEO) tool to be successful.
The SEO software from SE Ranking provides a wide range of tools for companies of all sizes and business models in addition to some unique but crucial extra capabilities like page change tracking. With its 100 percent accurate rank checker, SE Ranking is renowned for keeping track of keyword rankings for desktop and mobile devices, including YouTube and Google Maps.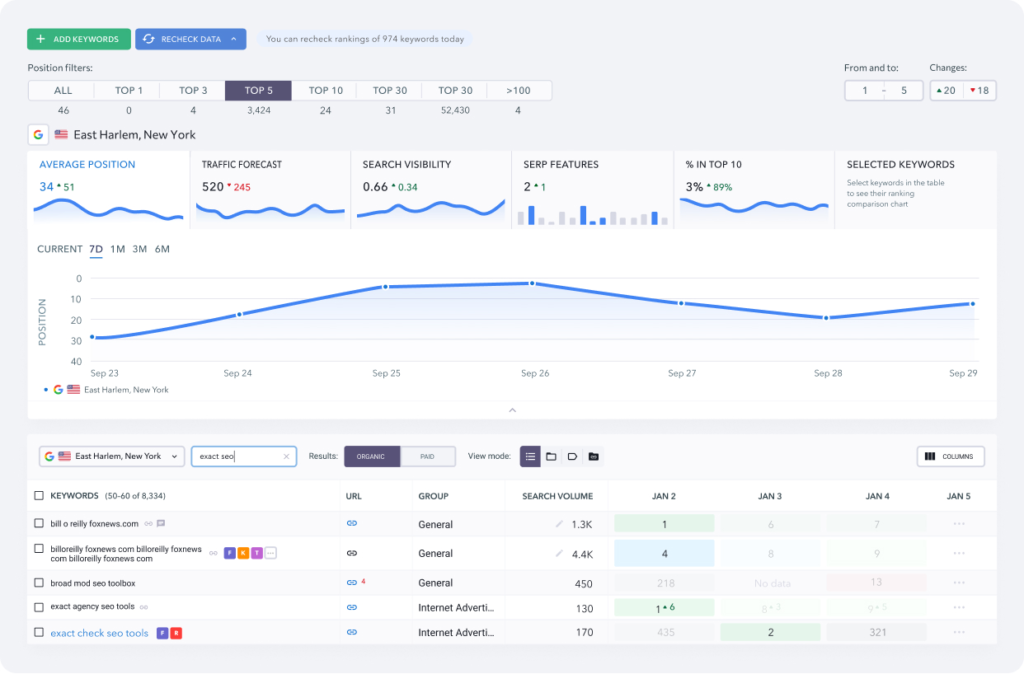 5. Buzzsumo
BuzzSumo is a terrific tool for researching the most popular keywords and content on social media and for topical or domain-specific content analysis. Buzzsumo can assist you in gathering references for your content if you don't have the resources to create a lot of shareable material. These insights can assist you in revising your sharing strategies and producing new material that is appropriate for particular social media platforms.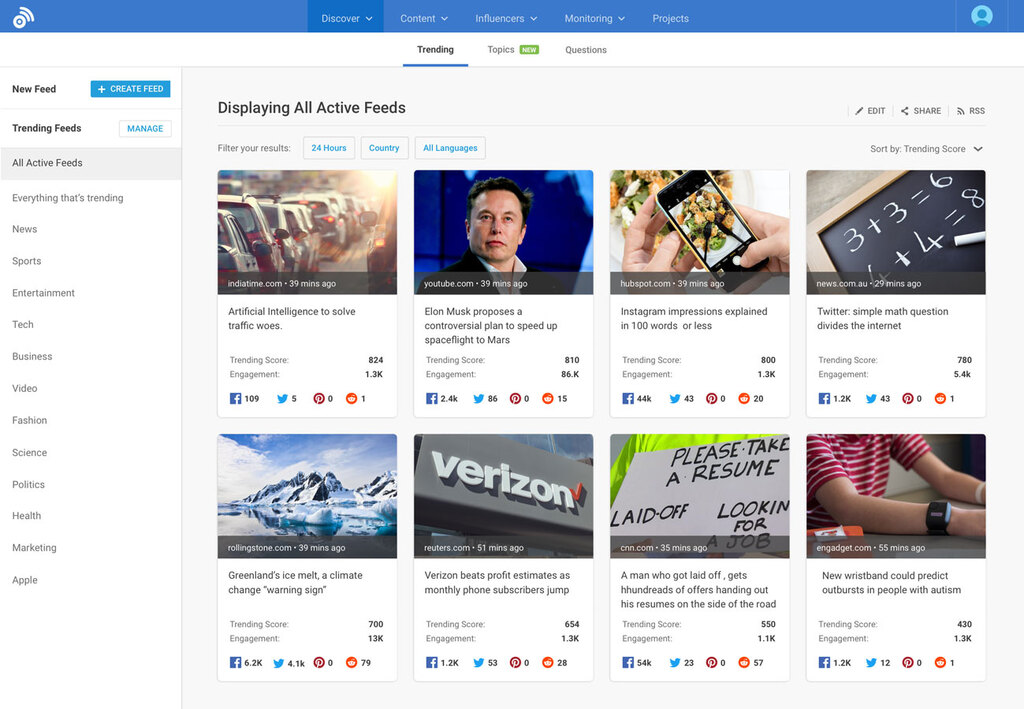 6. Google Analytics
For your website, Google Analytics tracks a variety of traffic indicators, assesses performance (such as page load speed and mobile responsiveness), and presents audience insights.
Installing Google Analytics is a terrific method to compare and dig further into traffic metrics, visitor classification, and geography segmentation, even if you already use another traffic analytics service.
These indicators assist you in deciding what material to produce more of, which referral sources to prioritize, and which sites to update ( such as, if they have a high bounce rate).
One of the best ways to monitor the activity on your website is through Google Analytics. Without doing any additional work, you can easily keep track of just how many customers are streaming in, where they might be coming from, or even why.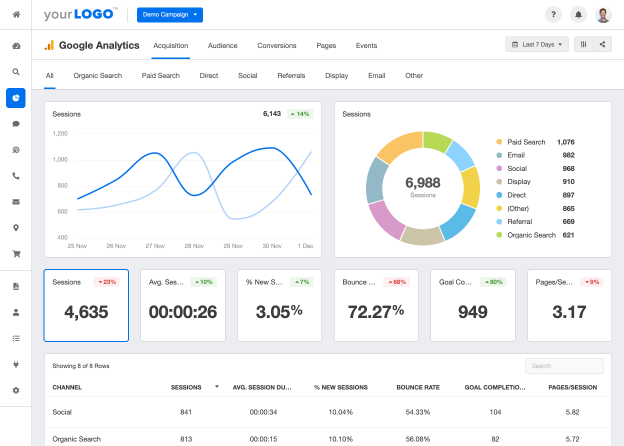 7. SendX
Use SendX, an easy-to-use and reasonably priced email marketing tool, to automate tasks and get free email templates to launch newsletters or email campaigns. Designing, planning, and tracking your marketing emails are good places to start.
If you don't have an email list, what then?
SendX offers you the ideal solution to enable you to create your email list from scratch. You may do this by creating inline forms and email popup forms, then tracking conversion rates.
They also offer you a variety of reports, such as the Heatmap report (a summary of which CTAs are effective) and bespoke reports for evaluating the success of your email campaigns, to help you evaluate the efficacy of your campaigns and approach.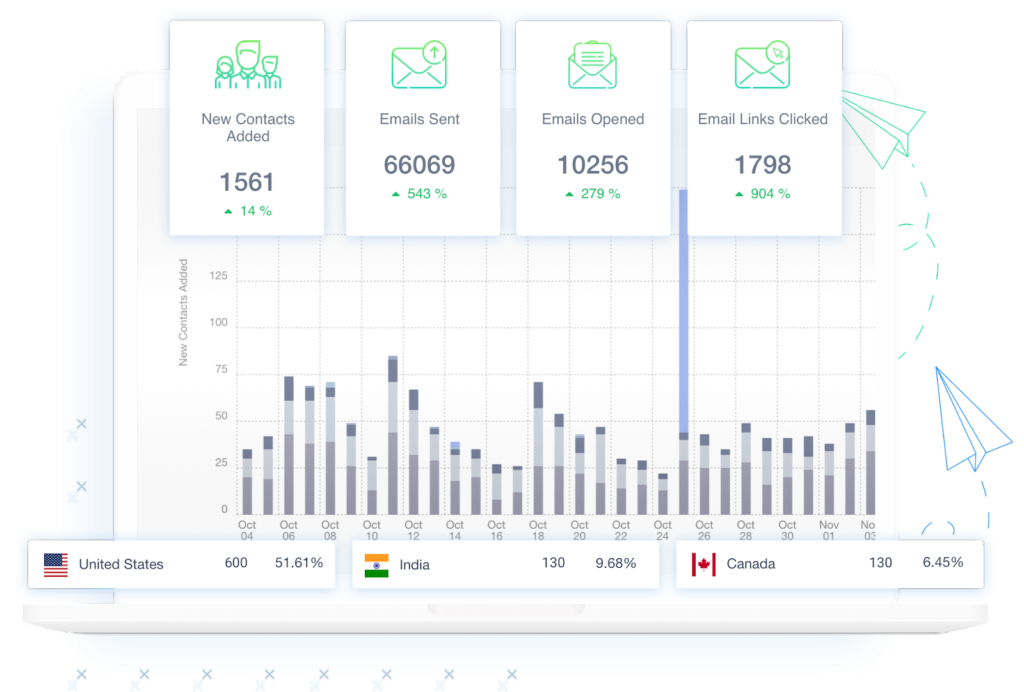 8. Clearbit 
A B2B data activation platform called Clearbit uses real-time marketing insight to help businesses expand more quickly. It gives you the ability to manage campaigns, create leads, and manage website traffic. This provides you with a thorough picture of your business, marketing plan, and clients.
The Clearbit Enrichment function uses automated routing to examine each incoming lead. It helps you to create automatic lead generation routing systems based on geographies and other factors. In other words, Clearbit automates tedious, time-consuming tasks that would otherwise require manual labor.
Clearbit gives you the ability to comprehend the fundamentals of personal features, including email addresses, direct dialing, job titles, roles, and seniority through its Enrichment, Forms, Prospector, and Advertising solutions. This enables you to make more precisely targeted marketing plans by guiding your plans based on the qualities of your audience.
With Clearbit, you can complete everything on a single platform, saving time, effort, and money. This allows you to strategize using your data and control them effortlessly.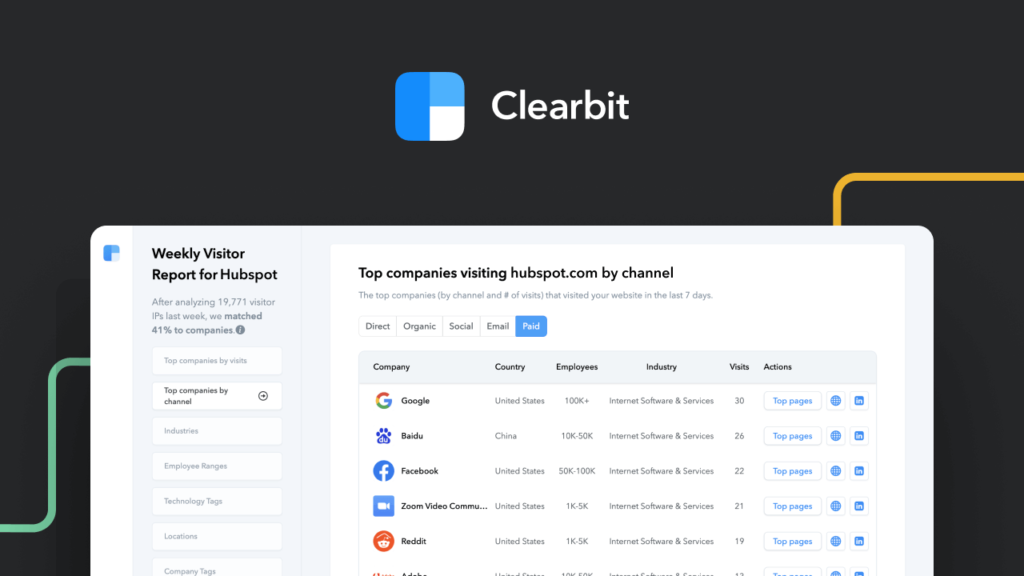 9. Intercom
With the help of the web-based messaging platform Intercom, you can communicate with your customers via a variety of channels in order to inform, nurture, onboard, or engage them. With the help of the Smart Campaigns feature, it is possible to modify the communication delivered to consumers in response to their website usage, thus reducing the amount of human effort.
The maker of analytics software Moz used not one, but five channels of communication before switching to Intercom. As Moz staff struggled to gain a 360-degree perspective of the client and spoke in unison in every communication, this was obviously detrimental to the customer experience.
Moz was finally able to provide consistent and tailored engagement with clients via email, in-app messages, and chat after replacing the outdated solutions with Intercom, which allowed for significant time savings and a smooth user experience.
10. Crowdfire
Do you wish it were simpler to locate content for your company's social media channels? You are wasting a lot of time looking for the appropriate material, even though you are aware that it would help your business expand. You can find the correct stuff with Crowdfire.
The result: Crowdfire will find articles for you based on a list of themes you specify. Even RSS feeds from channels with content you want to see can be added. Posting and scheduling are simple on the Crowdfire platform. The queue meter informs you if your timelines require additional content for the coming week.
Crowdfire's image recommendations, which are curated photographs that you can share on social media, are its highlight feature.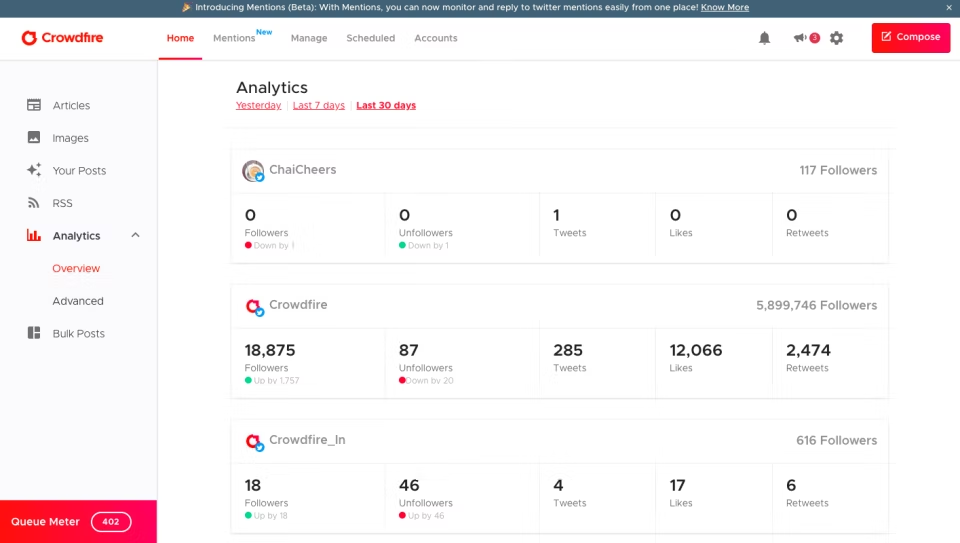 11. Buffer 
While social media is fantastic, tracking every like, mention, and tag might make you really like to yell. Buffer seeks to rectify all of that.
What you will get: You can plan and manage every post on social media throughout your accounts on a single platform. So that you can concentrate on content, detailed statistics indicate how well your articles are working with your audience.
The ability to save and organize all of your hashtags is a standout feature of Hashtag Planner.
12. Hunter
If you plan to boost your content's visibility through increasing SERP positions, then it is time to start working on link building. Before jumping into link building, ensure your content answers user intent and provides information that no other competitors write about. Once you provide readers with helpful content, it is time to build some powerful backlinks using cold email outreach.
That's where Hunter comes in handy. Hunter is a complete solution for effective cold email outreach. Powerful features such as Email Finder and Email Verifier make finding and verifying email addresses of potential prospects effortless, ensuring that your emails won't bounce or end up in a spam folder. Furthermore, Hunter Campaigns allows you to create personalized email sequences, automate follow-ups, adjust sending window and frequency, and analyze and track the campaign performance.
Bottom Line
The ten most significant marketing tools for software and SaaS companies are examined in this article. This article does not contain any ambiguous product descriptions or general recommendations. These marketing solutions are specifically designed to meet the distinctive marketing difficulties SaaS companies encounter during a convoluted customer lifecycle that is linked with product development and customer loyalty.

Author Bio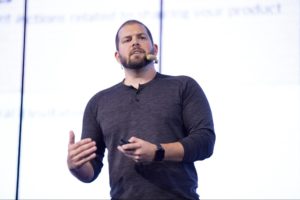 PRmention is a digital PR agency for startups & SaaS businesses. Occasionally, we accept high quality contributed content and we'd love to hear any ideas you may have. Feel free to email us on guestcolumn@prmention.com if you are interested in contributing.