By now, everyone knows how the entire world has dramatically changed, thanks to the ongoing pandemic – unless you're someone who's been living under a rock. 
Virtual meetings and appointments are no longer uncommon. More and more people are now shopping online from the comfort of their home. Gen Z'ers are killing time recording Insta stories and performing the latest TikTok challenges.
What does this mean for the marketing industry? Well, let's just say, things are about to go digital from this point forward.
To stay on top of your competition in 2021, be sure to follow these digital marketing trends:
Artificial Intelligence
If you haven't noticed, we are now living in the age of artificial intelligence. 
Jan Gilg, the President of SAP S/4HANA, predicts that the AI trend will continue to progress. "In 2021, companies will continue to leverage data and intelligent technologies we will continue to see companies leverage data and intelligent technologies to realize smart, data-driven insights that they have never had access to before without a large-scale implementation," he says.
Infor's Vice President of Product Management, Rick Rider, emphasizes on the vital role artificial intelligence plays in HR. He suggests that organizations will need to leverage AI in order to find the right candidate for the job. AI will help HR departments "determine a candidate's cultural fit by using data to measure the quality of a hire."
Scott Prevost, Adobe Sensei's VP, believes that artificial intelligence is evolving from "being another technology in one's arsenal to a virtual co-pilot for businesses." He expects these AI-assisted companies to achieve their goals faster and make consumer workflows more convenient.  
Judging by these predictions, there's no doubt that AI will be at the heart of global industry in the future. Then again, it has already taken over some of the simplest jobs!
One such example is the Knightscope K5 robot. Microsoft and Uber use these bots to patrol their parking lots and outdoor areas for possible crime. They can report suspicious activity, read license plates, and collect information to report to their owners.
And, guess what? You can have these R2-D2-like bots protecting your territory for only $7 an hour – a price that's actually less expensive than a human guard's wage.
How's this for a personal bodyguard?
More than nine in ten leading businesses have an ongoing investment in AI, according to a 2020 survey conducted by NewVantage. Most of these companies come from the financial services sector. Other participants include top firms like Google and General Motors, as well as healthcare companies such as CVS Health and Pfizer. 
So, why are organizations adopting artificial intelligence technology into their business? Here's a simple chart to answer the question.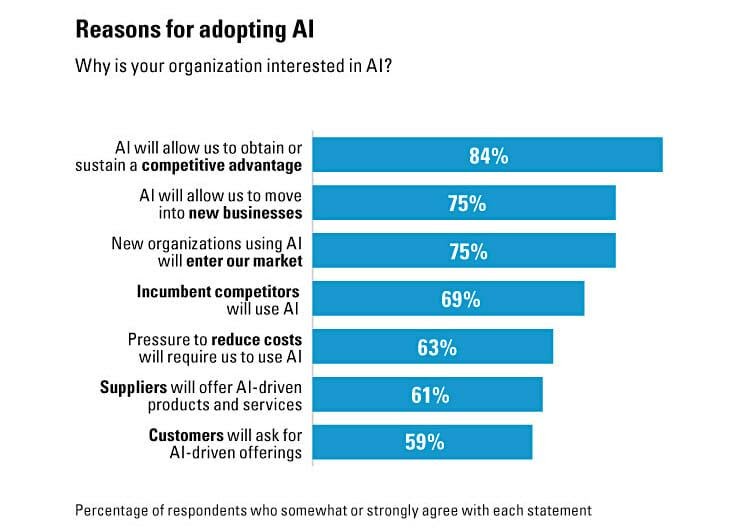 Additionally, AI helps businesses understand how consumers find their products and services by analyzing their behavior and search patterns. The technology obtains data from social media platforms and blog posts. 
AI-powered technology can assist businesses in comprehending how consumers search for their products and services by analyzing their browsing habits and search patterns. By collecting data from social media platforms and blog posts, AI can provide valuable insights into consumer behavior. This is where AI-powered search comes into play, offering businesses a more accurate and efficient way to understand consumer search patterns.
Currently, we're seeing artificial intelligence implemented in various areas such as email personalization, basic communication, e-commerce transactions, content creation, and product recommendations. From here on out, we can only expect it to go nowhere but up.
Programmatic Advertising
Another digital marketing trend to watch out for in 2021 is programmatic advertising. To put it simply, it refers to the automated buying and selling of online advertising. 
Real-time bidding (RTB) is a good example of programmatic advertising. It's faster and way more efficient, which leads to higher conversions and lower customer acquisition costs. With RTB, ad buyers no longer need to work directly with publishers or ad networks to negotiate ad prices. 
The future looks bright for programmatic ad buying. 
Researchers at eMarketer predict that US digital display advertisers will invest $81 billion in programmatic advertising by 2021. Zenith is forecasting that 72% of digital media will be programmatic by the end of the year. Indeed, the numbers speak for themselves.
How does programmatic advertising really work? This step-by-step illustration should be able to tell you.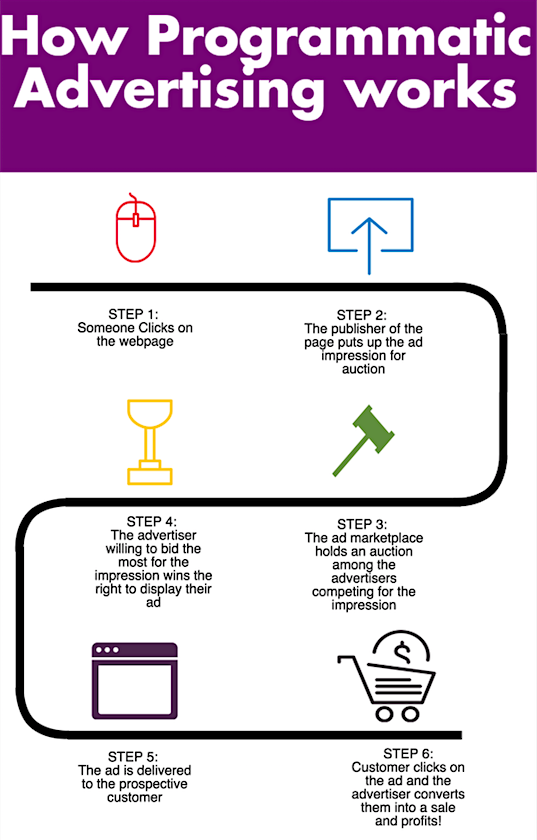 Now that you have a clear understanding of this digital marketing trend, let's talk about its benefits. 
An effective way to promote your business.

Thanks to real-time measurement, you can track your campaign and make adjustments whenever and wherever needed. 

Better control and transparency.

Unlike in traditional marketing, this technology offers an added layer of privacy. With this incredible feature, you can monitor how your advertisement reaches customers, and whether you're targeting the right demographics or not.  

Greater targeting capabilities.

Programmatic technology has increased flexibility, which means advertisers can reach their ideal consumers for any goal. Examples of this targeting are IP targeting, geolocation targeting, contextual keyword, and so on.

Better audience reach.

There are over 3 billion people on the web at any given time, and by using the right approach, you can target a huge chunk of this audience. As soon as you post an ad, you'll be able to see the amount of views, who looked at it, and where they're from.
Chatbots
Chatbots have become an innovative solution for many industries today – marketing, healthcare, real estate, you name it. 
Even before the COVID era, the chatbot industry was already growing rapidly. Fast forward to now, brands all over the world are counting on chatbots to increase sales, recommend products, provide customer support 24/7, and so much more. 
The chatbot industry is expected to boom by almost 35% from 2018 to 2024, and that is based on a report by Mordor Intelligence.
Customers are also enjoying what chatbots have to offer. Not like their human counterparts, these literal virtual assistants can respond promptly to inquiries, recall one's entire buying history accurately, and provide clear and concise answers. Oh, and did we mention that they never run out of patience?
For digital marketers like you, here are ways chatbots can make your life easier:
Proactive customer interaction.

Not one company has enough manpower to communicate with all of their customers periodically, and this is where chatbots come to the rescue. Chatbots are available 24/7 and they can tackle just about any issue customers are concerned about. 

Straightforward services.

A well-optimized chatbot never overwhelms its customers, as it only provides all the essential information one needs to know.

Consumer data monitoring.

With the feedback your chatbot collects through simple questions, you can make improvements on your products or services. They can also track purchasing patterns and consumer behaviors. 

Easier approach to global businesses.

Whether you're a local brand who's about to go international, or you're already one, you can rely on your chatbot to solve customer care problems. That's right, chatbots are multilingual!

Cost-effective.

Implementing a fully functioning chatbot is much cheaper than hiring employees or creating a cross platform app. 
Conversational Marketing
With all the buzz surrounding chatbots, marketing experts have come to a conclusion: Consumers prefer brands that are more conversational and engaging. 
Conversational marketing, as the name implies, is a dialogue-driven and customer-centric approach to marketing. It facilitates a one-to-one, real-time connection between marketers and customers. 
If you're looking for the perfect strategy to drive customer engagement, grow revenue, and improve customer experience, this is it. 
What sets conversational marketing apart from traditional strategies is that it allows brands to meet customers on their terms. In other words, it's up to the buyers to make the final decision.
Usually, when people hear "conversational marketing," the first thing that comes to mind is chatbots – and they're not wrong. Since they use a conversational approach and simulate face-to-face interactions, chatbots play a significant role as a communication channel in this form of digital marketing.
Once you know the ins and outs of conversational marketing, you'll be expecting these perks for your business:
Improved lead generation. Providing an interactive way for customers to engage with your digital marketing company means optimizing customer experience. Optimizing customer experience means converting more visitors into paying consumers.
Collect customer feedback.

Gathering and analyzing feedback from customers is one of the best ways to improve customer experience. Conversational marketing features a built-in tool for feedback, so it shouldn't be complicated.

Build customer relationships.

Conversational marketing makes it faster for businesses to reach more audiences across multiple channels. In turn, this fosters stronger relationships and brand loyalty. 

Scalability.

Since conversational marketing tools are scalable, no customer of yours gets left behind. Everybody gets immediate attention.
Personalization
Want your business to make gigantic waves in 2021? Here's something to consider: Personalize your marketing.
Aside from engaging conversations, customers want marketing personalization. If you're guilty of sending generic emails or blasting generic ad messages repeatedly, it's time to stop. 
Majority of consumers today are more likely to engage with brands who personalize their experience. In fact, 91% say they're more likely to purchase from companies who provide offers and recommendations that are relevant to them. 
Here's what other companies were able to discover about the power and potential of personalization:
With these numbers, it no longer comes as a surprise as to why personalization trends are among the digital marketing trends to watch out for in 2021.
Video Marketing
There's no denying that video has been one of the major players in the marketing world for the past decade. And, yes, there's a huge chance that it will remain in that position for another decade or so.
As revealed in the findings of Wyzowl's State of Video Marketing Survey, video is the most popular way customers want to learn about new products or services.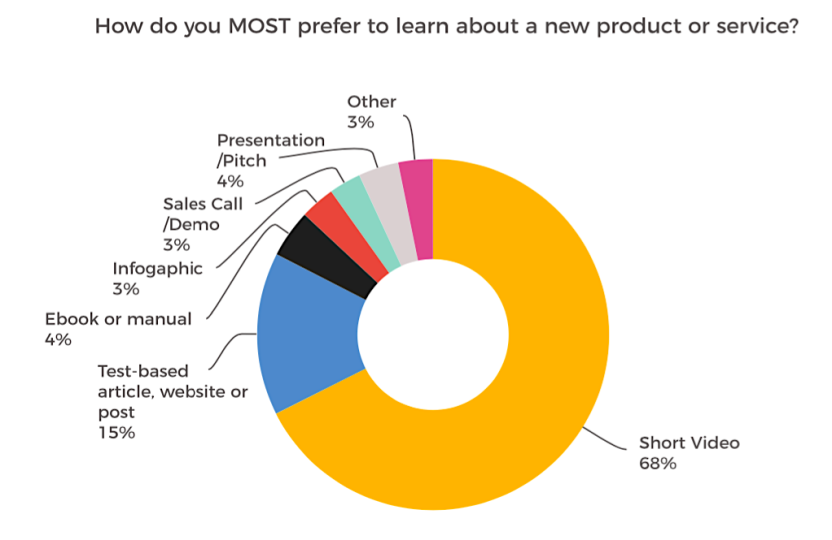 What's even more striking is that 93% of marketers who use video say that it's an important part of their marketing strategy. This makes it the highest percentage since 2015.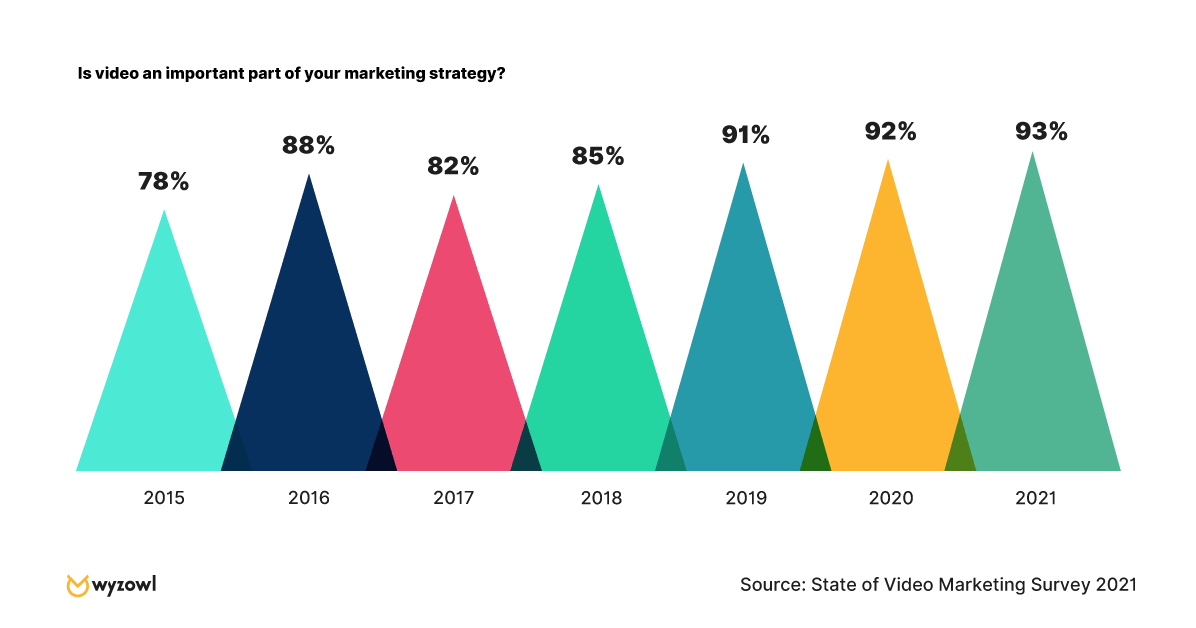 One of the main reasons why marketers prefer video marketing is that it's really easy to reformat the content. Not only can you publish your video on YouTube, but you can also do the following:
Publish the transcription under an embedded YouTube video for better rankings.

Use video thumbnails in your email marketing campaigns and the word "video" in subject lines so you can increase open rates by 19%.

Upload the raw video and use the transcription as subtitles to Facebook.

Use the audio as a podcast episode.
Influencer Marketing
Influencer marketing is already big, and you know what? It's only going to get bigger in the years, or even months, to come!
Basically, influencer marketing is a type of social media marketing that involves product placements and endorsement from influencers. Brands team up with online influencers to market their products or services. 
Most of the time, these influencers are YouTube or Instagram personalities with a large niche following, although they can also be celebrities. They're pretty much the people who make the most engaging social posts on their sphere of expertise. They post the best photos, create the most creative videos, and run the most informative online discussions. 
According to Business Insider, influencer marketing is set to become a $15 billion dollar industry. No wonder 63% of marketers plan to increase their influencer marketing budgets in 2021!
If you're not convinced that influencer marketing is turning into a top digital marketing trend, these stats might change your mind. 
The beauty in influencer marketing is that you already have an established audience. All you need is to build a strong partnership with your chosen influencer. Both of you should be able to offer value to each audience. 
Influencer marketing can help your business grow in so many ways, such as:
Driving conversions.

Influencers have the power to persuade their followers to buy a certain product.

49% of consumers

depend on influencer recommendations that could eventually lead to sales.

Offering value.

Influencers are sensitive to the needs of their followers, which means that they're skilled at creating content that your target audience might also find valuable. 

Enhancing brand awareness.

A target audience that often uses social media will find out about your brand and the offerings you have. Be sure to create content with a strong social media presence.

Connecting to a wider market.

By collaborating with an influencer, you're also exposing yourself to another segment of the market – and vice versa. For sure, you'll be gaining new customers.
Social Messaging Apps
There's more to social messaging apps than exchanging messages and memes. The graph below will show you why they're good for business.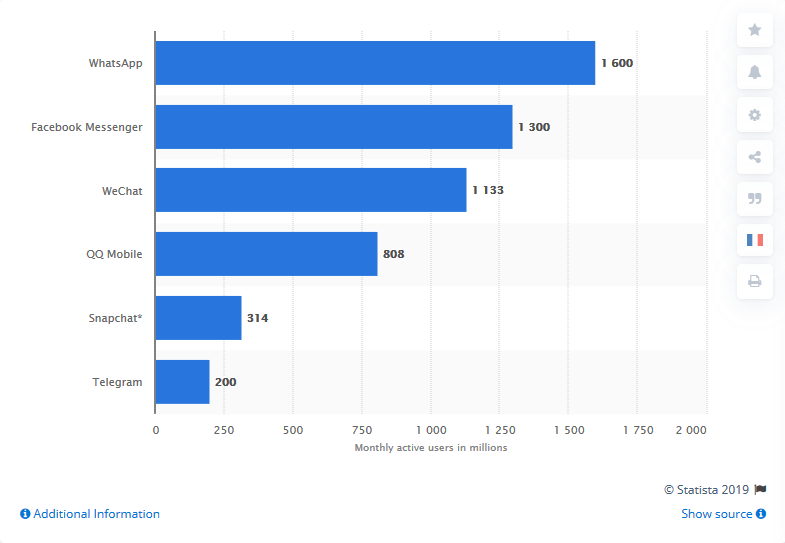 In just a span of one month, 10 billion messages are sent between businesses and clients on Facebook Messenger. Even more impressive is WhatsApp, with 1.6 billion active users and 55 billion messages sent every day. 
Since social messaging apps allow personalization and add value to the user experience, you can definitely use them as a platform to contact your customers directly. 
Plus, because these apps are making it more convenient for everyone to interact directly, people expect companies to have a presence on them. 63% of customers say they're more likely to return to a company site that has a live chat feature.  
What's great about using social messaging apps is that it keeps you connected with your customers, wherever they may be. Also, they can reach out to you privately and receive a quick response without worrying about cost. 
The bottom line is, serving your customers through social messaging apps deepens your relationship with them. The happier the customers, the happier your business.
Are You Ready to Use These Trends to Take Your Business to the Next Level this 2021?
2021 will be the year for digital marketers to strut their stuff, and yes, we're looking at you. Stick to these eight trends and you'll be fine – more than fine, actually.
Engage with your customers, put your faith on chatbots and other AIs, find an influencer to work with. Go get it. 
Author Bio: 
Shay Berman is the founder and president of Digital Resource, a full-service digital marketing agency located in South Florida. Shay's clear-cut approach to internet marketing has driven his clients' businesses to new heights and allowed Digital Resource to land on the Inc 500 list two years in a row and be named as No. 49 on Entrepreneur magazine's Entrepreneur 360 list.
Paul Fraser is a Freelance Content Writer at Commerce Mentors. He has two years of experience in writing about eCommerce, Technology, and Marketing. Paul is also a number guy who enjoys reading novels. When not working, he loves visiting new cafes and spending time with his friends.