The digital world is one great equalizer. Small entrepreneurs and Fortune 500 companies alike are now using the same digital platforms to promote their brands. This was unthinkable decades ago, when bigger companies had access to costly advertising, such as TV and billboards, and small businesses did not.
But whether you go for social media marketing, pay-per-click advertising, or search engine optimization, email marketing should still be one of your top digital strategies. In fact, more than 8 in 10 US retailers believe email is one of the most successful ways to acquire customers and drive conversions.
The world of email marketing continues to grow and change, bringing to the surface it's own unique trends. In this post, we'll walk you through some of the more current ideas in email marketing, so your next email marketing campaign can be entirely on-trend.
1. Generate Excitement with a Unique Loyalty Program
Don't have VIP customers yet? Then it's time to segment your mailing list even further. Successful companies use loyalty and rewards programs to attract new customers and increase the loyalty of their most valuable ones.
Depending on the types of customers you have, you can choose to use a points program, a paid VIP membership fee, or a charity program, among others. Whatever you decide on, make sure you have a solid understanding of who your customers are.
Some brands offer loyalty programs that award points to customers when they leave a review, follow the business on social media, or refer one of their friends to sign up. The more creative you can be with your loyalty program, the more engaged your customers will be.
Check out Starbucks' email below—The coffee shop is not only famous for its drinks, it's also popular because of its successful loyalty program, Starbucks Rewards. Stars collected through the program may be exchanged for a free drink or food item. They also have a Starbucks card and app, which adds to the overall experience.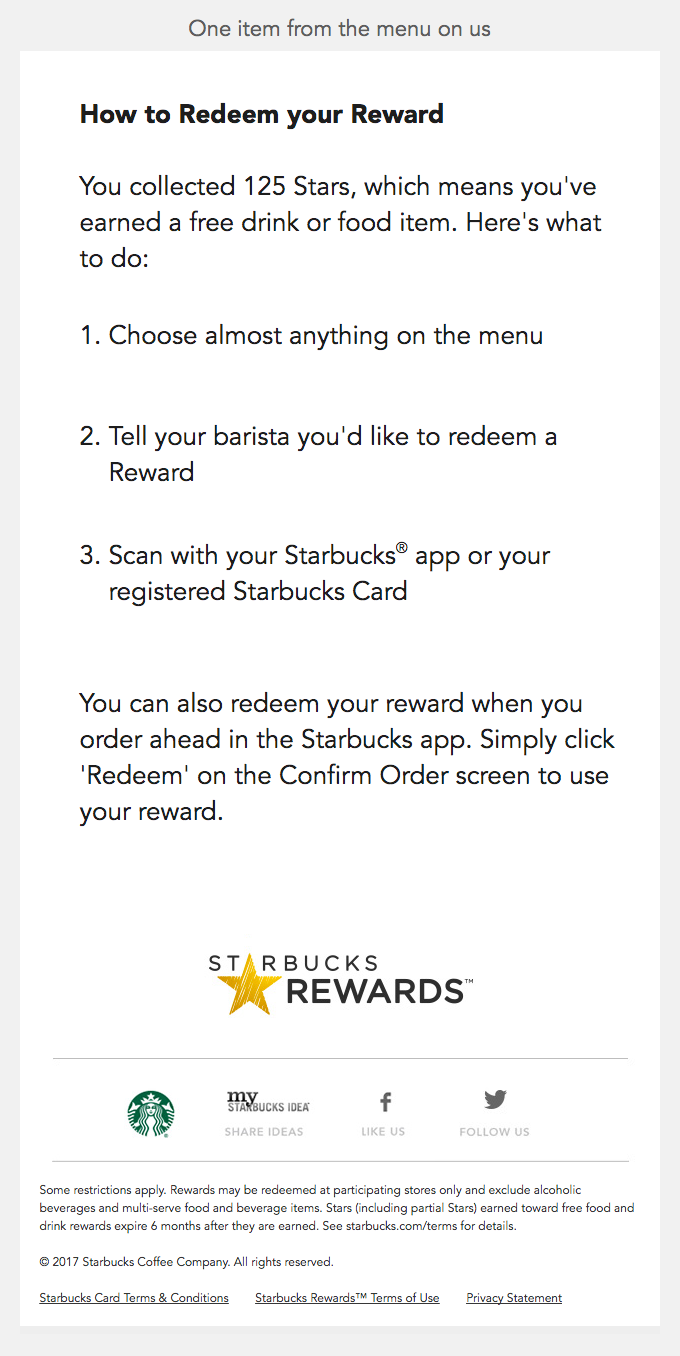 Source: Really Good Emails
2. Make It Interactive
Since all companies know that the inbox is the way to a customer's heart, all of them will likely have an email marketing strategy in place. To stand out among a flood of unread emails, your email must be unique, easy to read, and interactive.
Many of the emails your customers receive are already serious, so why not make reading emails more fun and engaging for them? 81% of marketers think interactive content trumps static emails when it comes to getting attention.
Many businesses are as interactive as you can get: they use quizzes to engage with their customers and reward those who get the right answer. Whatever interactivity feature you use, make sure that it is easily accessible on any device. It would be a bummer if your customers open your email and see only broken codes.
Here's an example of a good interactive email. Not all customers can go to the store and check out bulbs one by one, so DIY company B&Q came up with an interactive idea, where customers can check out different types of lighting online.

Source: Really Good Emails
3. Prioritize the Mobile Experience
Thanks to more powerful smartphones and better integration across multiple devices, customers are not only checking their emails on their phones, they are also responding and making purchase decisions based on what they receive in their inbox. Today's customers are always on-the-go, and we suggest that you use email to make your brand top-of-mind for them.
It's important that your emails are easy to read on mobile. Keep these tips in mind:
Know your mobile devices. Your email should display properly on any device.
Keep your subject lines short. Mobile devices have a much smaller space than desktop computers, so use those buzzwords effectively.
Preheader texts are important too. Different devices have different word limits, so be sure to use interesting preheader texts with as few words as possible.
Limit the use of images. Sometimes, customers turn off images for their mobile emails. Whether or not you decide to use images, make sure your text can be understood without them.
Some companies also use their email marketing campaigns to embed a download link to their mobile app.
Even though you need a professional mobile app developer or you can hire an app development agency too. A good mobile app allows customers to have a more seamless interaction with you, instead of going back and forth between your website and their inbox. You can also use the mobile app to include offers that the website doesn't have.

Source: Really Good Emails
4. Use Predictive Automation
It's likely that you are already collecting consumer data and using that data to segment your mailing list. It's also likely that you are constantly segmenting your lists so you can send more targeted messages.
The next step is leveraging these data to come up with a new marketing strategy. Not all companies have explored predictive automation, but it's an awesome way to optimize the data you do have.
With the help of analytics from email marketing campaigns including your own, you can predict trends, including:
Subject lines that attract your customers
Types of content they would likely read
Calls-to-action that drive them to purchase
Preheader texts that build curiosity
Buzzwords that hook potential end-users
If you want to know more, here's an in-depth take on data-driven content marketing. You can use tools that collect customer data not only from customer engagement with your emails, but also from activity on your website and social media pages.
In the example below, real estate website Trulia seeks to collect customer data that are based on housing preferences. So, when the perfect home goes on the market, the company has the data to send an offer subscribers can't resist.
Source: Really Good Emails
5. Remind Customers that You Value their Privacy
Since the launch of the General Data Protection Regulation (GDPR) in 2018, businesses have become more careful with the way they handle customer data. More countries are implementing laws based on GDPR, and this has affected the way we do email marketing.
Customers are aware of the many illegal ways that their data can be used, and they don't want it happening to them. The bottom line is: no matter how much data your customers provide, it is still theirs.
But this should not be a threat to businesses. The GDPR is actually good for email marketing. Since customer consent is now required, there is even greater confidence and trust between customers and companies.
It's also good to remind your customers about safety procedures they can do themselves, like this email from Lovely: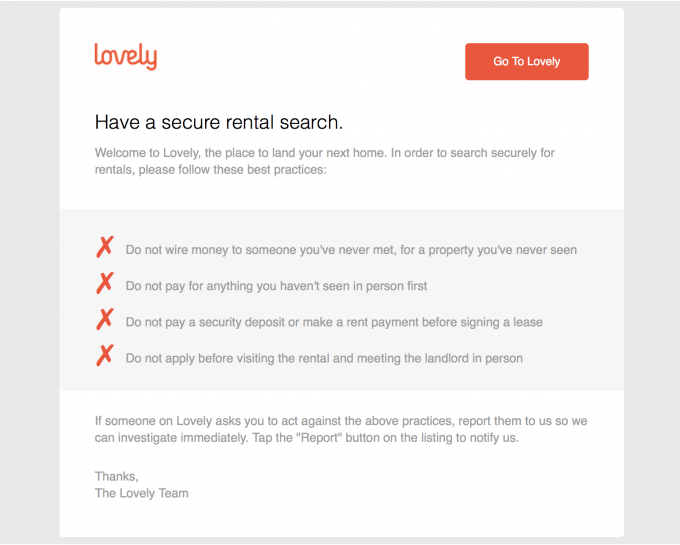 Source: Really Good Emails
 Wrap up
Email marketing is a highly viable tool for many businesses. When done effectively, it can result in increased ROI and spread awareness about a brand or product.
However, it's also important to remember that there are unique email marketing strategies that work for specific people within a specific time. A few years back, the word 'free' led to higher email open rates. Now, it sends emails straight to the spam folder.
In spite of this, many principles stay the same. User experience is important. Personalization drives conversions. Well-designed content engages more customers. Feedback mechanisms fuel innovation. You know the drill.
Author Bio:
Ash Salleh is the Director of SEO at Campaign Monitor, where he works closely with content, copy, and analytics teams to improve site-wide optimization. Prior to his time at Campaign Monitor, he also provided SEO and digital marketing expertise at Zappos and Axiata Digital. You can find him on Gravatar.
PRmention is a digital PR agency for startups & SaaS businesses. Occasionally, we accept high quality contributed content and we'd love to hear any ideas you may have. Feel free to email us on guestcolumn@prmention.com if you are interested in contributing.