25,000 companies and 14 billion customers – that's the state of SaaS today. It's a crowded market, growing further with a promising outlook. SaaS revenue will touch US$330 billion by 2027.
It's a whole different ball game to build your authority and amplify your voice in this business environment. Since your product has no physical presence, it's challenging to have audiences visualize your offerings with trust.
That's where digital PR helps. Done right, it gives you media coverage, brand awareness, and inbound traffic. If you're not entirely familiar with digital PR, we've extensively covered the concept in another blog post; you can read it here. Newsjacking is one of the ways by which you can gain more out of less, even on a little to zero marketing budget.
So, how can you generate traction and undertake SaaS branding for your business with newsjacking? Let's find out.
First Up, What Is Newsjacking?
Newsjacking is an interesting concept that requires timely creative ideas to be quickly and simply executed. You pick a news topic or relevant trending story that's just breaking, incorporate it into your SaaS marketing strategy, and piggyback on its popularity with engaging content — essentially hijacking the breaking news.
Breaking news generally attracts much traffic from around the web, anywhere in the world. When done well, newsjacking can tap into this exposure and put your brand on the map, increasing your brand awareness.
What's Newsjacking Got to Do With Brand Awareness?
As it turns out, a lot.
Creates Audience Engagement
Specifically, when you newsjack the pop culture space that already garners high engagement. Audiences love to jump in on trends, share their views or repost interesting content – the perfect opportunity to win brand traffic.
With light-heartedness and relatability, newsjacking has the potential to drive positive conversations about your brand.
Improves Brand Recall
Journalism thrives on current events, which allows your business to stand front and center. The result? Large-scale exposure to audiences beyond boundaries, depending on the trend you pick.
Newsjacking lets you create a lasting impression and improve your brand recall.
Improves Brand Recall
Journalism thrives on current events, which allows your business to stand front and center. The result? Large-scale exposure to audiences beyond boundaries, depending on the trend you pick.
Newsjacking lets you create a lasting impression and improve your brand recall.
Tap Into Newsjacking for SaaS Marketing
Before we move into the method, it's essential to understand the three key components of a good newsjacking campaign for success.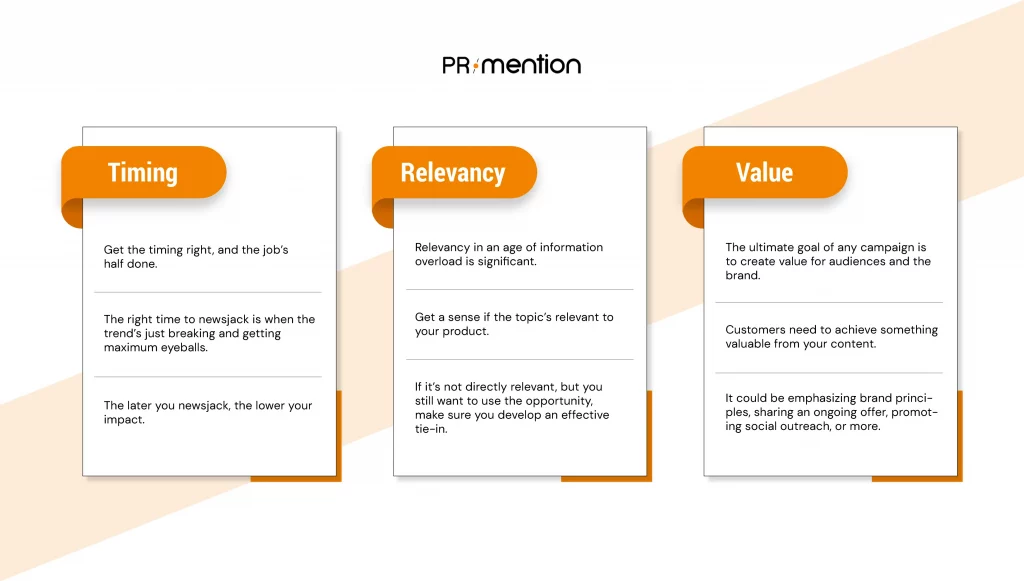 Now that you've ticked off the three elements, let's dive into how you can make the most of newsjacking.
1. Stay Updated
You have to stay in the know of current happenings. Start with constantly monitoring the news. News websites are the obvious choice but don't miss out on social media. Twitter is a hub of trending topics, given its distinct conversational format. The platform is so powerful that mainstream news websites pick up some trends off Twitter. Reddit is another platform you can use to track hot topics.
On the web, you can monitor Google Trends and set Alerts for topics of your interest. You can see a keyword's popularity for any location and period. If there's a sudden high uptick, it's perhaps the right time for newsjacking.

Sometimes, you can prepare in advance for scheduled events. For instance, you can devise a long-form, opinion-led article for International Internet Day (celebrated yearly on 29th October) a few months or weeks prior.
2. Familiarize Yourself With the Trend
You want to build a solid brand reputation. Therefore, demonstrating your expertise and understanding of sentiments is essential.
Whichever field of interest you choose, you need to educate yourself and get familiar with popular topics. Doing this will prepare you to anticipate audience reactions to sensitive discussions. It'll also give you the confidence boost for sharing thought leadership opinions in the industry and having customers look up to you.
3. Think Out of the Box
Generic content isn't going to get any attention. At the same time, remember that timing is vital. So, you must come up with unusual, out-of-the-box ideas at the drop of a hat. Speed and creativity are your two best friends when newsjacking.
First, pick the content format with which you want to communicate your message. Once you've decided on the format, work on the idea. Keep the content search-friendly by using relevant keywords and trending hashtags. The more searchable your content, the higher the chances of it being shared.
4. Avoid Controversy (Or Weave Through It Tastefully)
Most experts will caution you to stay clear of politics, religion, and natural disasters. Brands like Gillette and Sears faced the heat with poor campaigns that didn't consider audience sentiments.
But others found ways to weave content sensitized to these trends.
Take the popular newsjacking example of Calm. The app sponsored the Key Race Alert on CNN during the 2020 U.S. presidential voting and aired a 30-second peaceful ad of rain falling on leaves. At a time of widespread stress, Calm's "calming" and humorous newsjack brought relief and app downloads!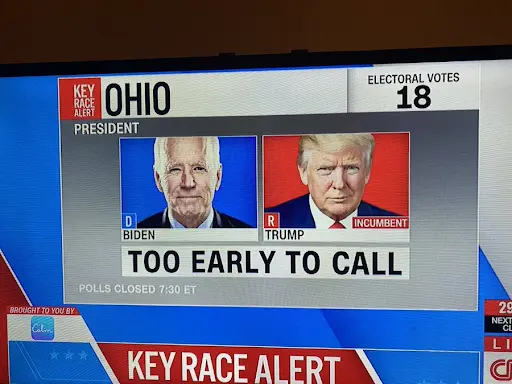 5. Pick Appropriate Platforms
Not all channels will work for your campaign. While blogs and thought-leadership articles are good, social media triumphs at momentum and engagement.
Pick the social media platform that's relevant to your content.
Twitter: To uncover trending topics or keep tabs on trending topics, and gauge real-time sentiment
TikTok: For quick trendjacking of UGC, best-suited to GenZ audiences
LinkedIn: Have niche conversations with specific industries and share timely personal experiences
YouTube: Takes the upper hand to rank better in search because its native to Google
6. Pitch to News Outlets
Only creating a content piece and posting it on your owned media may not get enough traction. You can amplify your reach by sharing the piece with news outlets.
But you don't have to wait until the news breaks to curate a list of journalists. Keep this ready and include all the publications relevant to your brand. Craft a crisp and concise pitch email and send it to multiple outlets.
If multiple outlets agree to pick up your story, but one publisher wants exclusive content, it could be a problem. You can either agree or disagree. If you agree, ask the publication to perhaps interview your CMO or CEO for an exclusive bit.
If you disagree and want more coverage instead, be transparent when you share the story first. Inform them that you'll be sending it to multiple outlets. And you'll be happy to set up interviews if needed.
To check if any publication picks up your piece, track the email opens and view those websites.
7. Monitor Performance
To monitor your campaign's performance, audience reaction is the first indicator. If they like your content, you'll receive love and engagement.
Even if your campaign doesn't live up to expectations, take it in your stride, figure out what didn't work, and improve it the next time.
8. Partner With an Expert
If all of the above seems overwhelming, ask for help. We know running a business isn't easy and needs firing on all cylinders simultaneously. SaaS PR experts, like Growfusely, can handle all your PR efforts and drive your campaign for success.
SaaS Brands' Newsjacking in the Real World
If you're looking for inspiration, here are some newsjacking examples of brands that used it to solidify their SaaS branding.
Telegram
Telegram is a messaging app well-loved by more than 1.2 million people for its humorous and light-hearted Twitter account.
The Newsjack:
The brand's competitor, WhatsApp, faced heat for its recent privacy updates. Telegram jumped in at the right moment with a funny tweet. It didn't stop there. When audiences came across the tweet, they found it so relatable that they commented on and retweeted it. Telegram kept the momentum going with its witty replies.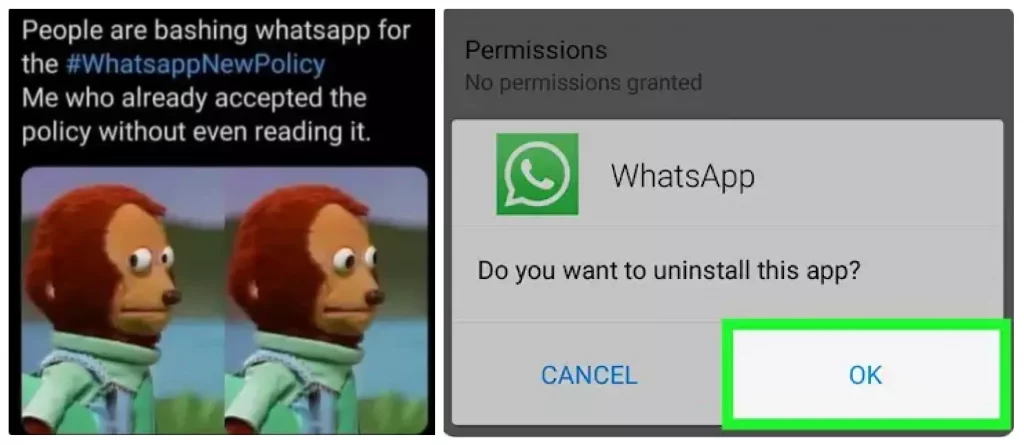 Their content was so on point that some people signed up on the app only because of Telegram's responses.
Hootsuite
Hootsuite is one of the first leading social media management platforms.
The Newsjack:
Although Hootsuite did this in 2014, it's a prime example of how to do newsjacking right. The brand created a video based on Game of Thrones' opening sequence. It showed each social media platform as a "house" and Hootsuite as "Westeros," or the continent all houses shared.
Besides YouTube, the brand drove traffic from Twitter, Facebook, and multiple news outlets. And it still crops up in digital PR conversations today!
Subscript
Subscript is a subscription intelligence platform for B2B SaaS brands to unlock deeper insights.
The Newsjack:
If you think newsjacking is only for external customers, Subscript's employer branding activity will make you think differently. The brand used Elon Musk's viral email on remote work for Tesla employees and put a unique spin on it.
The post garnered much love on social media among the brand's internal customers (employees) and potential leads.
Wrapping Up
When done right, newsjacking is a popular and effective digital PR technique to build brand awareness and reputation. If you stay up-to-date, be sensitive and respectful, deploy speed but not haste, and track your performance, you're setting your brand up for success.
Use newsjacking to encourage engagement, drive conversations around your brand and attract prospects in a low-cost yet measurable way. Reach out to Growfusely to develop a holistic SaaS PR and newsjacking strategy.
The featured image is taken from Freepik