Getting fans to create content on your behalf is an effective way of showing potential customers how much your audience values your brand. It builds social proof, a stronger online presence, and of course, generates tons of user-generated content (UGC).
The most efficient method of producing UGC is with a social media contest. A contest essentially encourages people to compete with each other to create the best content for your brand. If you plan your contest correctly, your fans will expertly deliver exceptional content that features your brand in it.
This guide will show you how to get users to produce content for your brand (with case studies and examples).
We also cover expert tips on hosting a social media contest to help you better plan and optimize your contest for achieving the best results.
Let's get started!
What Is a Social Media Contest?
In a contest, people are required to compete against one another to win a prize. The same principle applies to social media contests that are hosted on platforms like Instagram, YouTube, etc.
Brands sponsor prizes and host social media contests so users can compete with each other publically to win big. The competitive spirit, hype, drama, and more make for entertaining content on social media.
This directly translates to more engagement (likes, comments, and shares) on the social platform which is beneficial to the brand hosting the contest.
And the more engagement a post gets on social media, the higher the chances are of that post going viral. It's why contest posts often make for viral content on social media.
Check out the screenshot below of a boosted Facebook contest post by NSRI.
The Benefits of Hosting a Social Media Contest
As mentioned earlier, hosting a viral contest on a social network can lead to an increase in engagement and potentially more followers.
If planned correctly, you can use your contest to extend those benefits beyond social media. For instance, you can ask users to submit their email addresses to enter. This lets you build an email list that you can nurture to eventual conversions after the contest is over.
If your contest entry form is on your brand's website, then users will also be required to visit your website to enter, boosting website traffic. This newfound traffic is a great opportunity to redirect users from the entry form's "thank you" page to some of your brand's top product pages.
So the benefits of social media contests include:
Developing an email list
Increasing website traffic
Initiating app or software downloads
Building subscribers and views on YouTube
Acquiring new users for a membership site
And of course, another benefit of social media contests is user-generated content (UGC).
Read on to learn how social media contests are great for UGC.
Producing UGC With a Social Media Contest
With most social media contests, users must create and submit their entries to compete for the prize(s). Your audience will be creating content for you—content that may heavily feature your brand.
So, picture the amount of UGC entries a single social media contest can produce. Tons of content featuring your brand.
Analyzing a few real-world examples is the best way to understand UGC and social media contests. Here are some case studies of successful campaigns hosted by established brands:
Starbucks White Cup Contest
Starbucks famously hosted a contest that required people to doodle on an empty Starbucks coffee cup, snap a picture, then post it online.
For an entry to be successful, users had to upload their images to social media and tag their post with #WhiteCupContest.
The key takeaways from this campaign are:
Entrants had to purchase coffee to gain access to an empty cup. This led to an increase in sales due to the contest.
The user-generated content was created on the brand's product or featured the brand's product.
Creative doodles make for excellent content on social media. Especially on platforms like Instagram and Pinterest.
Topaz Labs Image Editing Contest
Topaz Labs is a software brand that's focused on AI image editing. They held a successful image editing contest on Instagram.
Users were required to download a trial version of Topaz Studio 2 and use that software to edit an image before uploading it to Instagram.
The key takeaways from this campaign are:
Every user had to download and use the host brand's software. This meant that every entrant equals a new software download and a new user to the Topaz Labs platform.
Entrants had to follow Topaz Labs and include the #TopazLabs hashtag in their submission (Instagram post). This meant that all entrants became followers of Topaz Labs while also building the #TopazLabs hashtag on Instagram.
This contest is an impressive strategy for promoting a new software product that allows users to download trial versions to use and test out themselves.
More Examples of Using a Contest To Produce UGC
The above two contests by Starbucks and Topaz Labs are excellent examples of how to host a contest online that will generate some creative entries (and more business).
However, social media contests can be almost anything you want them to be, as long as it's relevant and engaging to your audience.

Source
Here are a few more examples of social media contests that can produce UGC:
Selfie Contest: Users can take a selfie with your product and submit it to enter. Eg. A Dove Soap Selfie Contest that requires users to pose with a bar of Dove Soap. Users must also explain how the soap has managed to change their skin.
Caption Contest: Users create captions for a supplied image or they supply screenshot images along with captions.
Pet Trick Contest: Users submit a video of their pet performing tricks.
Scavenger Hunt: This is a popular contest that a lot of online stores have been using lately. Hide an image on a random page in your online store. Then request that users find the image, screenshot it, and submit the screenshot along with the link to enter.
Music/Video Production Contest: Produce a song or make a short movie to enter. The contest host can supply instructions on how to produce the content.
Hosting a Social Media Contest
As mentioned earlier, you can set the terms and rules for your contest. However, your target audience must find your contest enticing and relevant. For example, the entry method should match your audience's skill levels and the prize must be super-appealing to them.
So, once you have decided on the theme for your contest, you will need to focus on the following:
Your goals
Selecting a relevant prize
Promotion
Here are a few tips on building a better contest that will yield the results you want.
Focus on Your Goals
Having a clear goal in mind for your contest will allow you to structure your contest accordingly.
For example, if you are looking for user-generated content that features your brand and its products, then you could request users to take a selfie with your product and submit it as an entry. This is similar to the Dove Soap Contest mentioned earlier.
The goal of your contest doesn't have to be centered only on producing UGC. As described earlier, you can achieve other goals like:
Building an email list
Encouraging software trials and app downloads
There's also the opportunity to achieve multiple goals from a single contest. For example, you can host a selfie contest that requires entrants to submit their email addresses on your website to enter. This entry method will allow your contest to:
Produce user-generated content
Build an email list
Direct traffic to your website
However, the more elaborate your contest is, the fewer the people who would bother to participate. So it may be better to focus on a single goal and keep the entry process simple.
Choose a Great Prize
The objective of any contest should be to attract a specific audience. By targeting an audience, your contest will generate high-quality leads and better contestants that will produce higher-quality content for your brand.
The most straightforward way to attract a target audience is with a relevant prize.
For example, in a photography contest, a prize bundle that includes image editing software, camera bags, and drones, will indeed attract top-level photographers that'll turn into high-quality leads.
The photographers that enter the contest will also make for excellent contestants. This will ensure that the quality of the UGC is of the best possible standard.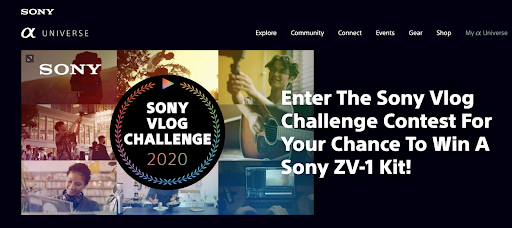 More examples of relevant prizes:
Music software or instruments: Will attract aspiring music producers.
Art supplies that include paint and canvas: Great for finding talented artists.
Video filming equipment: This prize can attract filmmakers and can also be used to find aspiring YouTubers. Eg. A vlogging contest where the winner gets a camera, tripod, gimbal, etc.
It's a win-win collaboration as that up-and-coming talent and your brand get greater exposure.
Promoting a Contest
Promotion is probably the most vital part of a social media contest. The more people you get to enter your contest early on, the more referrals, engagement, entries, and UGC will be generated.
It's for this reason that you must act fast when launching a contest on social media. Especially if you want your contest post to go viral.
Here are a few tips to promote your contest and to boost those entries:
Create a post for your contest on the social network you plan to host the campaign. Encourage users to comment, share, and tag others. Getting users to share your contest post will drastically increase your brand's reach.
Use paid ads to boost your social media contest post early on. This will allow your contest to gain much-needed exposure during the launch phase of your campaign.
Promote the contest on all available marketing channels like email, blogs, etc. Don't simply rely on the social media platform that you are hosting the contest on.
Send out emails to announce the contest, remind people they have only a few days left to enter, and an email to announce the winners. Each email will be a great opportunity to drive traffic to your website.
Use a service like Hypage to create multiple crucial links for your contest in your Instagram or TikTok bio. These platforms only allow for a single link in the bio. However, Hypage will allow you to build a landing page for all of your contest links like links to entry forms, contest submission page, contest instruction videos, and more.
TL;DR
Social media contests can serve as fantastic marketing campaigns that allow brands to achieve multiple marketing goals (email lists, app downloads, traffic, etc.). Brands are also using these contests to produce tons of user-generated content.
We have seen brands like Starbucks and Dove generate excellent content created by their fans. That content included the brand's logo and products. This is the kind of results your brand should try to achieve with its social media contest.
To further maximize the results of your contest, you should select a prize that your target audience will find enticing. This will increase the quality of the leads and the quality of the UGC. Heavily promoting the contest on social media and other channels like email lets you find more entrants for your contest.
So, what do you think about contests? Is it an efficient way to produce user-generated content? Let us know in the comments.
About Author
Jack Paxton is the co-founder of VYPER, a marketing tool that helps brands build email lists, social followings, and revenue using viral giveaways, referral, and reward programs. After millions of dollars spent testing different marketing strategies at his marketing agency. He then also co-founded Hyax a fast, conversion & design-focused course and funnel builder for creators.
PRmention is a digital PR agency for startups & SaaS businesses. Occasionally, we accept high quality contributed content and we'd love to hear any ideas you may have. Feel free to email us on guestcolumn@prmention.com if you are interested in contributing.