Though podcasts have been around for over a decade, they are quickly emerging as a high-engagement and high-conversion content option in recent years. Podcasts have the ability to foster loyal audiences, making it tough for your competitors to attract them to their shows. No wonder, the global monthly podcast listeners are expected to grow 6-fold between the years 2016 to 2023.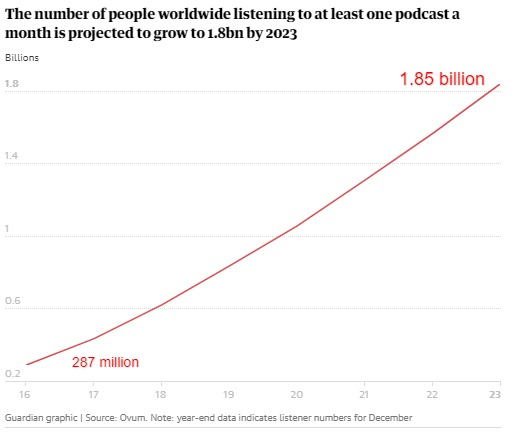 (Image Source: TheGuardian)
The podcast content domain remains fairly untapped. That's because most marketers are focusing on popular content forms like long-form blogging, email marketing, social posts, or videos. Therefore, there's little competition in the podcast segment. In fact, an infographic by MusicOomph reveals that there are only 700,000 active podcasts today. That's nothing in comparison to the millions of Facebook Business and Google My Business listings present today.
What's more? People are constantly looking for content that is easy to consume and access and produced on-demand. Podcast ticks all these requirements, making it an ideal content option for marketers who want to connect with and engage their audience.
Thus, garnishing your existing content strategy with engaging podcast content makes complete sense. Read on to know how you can up your podcast content game.
1. Define Your Listener Avatar 
Regardless of the content you create, it's impossible to satisfy everyone. Therefore, before you begin, determine who you are podcasting for. Define your ideal podcast listener to understand their persona, pain points, and aspirations. This will help you get the best shot at creating relevant content for them.
Join relevant forums in your niche and listen to what's being discussed. Social media channels are also a great platform to know your target audience and understand their questions, concerns, and challenges. Check out how the founder of Take Care Botanicals, a firm that makes wellness products infused with Hemp,  is active on related Facebook forums. Such interactions help in identifying the hidden and unmet needs of the customers.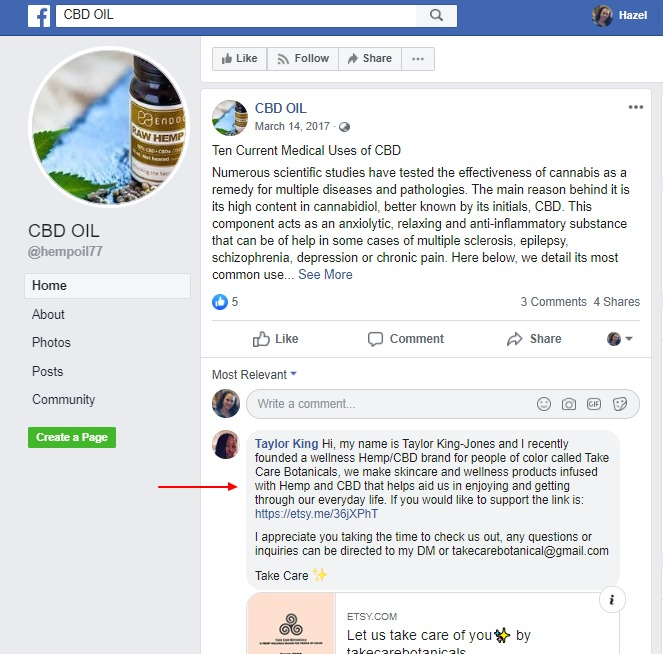 (Image Source: Facebook post)
Besides engaging in social listening, you can also use a survey to learn more about your audience. Use tools like Survey Monkey for the purpose but remember to ask questions that your audience is comfortable answering. For instance, instead of asking a person's specific income, encourage them to select an income range.
Make sure your research and survey helps you answer these questions –
What's your avatar like? – Gender, age group, income group, lifestyle, hobbies, occupation, and overall personality. Are they extroverted or introverted? What are their aspirations?
What are your avatar's interests? For instance, if the avatar likes to watch movies, find out what they watch. Do they like documentaries, action movies, comedy, or horror?
How does your avatar listen to podcasts? Do they listen to them while commuting? Do they use noise-canceling headphones?
What other podcasts are they listening to? Are they listening to your competitor's podcasts?
We also recommend downloading this handy worksheet from Castos, a podcast hosting and analytics firm, which will help you streamline your thoughts when defining your ideal podcast listener
2. Create Impactful Podcast Content 
High-quality and useful content is why your listeners will follow and stay loyal to your podcast. Here are a few tips for creating podcast content that converts
i. Offer Actionable Content
Actionable content is the one that engages the audience, tells them what to do and how. In other words, it gives them clear directions, allowing them to apply the knowledge they have just achieved.
For instance, if your podcast is about private charter flights, your content should include a guide for first-time private jet flyers or tips related to choosing a suitable private jet. You can also share your personal flying experiences or invite a guest who's an avid user of private jets.
ii. Tell a Story (But Drive Home Your Point!)
Nothing can help you connect with your listeners like stories. Sharing your personal stories and life events can help them see the real you, converting them into your loyal followers. The story you share should teach and inspire your audience to perform the action you want them to take.
Check out eBay for Business podcast that serves as the top ecommerce resource for eBay sellers, employees, and industry experts.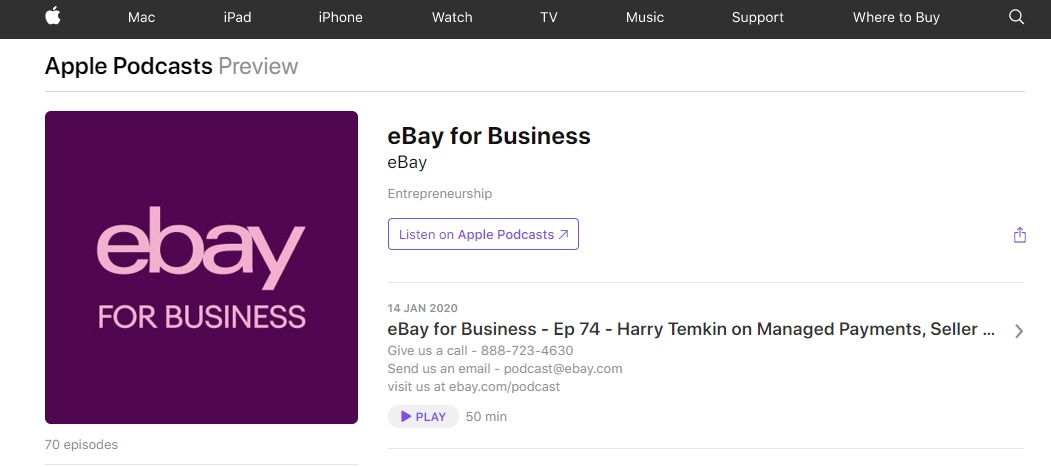 (Image Source: : Apple Podcast)
Listen to this podcast for more effective storytelling tips.

(Image Source – Castos)
iii. Invite Your Niche Experts to the Show
Getting an expert to share their experiences can make your podcast more engaging and relatable to the audience. Identify experts and audio influencers in your niche and get to know them well. You can find relevant podcast guests on social platforms like Twitter, LinkedIn, Instagram, and Facebook, industry forums, and Help a Reporter Out (HARO).
Hosting a podcast interview with an industry expert needs adequate research and preparation. Before starting the show make sure you prepare relevant questions that encourage the guest to give unique responses.
Check out this MTB Fitness Podcast which targets mountain bikers. The host Matt Mooney has invited Ben Coomber, a personal trainer and an authority in the segment, to share his experiences and offer fitness advice to the audience.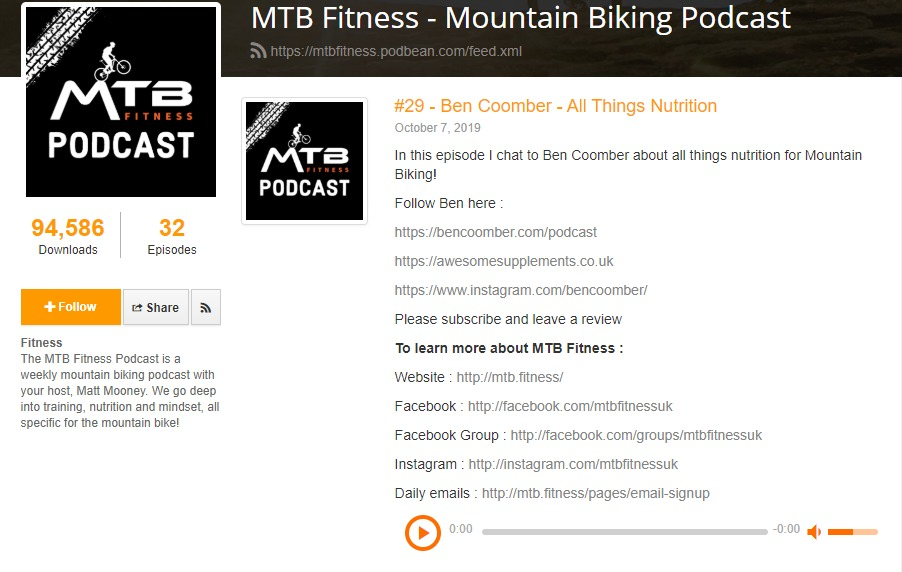 (Image Source: Podbean)
iv. Ask Questions and Share Responses
Podcasting is a monologue but a little interaction with your audience will only do you good. It will help you determine the current engagement level and offer interesting domain insights. Ask a few open-ended questions and request your listeners to share their views in the comment section or on social media channels.
Reading their responses in your next podcast not only gives you more content but also elevates your audience's excitement, especially when you read their responses.
3. Don't Forget the Basics
Here are a few basic points you shouldn't miss out on when creating a podcast content strategy.
i. Invest in the Right Gear
Your podcast is completely audio. Therefore, it's important to up the quality of your audio recordings by using the best podcasting equipment and eliminating distractions if any. You will need to invest in a podcasting kit that comprises of a podcasting microphone, mic stand, compressor, headphones, USB box, POP filter, mixer, and boom mount. You will also require podcasting software like Adobe Audition or Audacity that allows you to record and edit the audio, mix the sound, and add your own sound effects to make an impressive podcast.
ii. Stick to a Format
Decide what you want to do during the podcast. Do you want to begin with a feature song? Will you be interviewing a new guest in every episode? Do you want to take calls from your audience? That's your podcast's format.
The award-winning podcast, Stuff You Should Know (SYSK), typically has two hosts, Josh Clark and Charles Bryant (Chuck) chatting about everything under the sun.
(Image Source: iheart)
iii. Make a Visual Impact
Make your show recognizable by using an impactful visual for the podcast thumbnail. The same can be used when promoting the podcast on your social media channel or blog. This will not only visually engage your audience but also ensure consistency in brand promotion.

(Image Source: Gimletmedia)
Check out how StartUp, Gimlet Media's podcast series about entrepreneurial life, uses the same recognizable thumbnail for all its episodes.
iv. Post Transcriptions of the Podcast
Posting transcriptions of your podcast not only boosts SEO but also makes your website accessible to those who are unable to enjoy your show because of hearing disability. So, go ahead and add a transcription of your podcast episodes to scale your audience and improve your reputation.
4. Measure the Success of Your Podcast Strategy
Measuring the effectiveness of your podcast content may seem like a tricky undertaking. After all, how is one supposed to get hold of a podcast listener? Track podcast KPIs like unique downloads, social media engagement, and direct or referral traffic to determine whether or not your podcast content is making an impact on your target audience.
Here's an interesting post from Podcast.co that shares the top podcast metrics marketers should pay heed to.
Summing Up
Podcasts being informal, personal, and targeted are emerging as a popular and effective media for sharing content. Sharing awesome podcast content can help you improve your brand visibility and customer base. However, establishing authority and credibility through podcast content takes time and effort.
Use the tips shared in this post to create a successful podcast strategy for your business, putting it on the fast track to success.