Content marketing is a vital part of digital marketing strategy for brands – small, medium, or large.
The reasons are plenty.
First, it's a cost-efficient and sustainable marketing technique to reach and engage the target audience.
Next, it allows the audience to find answers to their search queries.
Most importantly, it helps imbibe a sense of trust and enables businesses to generate quality leads, conversions, and sales.
No wonder, a whopping 97% of businesses leverage content marketing.
However, considering the competitiveness of the digital space, you need powerful content marketing tactics to gain an edge.
In this post, we will share the top six content marketing tactics that can help businesses earn a positive ROI in 2023 and beyond.
Let's get started.
Top Content Marketing Tactics for 2023
Here are six actionable content marketing tactics to leverage in 2023 and beyond.
#1: Set SMART Goals and KPIs
Brand awareness, customer loyalty, or engagement – what do you want to achieve?
Define SMART (specific, measurable, achievable, relevant, and time-bound) goals. Ensure they align with your brand's vision.
Here's an example.
Specific – To increase 5x traffic on the website in three months.
Measurable – KPIs, such as unique website visitors, bounce rate, average session, and more, can help measure website traffic.
Achievable – Leveraging content strategies, such as SEO-driven evergreen content, whitepapers, blog posts, and more, can help achieve the goal.
Relevant – High website traffic can help businesses improve conversion rates and achieve revenue goals.
Time-bound – Drafting an actionable content marketing strategy can help meet the goal in three months.
According to Semrush, the top three content marketing goals of 40+ industry leaders in 2023 include the following.
Attracting more website traffic
Increasing brand awareness
Generating qualified leads
Here's a screenshot affirming the same.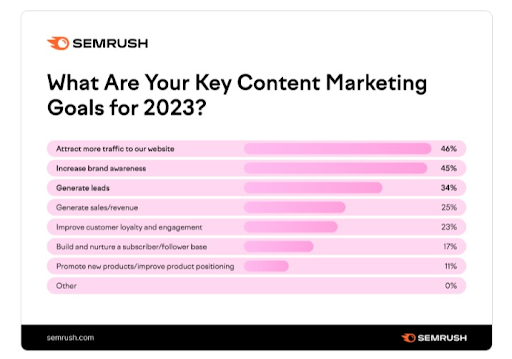 Leverage this information to decide specific goals.
Next, determine key performance indicators (KPIs) to track and achieve SMART goals.
Let's say a brand needs to improve overall revenue. So, it can track KPIs like daily sales, website traffic, conversion rates, returning customers, and more.
This approach can help businesses boost their bottom line and nurture healthy customer relationships.
#2. Build a Linkable Content Asset
Create high-quality, well-researched content adhering to Google's E-A-T (Expertise, Authoritativeness, and Trustworthiness) parameters.
For the content to be linkable, it should comprise accurate statistics and original research data.
This can help attract backlinks, a vital factor in improving rankings in Google SERPs.
Notice the below-shared study by Backlinko. It reflects the strong correlation between backlinks and Google rankings.
Observe the pages in top Google search results have more backlinks than others.
This study depicts that backlinks play a significant role in acquiring top search engine rankings.
Linkable content that creates maximum value for the readers can help achieve the goal.
Here are a few types of linkable content types to consider.
Blog Posts and Guides: They should be SEO-driven and comprise original information and actionable tips for the audience.
Short-Form Videos: Research states that short-form videos account for 80% of traffic from mobile devices. So, create helpful short-form videos to boost audience engagement.
Infographics: They should have accurate and recent statistics in an easy-to-understand visual format.
Here's an excellent example.
Notice the content marketing strategy of The Address, a leading coworking solution provider.
From creating in-depth, value-based blog posts to short-form videos and infographics, this company leverages its linkable content asset to boost online visibility and ensure high, relevant traffic.
Check out the following blog post depicting top coworking statistics.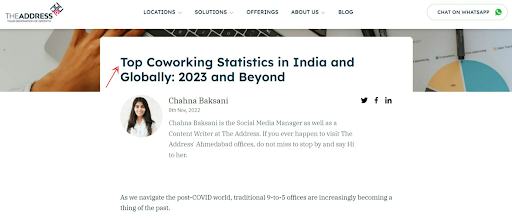 The Address team has shared crucial statistics related to the coworking industry with a detailed, accurate, and data-driven infographic. This infographic-based long-form blog post has helped their team drive high volumes of relevant traffic.
Pro Tip: Count on tools like Google Trends to identify trending topics in your niche.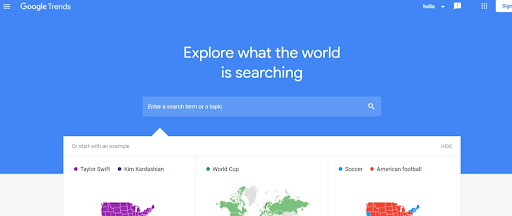 For instance, type "coworking" in the search bar, and the tool will provide a list of trending topics. Use these insights to ideate and build a linkable content asset.
#3: Leverage Social Media Channels
According to Statista, more than 4.76 billion active social media users worldwide. This statistic sums up around 60% of the world's population.
What's more? HubSpot's 2023 Marketing Strategy Trends report states that 42% of businesses earned the highest content marketing ROI via social media.
These insights state that social media can amplify the content value and drive quality traffic, leads, and conversions.
So, once you create compelling content, leverage leading social channels to promote it.
Here are a few social media channels with the popular content format on the platform.
Create and share the popular type of content according to the channels for high ROI.
Pro Tip: Count on tools like SproutSocial to optimize your social media efforts.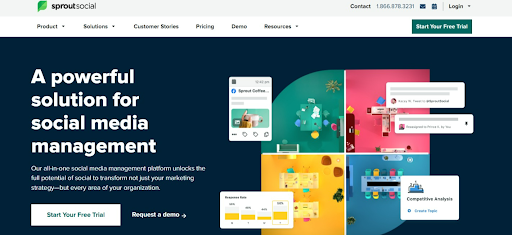 With SproutSocial, you can –
Draft posts tailored to social platforms, including Facebook, LinkedIn, and Instagram.
Identify the best times to post for high social engagement.
Schedule post publishing in advance.
Receive all notifications for your brand-related mentions, profile actions, and more.
In short, it is an all-in-one platform to plan, organize, and deliver high-quality content for social media campaigns.
#4: Encash Email Marketing
Research reveals that global email users will cross 4.3 billion by the end of 2023.
Another research states that over 50% of people want businesses to connect via email.
All this data points out that email marketing can be a powerful way to reach a massive target audience. So, leverage this content marketing tactic to accelerate engagement and conversions.
Here are a few crucial email marketing tactics to reap the best benefits.
Avoid sharing generic emails because they can lower the opening rates. Send personalized emails with value propositions.
Ensure that the draft speaks of brand value, but it shouldn't be entirely promotional.
Add a compelling CTA (call-to-action) link or button to your website or landing page.
Here's an excellent example from Alaska Airlines. The company uses all the above-shared email marketing tactics.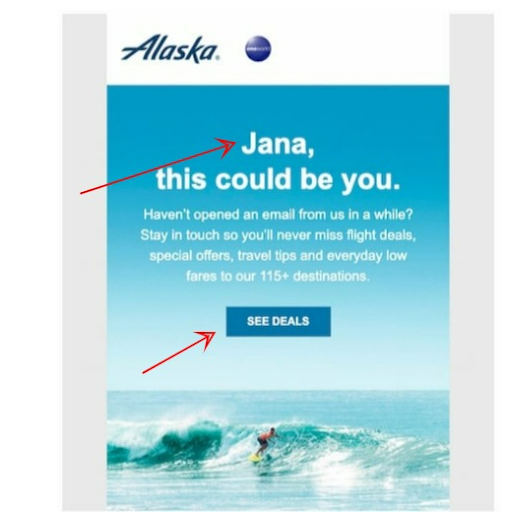 Notice how they address the subscriber by name, share specific discount deals, and use CTA to drive action.
Pro Tip: Deploy tools like MailChimp to streamline your journey.
With this tool, you can –
Draft emails using thousands of drag-and-drop templates.
Perform A/B testing to optimize the email marketing campaign for the best results.
Track vital KPIs, such as email open rates, click-through rates (CTR), bounce rates, etc.
#5: Repurpose Your Website Content
Repurposing website content is one of the best content marketing tactics to consider.
It involves selecting and editing top-performing content to share the information in different formats on multiple platforms.
Repurposing content can be a cost-efficient and effortless way to create compelling content for accelerating conversions.
However, brands should not "copy" and "paste" the same content.
Repurposing means creating a unique draft inspired by already published content. Using the same content multiple times can backfire rather than prove beneficial.
Check out how Ahrefs leveraged its value-driven infographics to create a social media post for Twitter.
The SEO-suite provider explained the statistics in an easy-to-understand way.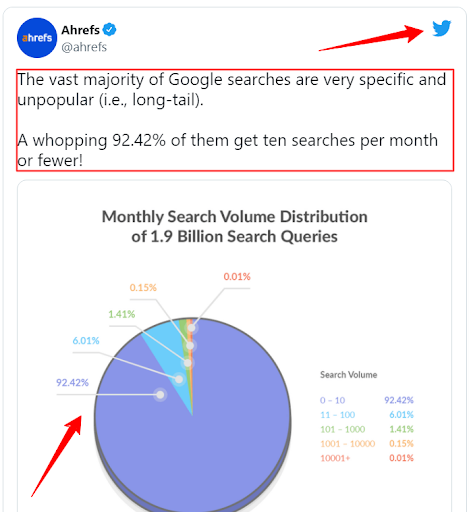 This practice helped them earn 800+ likes and 500+ retweets, depicting the power of repurposing.
Get inspired by this industry leader. Give a twist to your top-performing content and publish it on various platforms.
#6: Measure and Track the KPIs
Track the performance of the content marketing campaigns to determine their effectiveness. Analyze the KPIs to gauge your progress.
Ask yourself:
Did the content marketing tactics help achieve SMART goals?
Were you close to reaching the goals?
What went wrong or right during the process?
What are the top and least-performing channels?
What are the best-performing content marketing tactics?
Leverage the tools shared in this post to measure the KPIs.
Rework your content marketing tactics if the ROI is below par. This consistent evaluation can help improve your marketing processes and business decisions.
Summing Up
Content marketing can inform, engage, and inspire the target audience to take action. It helps put a business service and products on its ideal customer's radar.
Even if an SEO-driven blog post doesn't immediately convert prospects into customers, the shared information goes a long way. The prospective customers identify a company as a helpful resource. This can boost a firm's credibility and prompt purchasing decisions in the future.
Leverage the tactics and tools shared in this post to strengthen your content marketing.
They can help build authority as an industry leader, thereby helping customer acquisition and retention.
Author Bio
Aanya Rachel is the Content Manager at The Address, a coworking space in Indore, Madhya Pradesh. She is passionate about sharing her knowledge, experience, and extensive research in this field. She writes on a wide range of topics related to coworking, the growth of remote workers, startups, and real estate.
PRmention is a digital PR agency for startups & SaaS businesses. Occasionally, we accept high quality contributed content and we'd love to hear any ideas you may have. Feel free to email us on guestcolumn@prmention.com if you are interested in contributing.