Most likely, you have heard about NFTs from somewhere, and whether you know what they are or not, their growing popularity cannot be denied. According to Chainalysis, the spending on NFTs on various marketplaces was up to $41 million in cryptocurrencies in 2021.
With the growth of NFTs' popularity overall, it's natural that the digital marketing landscape is slowly changing as well. Many brands are trying to grab a piece of the pie for themselves and stay connected with events in the digital sphere.
By implementing NFTs into your brand's marketing strategy, you can enhance customer-brand relationships, drive customer engagement and create unique experiences that boost your brand awareness.
Keep reading to understand what are NFTs, and how your brand can take advantage of this phenomenon and reach a new level in how you approach digital marketing.
What Are NFTs?
Before diving into how NFTs can be used in marketing, let's take a brief look at what exactly are NFTs and their use cases.
NFT or a Non-Fungible Token represents a digital asset recorded on the blockchain system. Ever since its launch in 2014, the NFT-wave is in full stride. The first NFT, Quantum, is sold for a whopping $1.4 million at the close of Sotheby's auction Natively Digital. Non-Fungible stands for one of a kind – NFTs are interchangeable (unlike fiat money), each token has a unique value and shows ownership and authenticity. Besides that, NFTs are immutable and counterfeit resistant.
Due to all of these qualities, different industries are starting to look at how they can take advantage of these aspects and implement NFTs into their business strategies.
To put it simply, anything digital – a photo, a video, a gif, a music piece, or even a Twitter post, can be turned into an NFT. And although everyone can get a copy of the file, the proof of ownership of the digital assets belongs to the one holding the NFT.
The initial idea behind NFTs was for artists to have a platform where they could sell their art and fans could support their favorite artists, build unique digital collections, and trade their assets.
And while there are many famous digital artworks like CryptoPunks and Bored Apes Yacht Club, NFT hype is rapidly expanding into many other industries.
Why are people buying NFTs?
Whereas it's pretty easy to grasp why so many artists are eager to join the NFT world, it can be a little harder to understand what makes people buy NFTs that seemingly don't hold value in everyone's eyes.
And while NFT is essentially nothing more than data stored on a blockchain system, the concept of value is behind the trend of this phenomenon. Therefore, the value that the potential buyer sees in a specific NFT defines the transaction price.
A good comparison with NFTs is what's been happening with different collectibles associated with famous people for a long time. A few years ago, Barack Obama's high school basketball jersey was sold for $192 000. And the jersey's high price was believed to be worth it by whoever sealed the deal.
In essence, the same applies to NFTs – people buying them see value in them, and often, it's also related to social status and the bragging rights about what you own. And, of course, when the circumstances are right, it's possible to sell the NFT for a better price than what was initially paid for it.
This is also why many well-known brands such as NBA, Taco Bell, Budweiser, Gucci, Coca-Cola, McDonalds', Ray-Ban, and many more have successfully made NFTs part of their branding strategies.
However, NFTs don't just have to be for legacy brands, and businesses of all sizes can get creative to implement NFTs into their marketing strategy and boost customer experience.
How Can Marketers Make Use Of NFTs?
Every marketer knows that good marketing has to go beyond offering customers your products and services. A successful marketing strategy includes providing meaningful experiences and forming long-lasting relationships.
NFTs are a perfect way to do this and simultaneously keep up with modern times in the digital sphere and take their first steps into the Metaverse. Whereas NFTs may not result in immediate ROI, they have an essential part in supporting the rest of the efforts to generate conversions and sales.
Here you will find a list of possibilities for how to include NFTs in your digital marketing strategy.
1. Reach A Larger Demographic
Adapting digital trends such as NFTs into your marketing strategy is an excellent way to broaden your audience reach. Especially now when there are 15 000 – 50 000 NFT sales daily, and NFTs popularity is on the rise.
Entering the NFT market can easily attract new customers in the digital sphere who would not otherwise stumble across your brand and your offered products and services.
Bicycle, a card company that has been around for over two centuries, is nothing but an old-fashioned company and therefore is a brilliant example of how brands can embrace the world of NFT marketing to be present for a new digital demographic.
Bicycle's artwork for their NFT collection "Genesis Collection" represents a digital deck of playing cards in a way playing cards might look in a thousand years and was created by a respected playing card artist Adrian Valenzuela.
With the purchase of NFT assets created by Valenzuela, the Bicycle NFT holders gain access to card deck presales, can attend exclusive events, and access a digital deck of NFT cards.
This new approach to bringing playing cards into the digital sphere has gained the attention of people interested in new technologies and frequent card players alike. The company's CEO Stefaan Merckx has stated that the NFT launch has opened doors to reach new consumers while still staying true to the brand's roots.
"At Bicycle, we're a heritage brand that has been at the forefront of playing cards for over 135 years, and this NFT launch marks a special moment in our history where we're bridging the gap between tradition and innovation," he said. "Looking ahead, we'll continue to reach new consumers and generations while also staying true to our history."
2. Increase Brand Awareness
A trending approach to using NFTs in marketing is to show off your brand in the Metaverse. The primary Metaverse shopping environment is within online video games, where 74% of Gen Z users have reported to have made at least one purchase.
To get your brand on the Metaverse, you can mint your products or branded merchandise as NFTs and then sell them on different platforms where users can buy their desired items and use the assets in the Meta sphere.
By giving your loyal customer the chance to use your branded items, you will be able to gain exposure among Metaverse users and spread word about your brand.
Naturally, it's simpler for big brands with a huge fan base who are eager to get their hands on the brands' virtual assets. However, this does not mean there's no room for small players, mainly because metaverse is still in its early stages and NFTs popularity is steadily increasing.
One of the most inspiring examples of small brand success is RTFKT Studios, a digital fashion brand that became popular worldwide with its series of virtual sneakers minted as NFTs. Their NFTs went viral and built up a real hype and brand awareness which resulted in Nike buying the company's rights in December 2021.
3. Create Unique Customer Experiences
75% of customers expect companies to combine existing technologies with new ones to provide better experiences. NFTs really hit the mark here as they can easily be integrated as part of your brand storytelling, allowing customers to enhance their experiences and engagement with your brand.
Integrating NFTs into your customer experience has multiple options to strengthen brand loyalty. For instance, you can hold special virtual events or complement your on-location events for NFT holders, provide an exclusive rewards system, promote new products, etc.
A great example of a success story of boosting customer experience and strengthening brand loyalty through NFTs is from Burger King and their Keep It Real Meals NFT collection.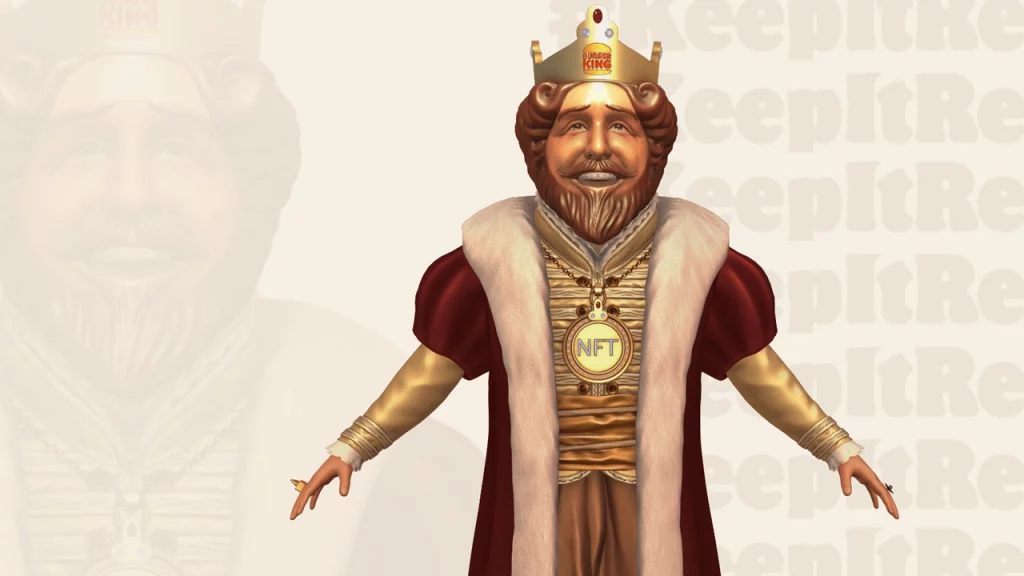 Together with Trading NFT Sweet Platform, Burger King integrated 6 million QR codes on their most popular burger and sandwich packaging boxes. Once those codes were scanned, customers could unlock, collect, and trade Burger King NFTs.

By unlocking 4 NFTs, customers were granted a reward-based NFT ranging from digital collectibles, Whopper sandwiches for a year, autographed swag, or a call from one of the celebrities representing the brand.
4. Support A Good Cause
In recent years, customers' expectations for brand values have grown immensely. Customers expect transparency, and up to 84% of millennials are willing to spend more money with brands offering a culture they can relate with.
One way to show your brand's dedication to social causes is to use NFTs revenue to support charities. These digital assets provide a great way to collect money via transparent auctions, which help to engage with new audiences and strengthen brand awareness.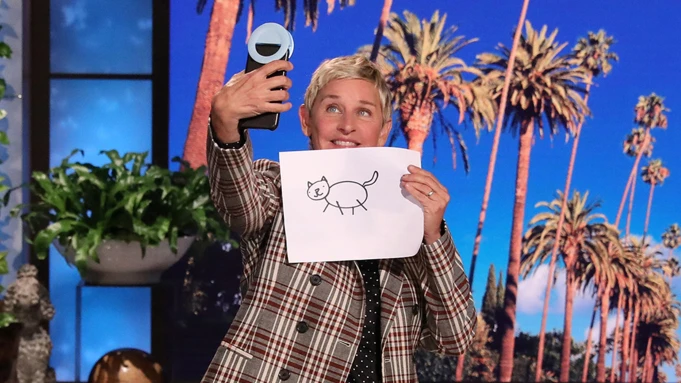 Like many other celebrities, Ellen DeGeneres launched her own NFTs, including her four-minute monologue that was sold for $14,555 and her selfie "Woman With Sick Cat."
All the proceeds from the auction were donated to World Central Kitchen, the food-relief org founded by Chef José Andrés.
5. Create Hype And Boost Pre-orders
Building hype around your product before its actual release is a known marketing strategy in various industries. A lot of FOMO is successfully created among book and video game communities where customers desperately wish to be the first ones to get their hands on the product.
Creating NFTs and allowing early access to their holders can help to generate buzz and spread the word before the actual product launch. This way, you're likely to attract numerous early-bird customers and increase your sales.
A creative approach to a new product launch (and for funding) was seen by writer Rex Shannon who released his novel CPT-415's pages separately as NFTs. Once a page was sold, another one was made available to the public. This gained a lot of attention among the community and also introduced a new way of novel reading.
6. Protect Brand Image
Although small brands are usually not in danger of their fake merchandise circling in the market, it's something to keep in mind when your brand grows. And NFTs are a perfect way to secure and protect the brand image against fraudulent products.
Robert Mondavi Winery has approached creating NFTs with this specific goal in mind – to protect their wine province.
With the increase of knock-off vintages getting to the market, the Winery partnered up with an artist Clay Heaton to create a collection of wines featuring porcelain bottles and NFTs that authenticate the wine.
While the main focus was combating wine fraud, the creation of NFT has also turned the bottle into a collectible and traceable work of art, underlining their emphasis on environmental responsibility.
The Downside Of NFTs – The Ecological Cost
While using NFTs in your marketing strategy holds numerous benefits, it can also have a negative impact that you need to consider.
Brands need to be aware of the bad reputation of blockchain technology for using up enormous amounts of energy.
According to a study made by Computational Artist and Engineer Memo Akten, the average footprint of a single transaction relating to an NFT (minting, bidding, sales, transfers, etc.) is 82 kWh, with emission of 48 KgCO2. This amount of energy use exceeds the consumption of power that the conventional household requires for over a day and a half.
It's also important to understand that the price of a digital asset does not influence the amount of energy used. The energy consumption comes from the tokenization and the exchanging of data where each transaction needs to be verified. And while thousands of miners are looking to verify the transaction, only one can be successful.
Fortunately, there are people out there, like Elon Musk, who are working on implementing technologies for crypto transactions that would be more sustainable.
Therefore, if you embrace the use of NFTs in your marketing strategy, take time to familiarise yourself with the possibilities of being as environmentally responsible as possible and let your customers know what steps you have taken to ensure that.
The Bottom Line
NFTs are slowly moving into the landscape of digital marketing, and major brands are rushing to implement NFT marketing in new and creative ways.
As NFTs are still in their baby shoes, it's a perfect time for other brands and marketers to jump on the board to start building their presence in this new digital era, capture the attention of new potential audiences and boost the loyalty of returning customers.
But as always, integrating new technologies into your business comes with challenges. To ensure you are not jumping blindly into the unknown, do your own research, and familiarise yourself with the perks and concerns that might come with stepping into the NFT world.


Featured Image Source: Freepik
Image Source: news.artnet.com, news.bitcoin.com, Hypebeast.com, news.bitcoin.com, Variety, Opensea.io, Alcoholprofessor.com
Carl Torrence is a Content Marketer at Marketing Digest. His core expertise lies in developing data-driven content for brands, SaaS businesses, and agencies. In his free time, he enjoys binge-watching time-travel movies and listening to Linkin Park and Coldplay albums in the loop.