A good press release about an event can generate thousands of views and impressions for your company.
In fact, recently a search marketing company named WordStream was able to get 10K media mentions with just one story.
In this article, I'll show you how to get similar results for your next press release.
Let's go.
Pre-Writing: Determine Your Target Audience
A Press Release is a statement that announces something newsworthy. Now, the definition of something newsworthy depends on who you ask.
For instance, a movie release update won't appeal to a sports magazine.
So if your event isn't of any concern to your audience, they don't care.
To avoid this, try to find out who would take interest in your event. More importantly, keep a check on news platforms or media outlets they're following.
You can also consider the following factors while determining your target audience:
Demographics like age, gender, location, etc.
Audience's interests and benefits for attending the event
How popular their media outlets are
In case your event covers a wider topic, write separate press releases for different journalists or publications.
Things to Take Care of While Writing A Press Release for An Event
Write A Catchy Headline
The most important part of your press release is the headline. It introduces your event and compels readers to go through the entire copy.
A good headline is powerful, catchy, and attention-grabbing. It should include the main information about the event.
Although headlines need to be informative, you shouldn't give away everything in one go. Otherwise, readers won't bother about the body of your press release.
Here's an example of a great headline from BUX zero, an investment app:"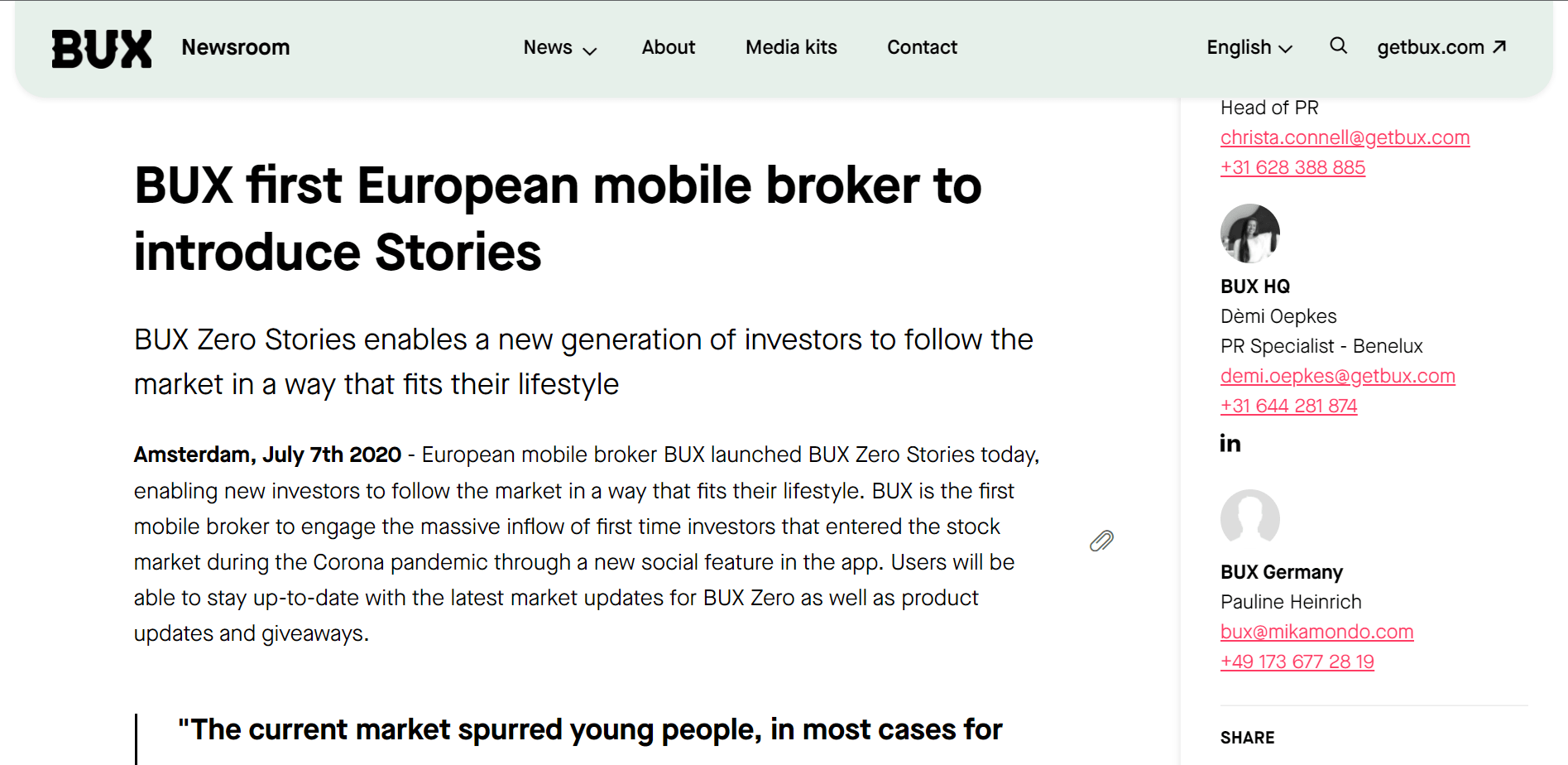 As you can see, this headline perfectly states the main motive of the announcement without giving away too much.
Write A Summary of the Press Release
A summary is the start of your press release. It's meant to summarize the essential details and the gist of your event.
The only point of the summary is to give a story an angle.
You can use 1 or 2 lines for the summary or include bullet points. Additionally, it should be placed between the headline and the first paragraph.
When your press release is published online, summing up becomes even more crucial.
This is because whenever you write a summary, Google might index it. And eventually, you might get top rankings and more traffic.
So basically, a summary or meta description is useful for readers as well as SEO.
First Paragraph of the Press Release Should Hook the Audience 
The first paragraph must have every crucial detail readers should know. Things like relevant information about the event.
You can also utilize the 5Ws and 1H in this section.
What – What the event is all about
Why – Why the event is happening
When – What time and date will the event happen
Where – Where will the event take place
Who – Who is the event for or who is organizing it
How – How can the readers come to the event
Usually, your first paragraph should be small and concise. Just remember, only the most important information needs to be covered here.
Writing the Body of Press Release the Right Way
The body of your press release contains all the remaining details. Although it doesn't have important information, we can leverage it to attract more attendees.
Here, you're not restricted to fit all the information in a small paragraph.
You can expand your summary and write up to 2 or 3 paragraphs. You can describe things that will appeal to your target audience.
For example, mention VIP guests, the activities you've planned, or the perks of coming.
Using images, videos, or graphics in your body is also a great idea to make the press release visually appealing.
Another important thing you should include is a call to action. It should provide a specific action or a direction that the reader should follow after reading the press release.
Lastly, your goal should be to highlight every last thing about your event that the journalist should cover in their news piece.
Don't Forget to Add A Boilerplate to Your Press Release
The Boilerplate is the description of your organization.
It helps the media know more about your business and the organization running the event. It should also highlight the reason why the event is happening.
Usually, the events are organized for some benefit of the organization. They could be networking, creating a buzz, or promoting the business or the product.
So, the boilerplate becomes a necessary section in your press release to attract the right target audience.
Here are some things you can include in the boilerplate of your press release:
Company details like name, address, contact information, and name of the CEO
Previous history of the event
A link to the company's website
A strong reason to host the event
The ideal length of a boilerplate should be around 100 words.
How Does the Formatting of a Press Release Look Like? 
1. Must-Have Elements of the Press Release
A press release must include the date of publishing. If it's supposed to be released immediately, you need to write FOR IMMEDIATE RELEASE.
Otherwise, you can mention the release date if it's supposed to be embargoed.
Other than this, you can include basic elements like:
Headline
Summary
Body
Boilerplate
2. The Hierarchy
When it comes to hierarchy, the most important things come first. Here's an example of a press release by a company called Heinz: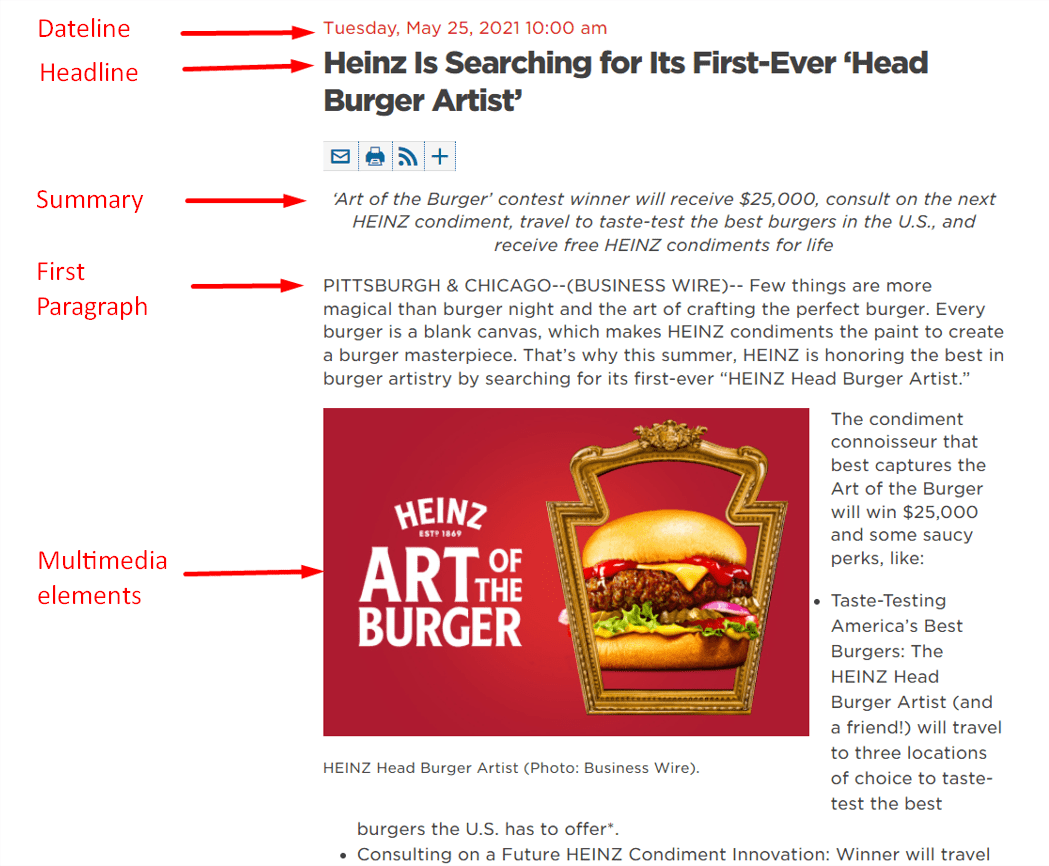 The first thing here in the press release is the dateline followed by a headline.
After that, there's a brief summary before the body paragraphs.
There's also a picture included in the release, which is not needed but makes it visually appealing.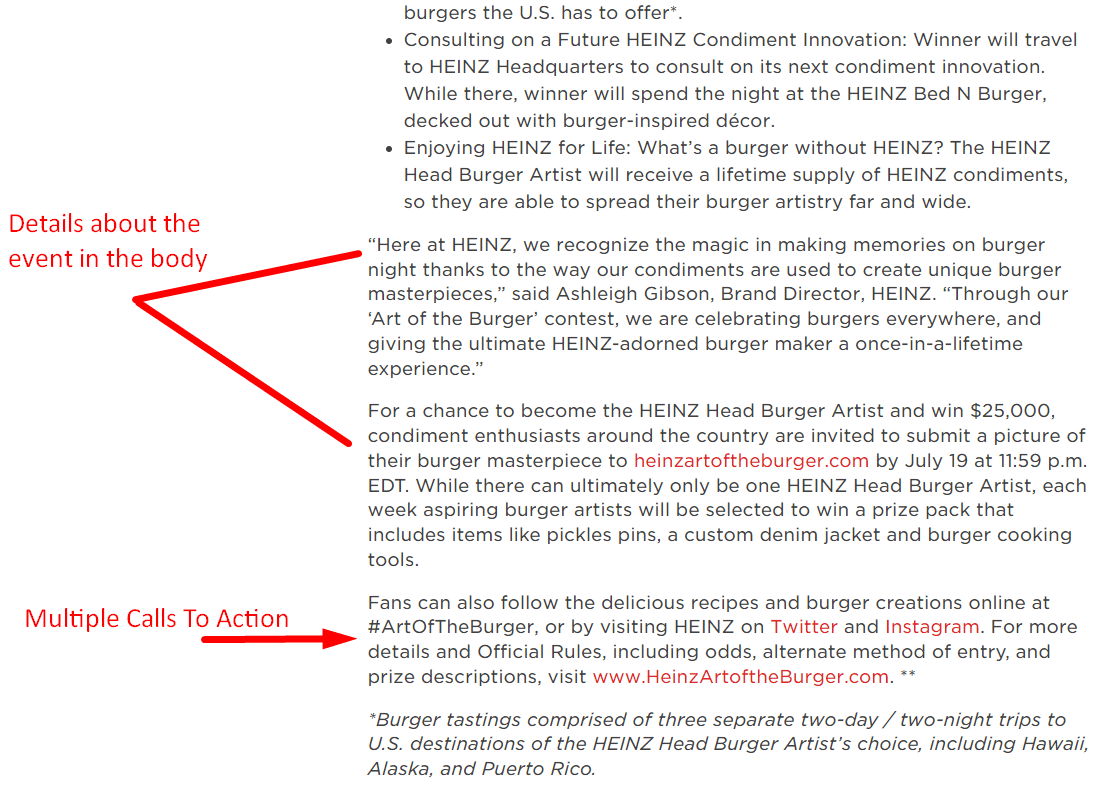 There are also a few other paragraphs about the prize of $25,000 that you can win by participating in the event.
Besides this, multiple calls to action direct the reader to the next step. 
The last thing is the boilerplate and the email addresses of the company heads.
3. Spacing and Grammatical Tone
The ideal space between each paragraph is two lines. However, you can also get along just fine by leaving only one line between paragraphs.
As far as the spelling and grammar go, you need to proofread multiple times. This stops any errors or misleading information from confusing the readers.
So far we've discussed the most important things to take care of while writing an event press release.
From here, let's take a look at a few other best practices you can follow to write a great press release:
Best Practices to Follow While Writing Press Release for An Event
1. Nail the Elevator Pitch AKA Headlines
The father of advertising, David Ogilvy said:
"On average, 5 times as many people read the headline as the body copy."
Although this may have been said regarding advertising, it also applies to press releases in some capacity.
The best way to write a catchy headline is to know your brand and the market that makes it. This would allow you to analyze your competitive edge and accurately portray it.
A basic headline might work but it probably won't be considered front-page material by journalists.
2. Follow the Editing Process Thoroughly
Newspaper editors are generally strict with language and tone.
When press releases are not up to a publication's standard, they often get rejected without proper acknowledgment.
Therefore, you need to put effort into editing the copy for proper use of grammar, spellings, titles, and styles.
You can't leave the copy with a single error or give the media house editors any chance of rejecting your release.
3. Cross-Promote the Release to Gain Credibility
Cross-Promotion quickly spreads information about your press release on multiple platforms.
You can use advertising and promotions to improve your branding and let the industry know about your event.
Many businesses hire promotion partners or marketing agencies for cross-promotion. This is much easier but might stretch the budget a little more.
4. Repost the Content 
To further enhance your credibility, repost articles related to your release.
For example, if a news outlet writes an article about your event, you can mention a paragraph or two in your blog, posting a link to the original article.
This legitimizes your event and creates a good brand image.
And make sure you don't copy the entire article. It would be considered plagiarism and this might damage your reputation.
5. Optimize the Press Release for SEO
Back in the traditional media days, nobody cared about SEO. But these days, you have to take care of SEO to get the most out of your press release.
Backlinks, keywords, and other SEO optimization tactics are a must. And yes, you can also include pictures with alt text to get listed on Google Images.
The Bottom Line
From writing headlines to the body – everything you write in an event press release is for awareness.
Before you write your next event press release, have an end goal in mind. Because that's what's going to keep you going in the right direction.
Just remember, you can't spread awareness without being aware.
About The Author
From 9-5 Mihael D. Cacic is a content strategist at Voila Norbert. And from 5-9, Mihael is a content marketing consultant at 21writers.
PRmention is a digital PR agency for startups & SaaS businesses. Occasionally, we accept high quality contributed content and we'd love to hear any ideas you may have. Feel free to email us on guestcolumn@prmention.com if you are interested in contributing.