In a recent Podcast Trends Report, one of the key statistics that stood out was that 82.4% of people listen to podcasts for more than 7 hours each week with 59% of people spending more time listening to podcasts than on social media.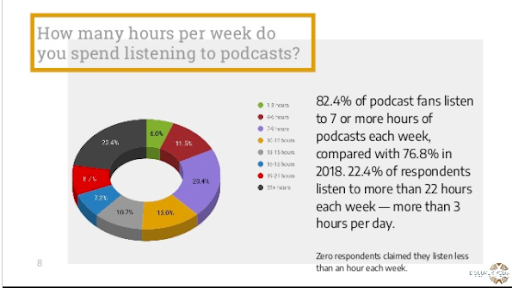 Image via DiscoverPods
As people gear towards audio-based content more and more, podcasts are becoming a lucrative source of income. It is a more flexible source of entertainment because you can literally hear a podcast while you drive your car or while you are making your dinner because you do not need to sit down and stare at a screen.
Starting a podcast is also a pretty easy and affordable side hustle to try your hand at. Here are a couple of awesome benefits for podcasters-
Low starting costs– Apart from your podcast hosting site which will, on average, cost you $50 or less, you are only going to need to spend money on equipment- some of which you may already have. Namely, a mic, a laptop, a pop filter, and a headset. This does not add up to much.
Monetize your podcast– For successful podcasters, the sky is the limit. Affiliates, advertisements, sponsorships, starting an eCommerce store, promoting courses you created, and selling premium episodes are all great ways to monetize your podcast. For example, in 2017, Gimlet was on track to earn $15 million in revenue.
Build an audience– In 2020, having a loyal audience is priceless and a podcast can help you get that. This is especially true if you have a small business and you are trying to grow as a brand.
Here are 13 of the Best Podcast Hosting Sites for 2020:
We are going to mention our top five favorites first and then add a few other options below that in no particular order.
1. BuzzSprout (Best Overall)
BuzzSprout is our favorite podcast hosting site for pretty much anyone but especially for beginners. Their pricing starts off with a free plan (episodes are hosted for 90 days and you can upload up to 2 hours of content)  that is perfect for hobby podcasts and then starts at $12 per month for a paid plan. The $12 plan lets you add up to 3 hours of content every month and episodes are hosted indefinitely.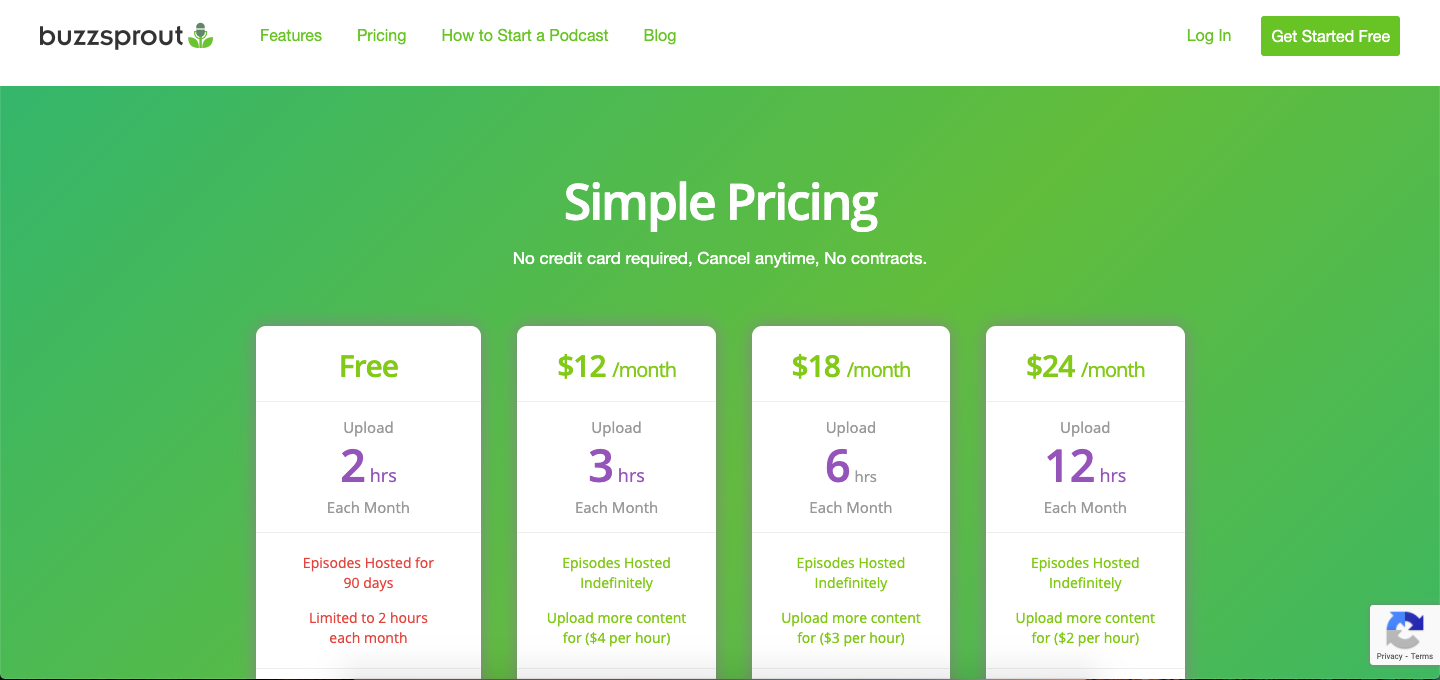 Some other key features included in every paid plan are a podcast website that will help you create an awesome landing page for your podcast, data from the analytics gathered, custom embed players, and 250 GB bandwidth per month.
You can also choose to pay $0.25/minute for transcription if that is something you would want.
Here are some of their very pleased customers: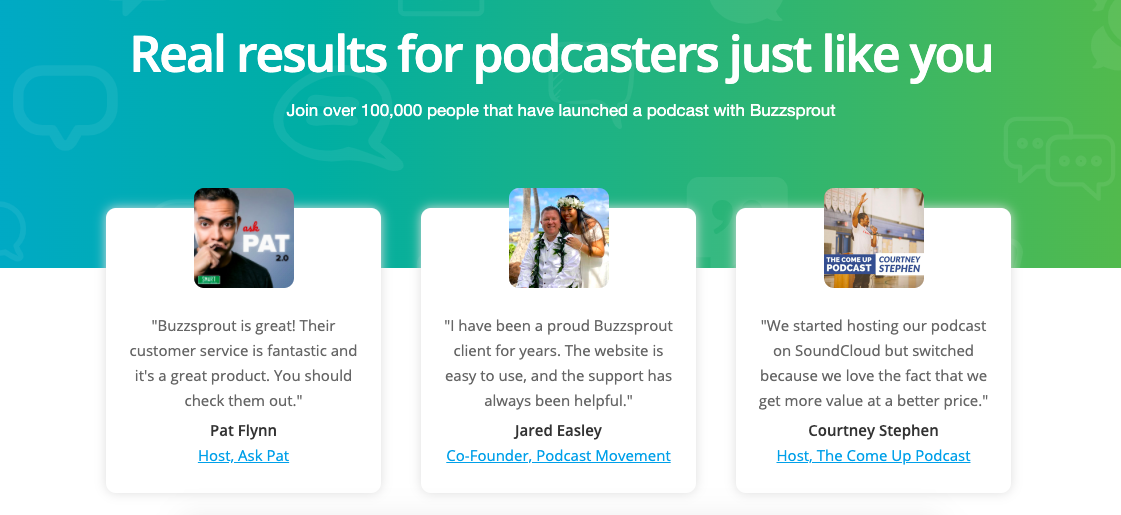 2. PodBean (Best for Seasoned Podcasters)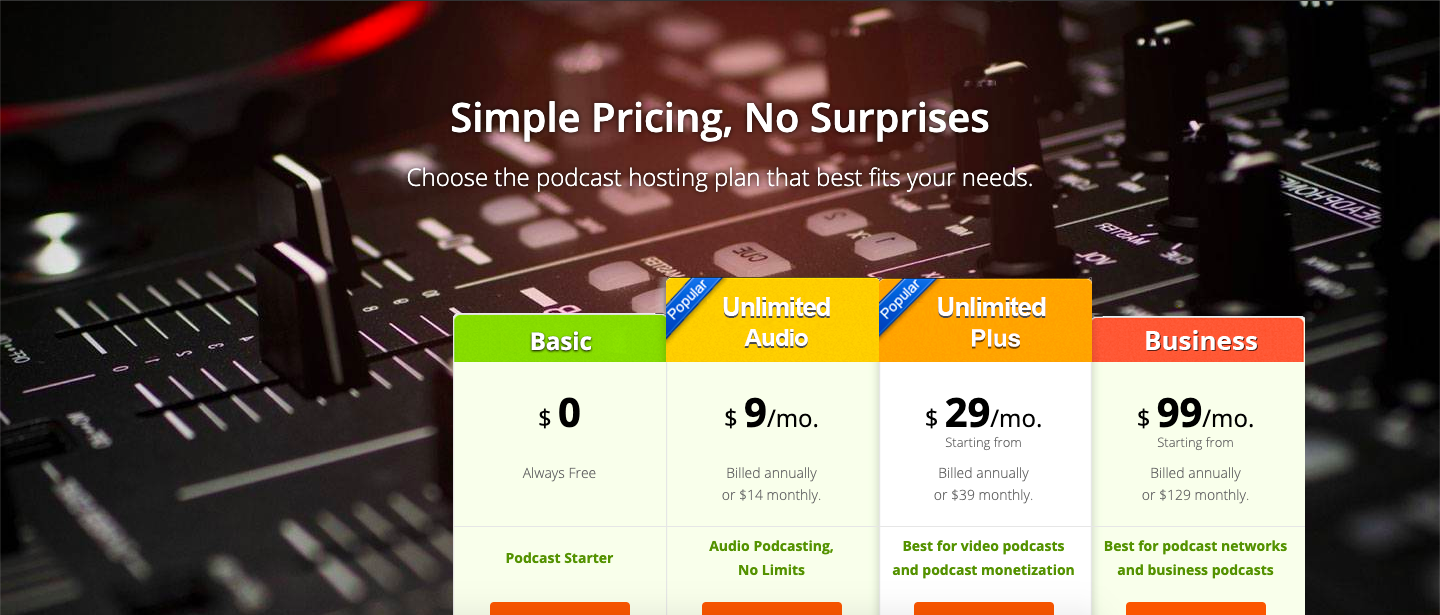 Podbean is our second recommendation and offers a variety of plans with unlimited bandwidth and unlimited storage space.
You can also opt for the free version that has a very generous 5 hours of storage space and 100GB of monthly bandwidth. Their plans allow you to easily embed the podcast player directly into your website. Podbean will help you create that website as part of your plan.
They also automatically submit any of your new podcasts to podcast directories which means your listeners can tune in from practically anywhere. Other than this, they give you the ability to monetize your podcast by joining the ad marketplace or by selling premium content.
Monetization options are only available to paid plan members.
The higher the plan, the more features you will find. For example, unlimited admin accounts, advanced analytics, and multiple channels are available as part of the highest plan for $99 (billed annually).
3. Simplecast (Best for Unlimited Storage)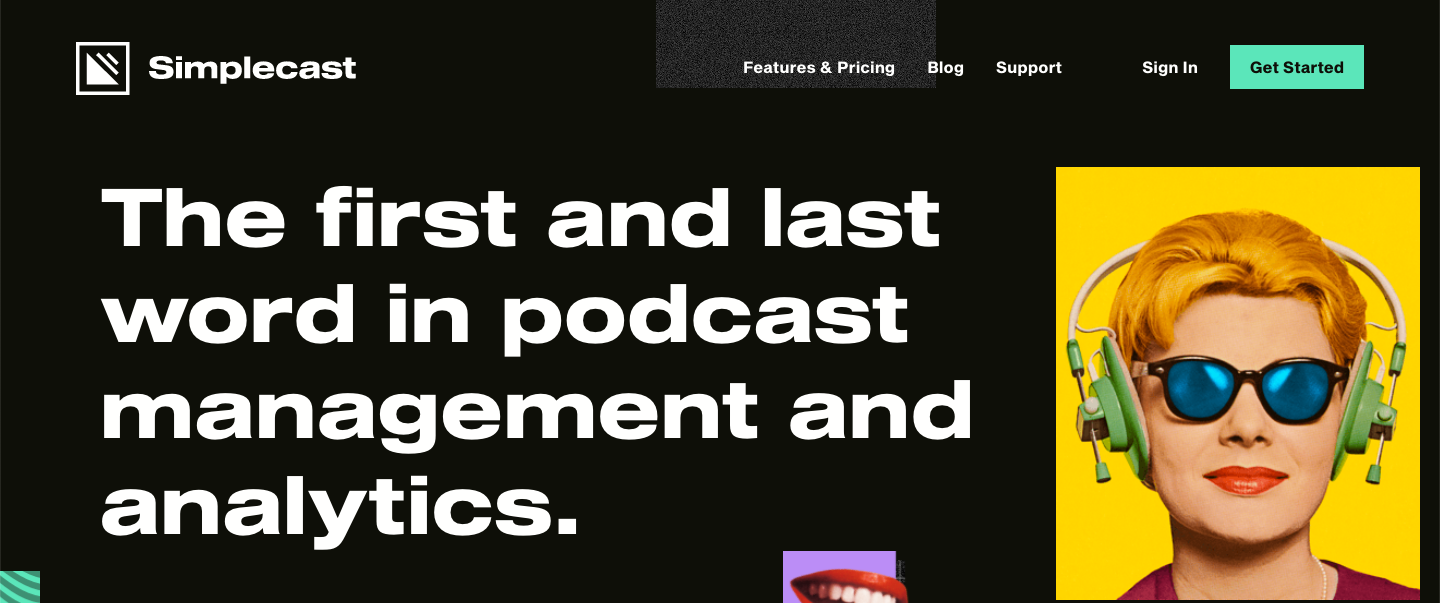 Simplecast has been hosting podcasts since 2013 and has multiple options to choose from in terms of pricing. You can either opt for the basic model ($15 per month), the Essential plan ($35 per month), or the Growth model ($85 per model).
Every plan includes a 14-day free trial as well.
So, what are the differences between these plans? 
Well let me start off by pointing out what is available in all of the plans- unlimited storage and bandwidth, distribution to everywhere your audience is, basic analytics, an embedded player, and email support to name a few.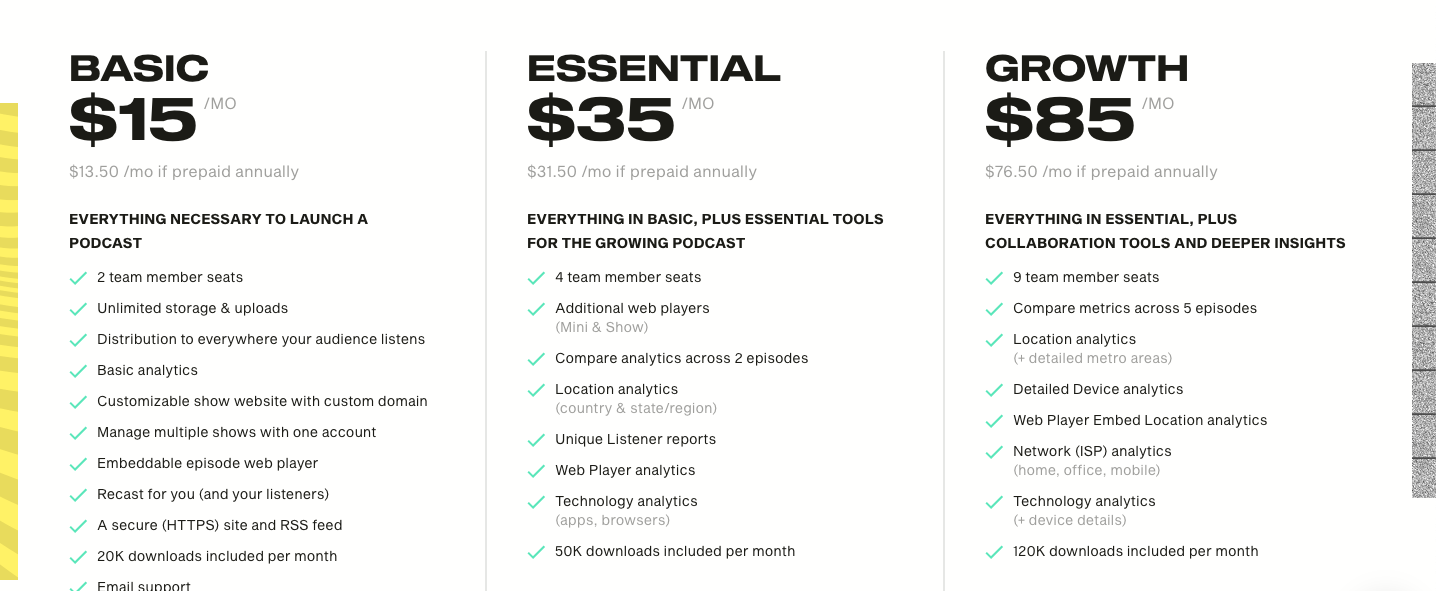 Now as we go on to the higher plans, you will see an increase in features. With the essential plan, you will have 4 team member seats, location analytics, and 50k downloads included per month (instead of the 20k in the basic plan).
In the highest tier, you will receive additional features including 120k downloads per month, detailed device analytics, and 9 team member seats.
As your tier increases, you will carry with you all the features of the previous plan and get a few more.
4. Transistor (Best Podcast Analytics Feature)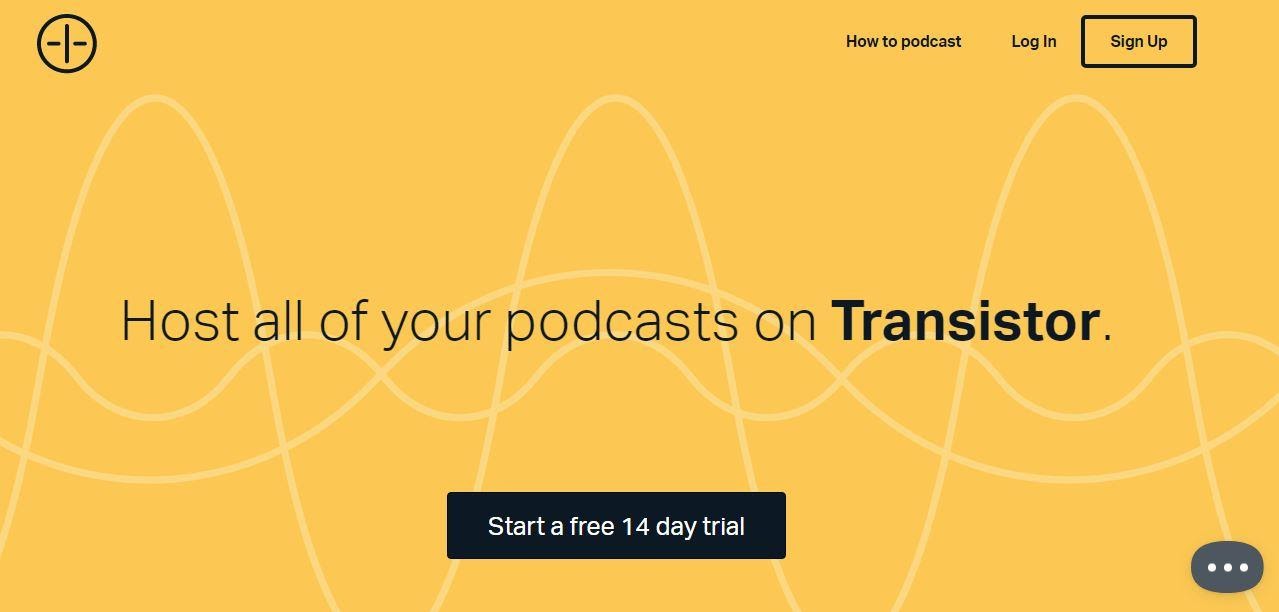 Transistor saves your MP3 files, hosts unlimited episodes, promotes your episodes on social media, and gives your tons of data with their podcast analytics feature. You can also import shows from another podcast hosting service and always depend on their awesome chat support for help.
It is doubtful that you would need any help though because most of your doubts have already been covered in their list of tutorials and posts.
Here is what their pricing looks like-
Starter Plan- $19/ month
Professional Plan- $49/ month
Business Plan- $99/ month
Some of the main feature bumps in higher-tier plans include enhanced private podcasting, number of private subscribers, and the monthly download volume.
It is also worth mentioning that you can try them free for 14 days and even get two months free when you pay yearly.
Here is what some of their customers have to say about them-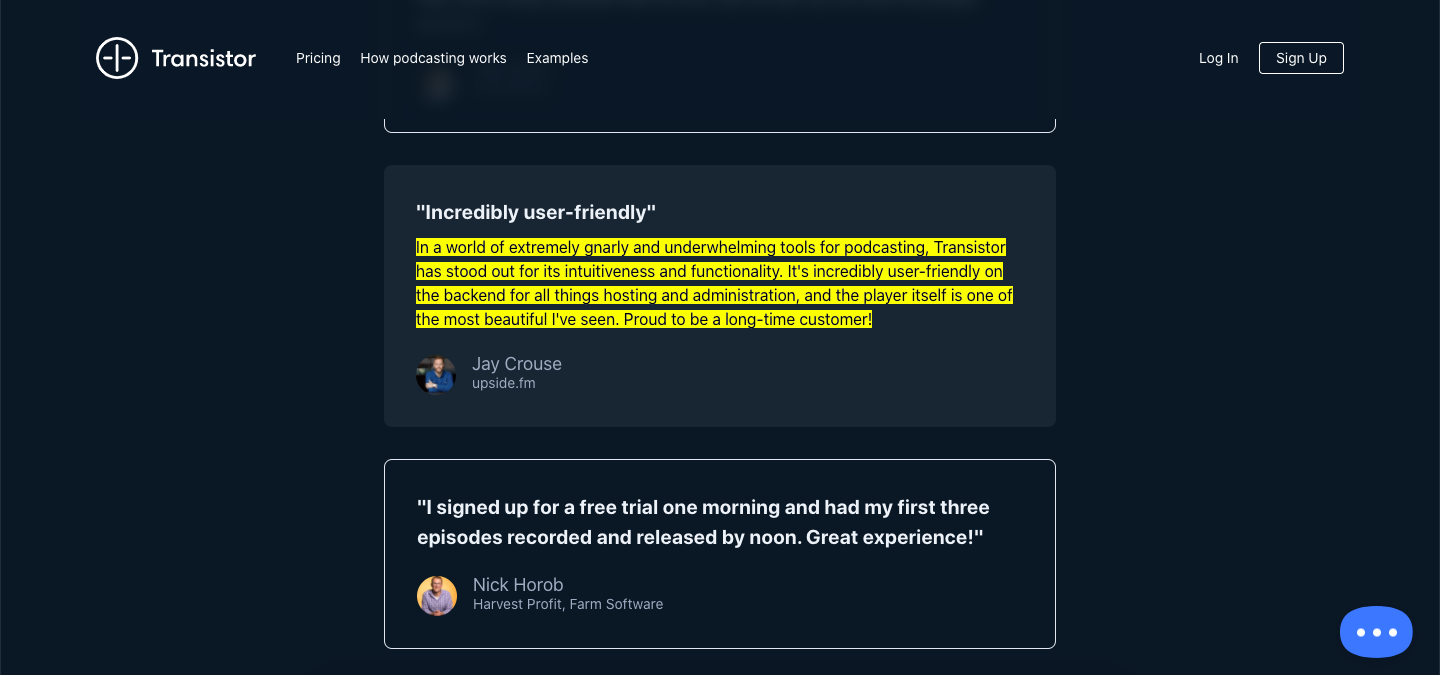 5. Castos (Best For Flexible Pricing Options)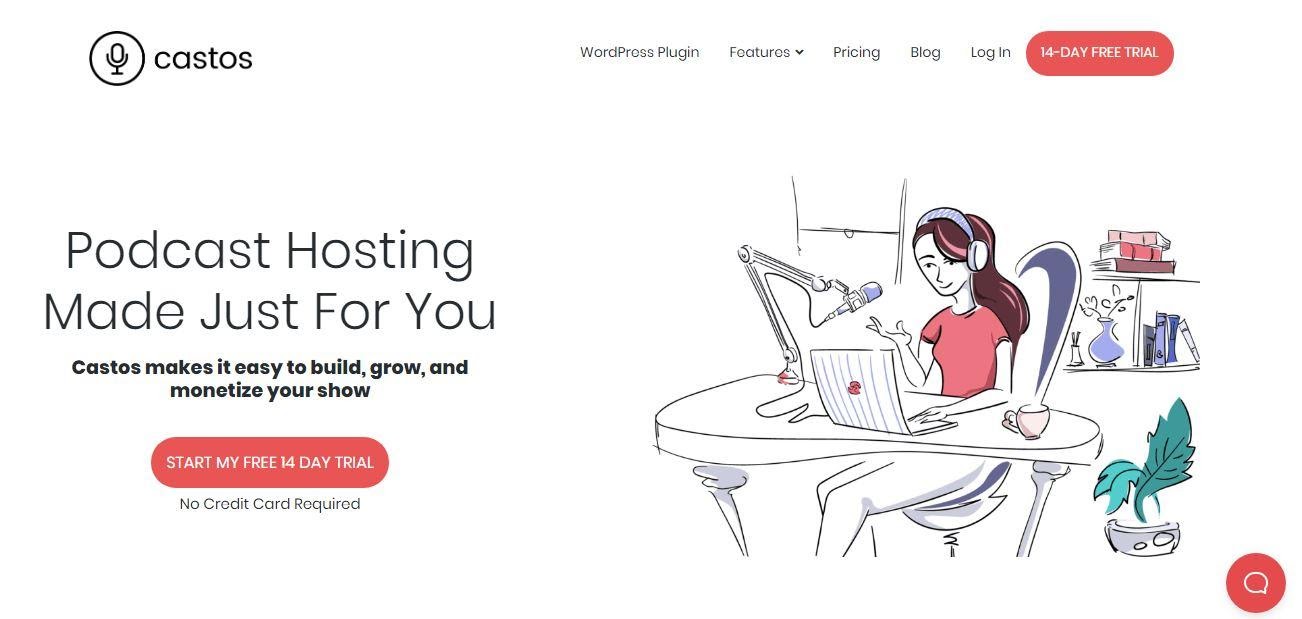 Castos is also available as a WordPress plugin for users that have already paid for web hosting and set up a site of their own. Their plugin allows you to see analytics, upload episodes, and customize the player. This WordPress plugin comes free with every plan.
Some of their plan features include unlimited storage and bandwidth, a built-in audiogram, and podcast editing services. You can try their services with their free 14-day trial.
After the trial, here is what your pricing will look like-
Starter Plan ($19/ month)
Growth Plan ($49/ month)
Pro Plan ($99/ month)
Much like Transistor, you can get 2 months free if you decide to pay annually.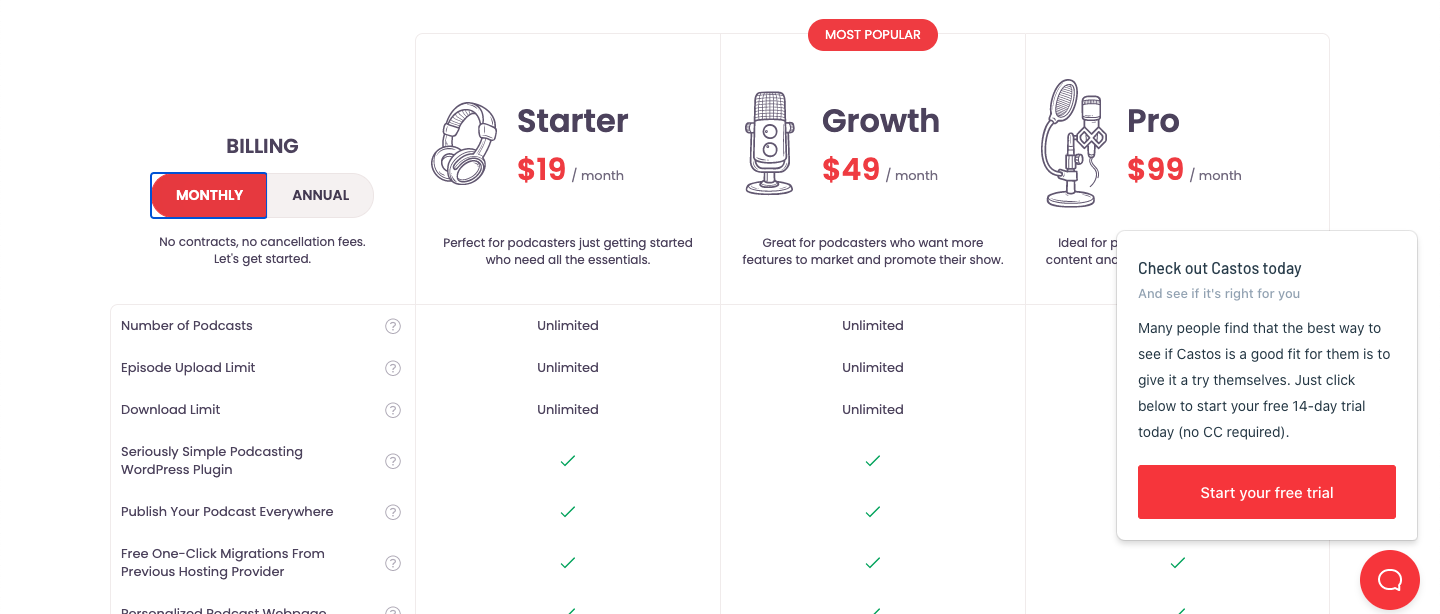 So, what are the differences between plans?
Well, everything in the basic plan carries forward to the growth and pro plan along with a few extras.
So, with the growth plan, you will get two extra features- video republishing to YouTube and headliner audiogram integration.
Bumping up to the highest tier, will get you advanced analytics and video file hosting.
Overall, Castos is a great option if you see yourself growing into bigger plans over the years. They also offer free podcast migration and automated transcripts which are both impressive features that are not always offered.
6. Captivate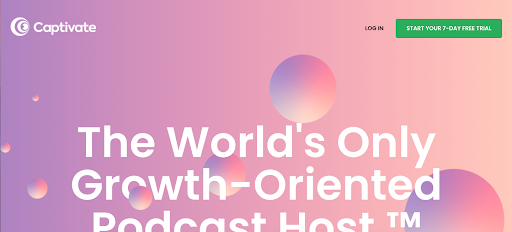 Captivate is famous for its clean and easy to understand platform that is great for beginners and experienced podcasters alike. The plans start at an affordable $19 per month and go up to $99 per month.
Some of the features you will find in Captivate's plans include customizable podcast websites, a pretty cool WordPress plugin, great analytics in every plan (no need to upgrade), unlimited podcasts, a default publish time setting, and the fact that it seamlessly integrates with Alitu (a widely used podcast editing platform).
You can start with their 7-day trial here.
7. Blubrry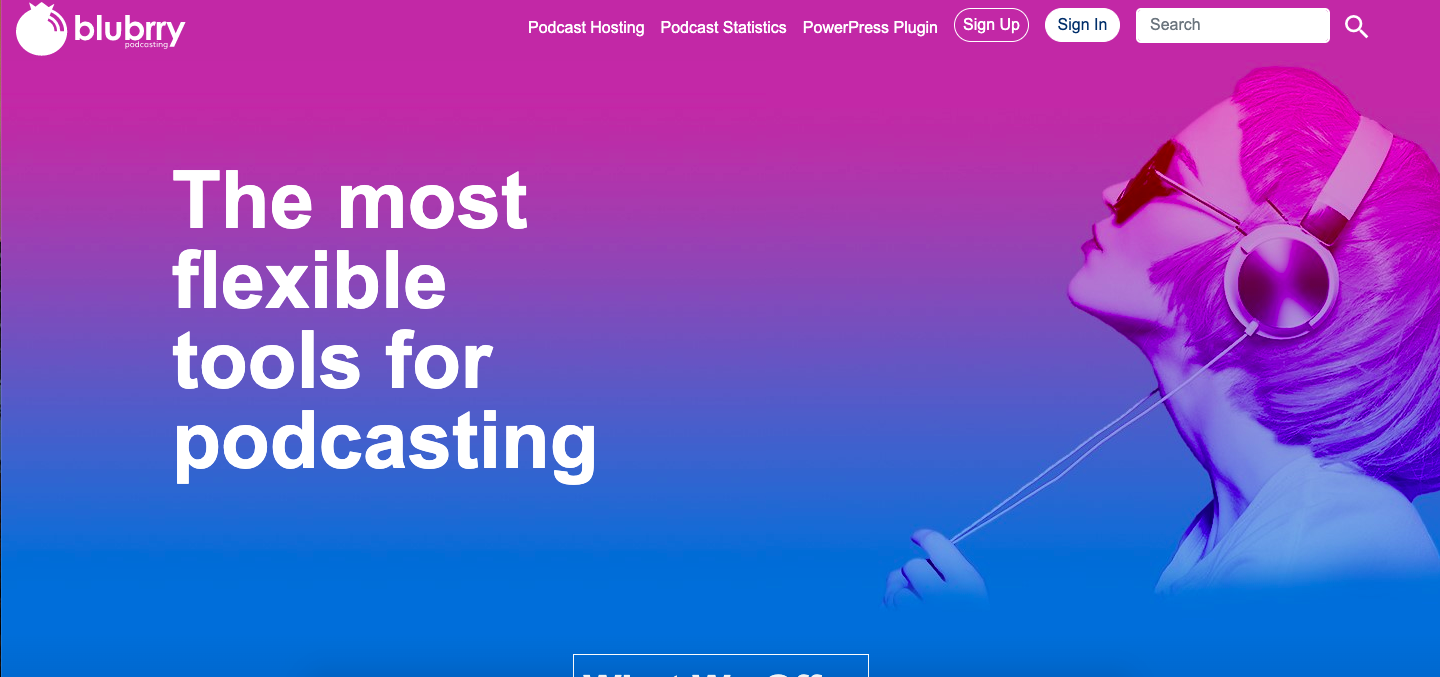 Blubrry has been around since 2005 and even comes with its very own WordPress plugin. Some of their features include free migration, free email support, and long-tail podcasting. The one thing they do not offer is a website so you would need to already have a website to use their services.
Their plans are as follows-
Small- $12 per month (100 MB storage)
Medium- $20 per month (250 MB storage)
Large- $40 per month (500 MB storage)
Extra Large- $80 per month (1000 MB storage)
Note– storage limits reset on the first of every month. So, if you use the small plan for three months, you would have 300 MB of storage.
8. Fireside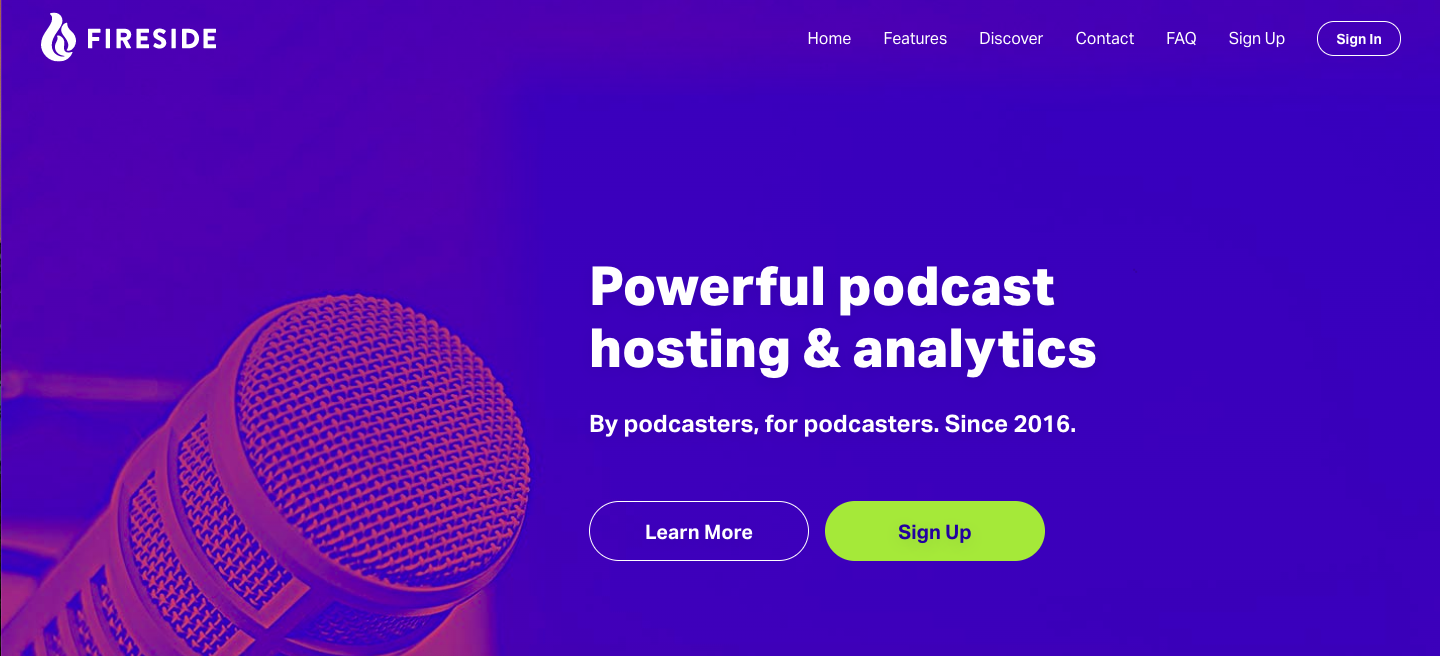 Fireside is the very definition of simple. They have one plan for $19 a month with unlimited episodes, downloads, and storage. You also get a beautiful website, analytics, and free migration from your old podcast host.
This is truly the one-size-fits-all of podcast hosting and you simply cannot go wrong with it.
9. RedCircle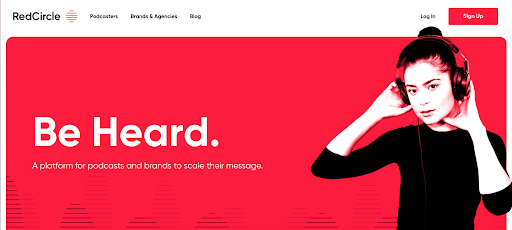 RedCircle is relatively new to the podcast hosting game considering they only launched in 2019 but they have already garnered quite a huge audience.
They are known to be a great brand for podcasts who want to grow their following. This is because their most unique feature is what they call 'cross-promotions' where you get to partner with other podcasters on the platform to grow your reach.
Think of it as the social media platform for podcast owners.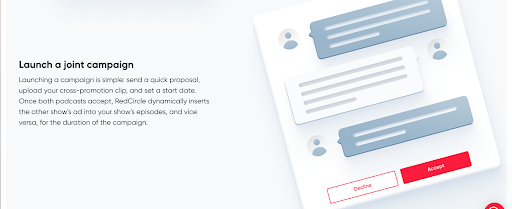 As you may have guessed, RedCircle aligns its success with yours and their unique pricing structure mirrors that approach. This is what it looks like-
RedCircle keeps 30% when they connect you to a new advertiser.
RedCircle keeps 12% when you get paid for exclusive content.
RedCircle keeps 4.5% when you get a donation.
Other than this, hosting is 100% free with unlimited storage and bandwidth. Overall, RedCircle is a great hosting website if you want some help building your own personal brand.
10. Spreaker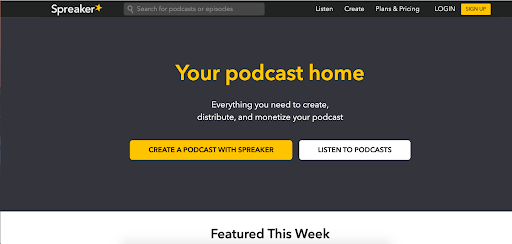 Spreaker launched in 2010 and has some pretty cool features that you won't find anywhere else. One of them is live podcasting where you can interact with listeners through live chat.
Other than this, programmatic monetization, statistics,  and multiple podcast hosting are also available on paid plans. Here are their pricing options-
'Free Speech' Plan- $0 (only multiple podcast hosting)
On-Air Talent Plan- $7 billed monthly
Broadcaster Plan- $20 billed monthly
Anchorman Plan- $50 billed monthly
Lastly, Publisher- $120 (additional features include priority support, 60,000 downloads, and a collaboration feature)
Spreaker is also insanely easy to move your podcast over to with their migration feature.
11. Anchor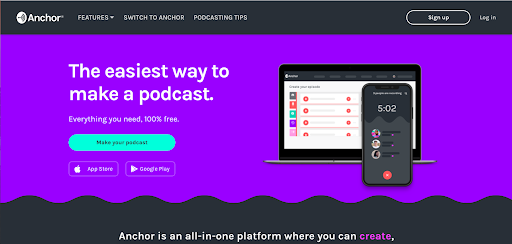 You can host your podcast on Anchor for free and it is a very simple platform to use with features to help you create, distribute, and monetize your platform.
Since they are 100% free, this obviously comes with downsides. Some of them being-
Anchor hosts your podcast episodes on Apple through their own account which means you cannot see the statistics.
You cannot change the email address on your RSS feed which can be an absolute pain later on.
You will never truly be their customer since everything is free.
This is fine for a hobby podcast or someone who looks at podcasting as a side hustle but it is not suitable if you are serious about podcasting.
12. Audioboom

Audioboom helps you host and distribute your podcast with two different pricing options. You can either go for the basic 'Podcasters' plan for $9.99 per month or the Podcast Pros Plan which you can only be eligible for if you have more than 10,000 plays per episode.
For the second option, you would have to contact them to get a pricing quote.
The basic plan that is available to everyone comes with features like unlimited episodes, distribution via various podcast directories, embedded players, and advanced analytics.
You can also import an existing podcast via RSS.
13. Libsyn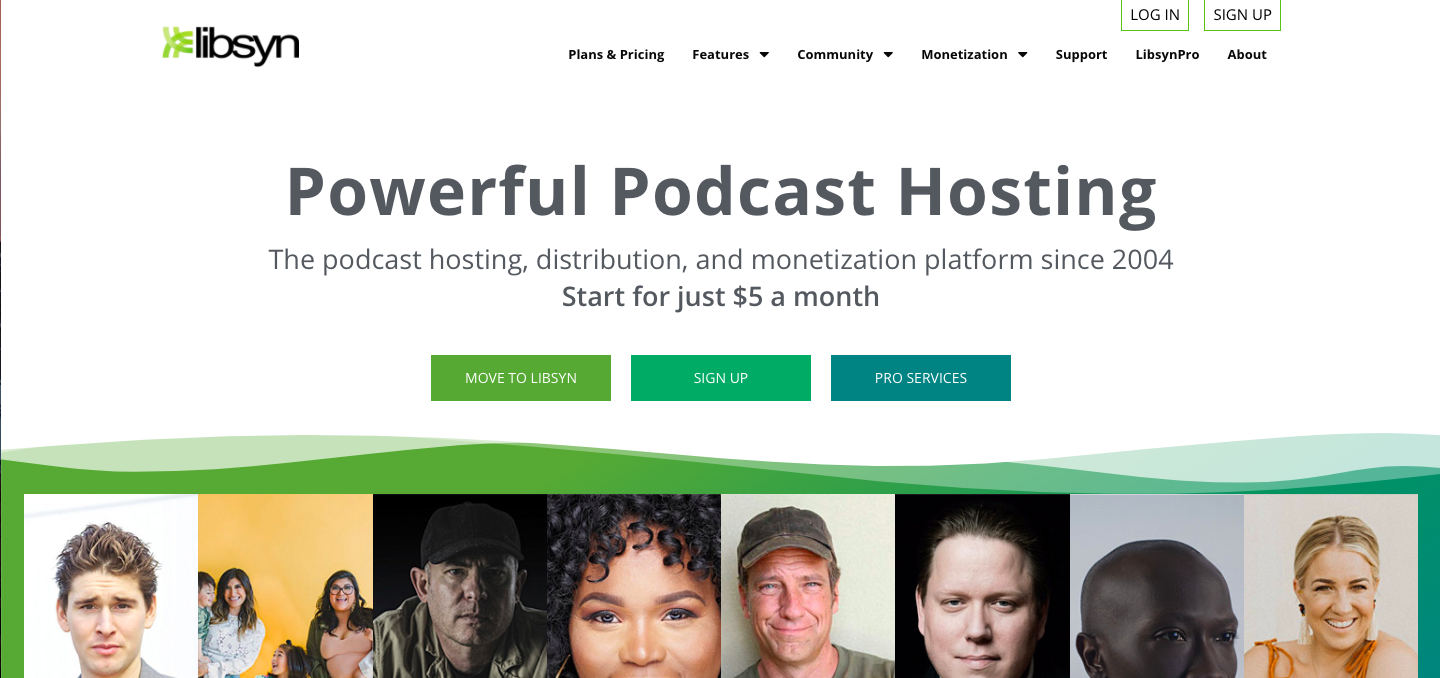 Finally, Libsyn is our final recommendation. Their plans start at just $5 a month (for 50MB)  and go up to $40 a month. They have been around since 2004 so they have a lot of customers simply due to how much experience they have in the industry but they could definitely do with a revamp.
It would not be anyone's first choice anymore but they are a good budget option.
Conclusion
Tim Paige once said, " A podcast is a great way to develop relationships with hard to reach people." which is a quote that sums up why podcasts have been so successful. They are informative without being invasive and convenient while still maintaining a personal touch. If you envision starting an online business down the road, a podcast is an especially good place to start building a loyal audience.
There are now over 850,000 active podcasts and over 30 million episodes. It is clear for all to see that this is our new channel of entertainment. Starting a podcast now, before the place begins to get really overcrowded, could be a good move for many.