Most owners of bootstrapped startups like yours face a major challenge when it comes to PR. They don't always have the connection or workforce to stir up a good press and create a buzz.
While investing time and resources in marketing is necessary for your startup, another compelling way to reach your target audience, build brand awareness, and attract potential investors is through public relations.
Neilsen reports PR is 90 percent more effective than advertising. As an entrepreneur with a thin wallet, you can pull off effective, well-thought-out PR tactics on a bootstrapped budget. Implement these 4 DIY PR strategies apt for startups to build connections and expand user base:
1. Connect with target journalists on Twitter
Sixty-four percent of journalists agree it is crucial to build a personal connection with them before pitching. Almost every journalist is active on Twitter, and 83 percent of them use it as their main communication channel.
Therefore, start following them on the social media platform. This way, you will regularly see what they are posting about and what they are most likely to write about. Once you have identified the journalists who may show interest in your pitch, approach them softly.
Look for opportunities to comment on or reply to their tweets, or to give them a shout out on their recently published stories. Journalists notice who share their pieces across social media, which they keep in mind while writing future articles.
Hence, the exercise will help you stay before their eyes – for free. And when the time comes to pitch those target journalists online, they will be able to recall your name.
2. Put an effort in writing your pitch
Writers at The New York Times, The Guardian and CNN receive more than 38,000 emails a year, which is three times that of an average worker; 26,000 of those emails are sent by companies looking to get press coverage.
As 70 percent of journalists spend less than one minute on each email they open, the window of opportunity for your pitch to getting noticed is rather small. A generic copy/paste pitch job won't cut it. You must prepare for the pitch!
Not only do you have to highlight your startup's USP, but also ensure it is aligned with the content media outlet produces. For example, if you sell an email CRM, pitch to Mashable about the role email plays in project management.
Write a clear and crisp email subject line. Don't say "Great story on business management" because it is too vague and dull. Instead, get creative and write, "New email CRM eliminates project management woes" or "New email CRM receives 100,000 sign-ups from project managers in 10 days."
Numbers speak volumes. Leverage that in your subject line and within the pitch whenever possible. If the journalists sense your request is genuine, you are more likely to get a response from them.
Pro tip: Don't mix up publication names. For example, if you are pitching to Vogue Business but address Mashable in the email, you risk getting blacklisted. Always proofread your pitch.
3. Use visual assets as PR bait
Did you know human beings process visuals 60,000 times faster than text? Therefore, an excellent idea would be to have a smart piece of visual content to present as a part of your pitch. Infographics, for instance, have become the Parmesan cheese to the content's spaghetti.
You can make a lot of difference to the end product (i.e., your pitch) with this ingredient. Did you raise funding through clever crowdfunding? Good. You can narrate your startup journey through an infographic.
A well-designed visual is any day better than a chunk of text and will grab the attention of the target journalist. After all, 90 percent of information transmitted to the brain is visual.
Alternatively, if designing infographics is not your cup of tea, you can include a chart or graph to explain behind your story angle in the email.
Pro tip: Design the infographic with any of the free tools such as Canva, Piktochart, and Venngage.
4. Use PR freebies to get the word out
HARO is a free PR platform for receiving journalist queries. After signing up for their email list, you receive a list of journalists actively seeking business owners and companies to feature in stories that are currently working on.
Contact the journalist when you see something that matches your experiences or the work your company does. HARO offers the easiest way to get quoted in reputed media outlets and to earn a link back to your website.
Additionally, many newswires such as prsync.com, PR.com, and 4-7pressrelease.com are free. Every time you have something impactful to share, circulate an SEO-friendly press release. For instance, when you launch a new product, branch out to another city or state or hit a new milestone, do a press release.
To boost your credibility, circulate your press release to as many free news outlets as possible to drive back more website traffic to you. You could also then promote those clips on the press section of your website.
5. Get your startup published locally
It is easier to break into local publications. The fact that you launched your startup in that city makes you newsworthy to local journalists. Once you gain momentum in the local press, your startup's credibility will get a boost.
You can then cite locally published clips about your business to high-end, national media outlets. To get started, type in [Your city] newspaper into Google search to get a list of all publications operating in print and online.
Identify the journalists who cover topics most closely related to your line of business, and pitch to them via email or reach out to them on social media.
6. Write for guest posting sites
The fastest way to generate buzz about your startup in the market is by sharing your subject expertise on high domain authority websites. Unlike media outlets where you have to convince a journalist or editor to use your information, many guest posting sites are open to having contributing writers.
With this exercise, you establish your credibility as an expert, earn backlinks to your business, and, more importantly, get into the radar of journalists or writers who cover your domain. This means, the next time they develop a story on your industry and want to include quotes from experts, they could reach out to you.
Input the following search strings to find guest posting opportunities online: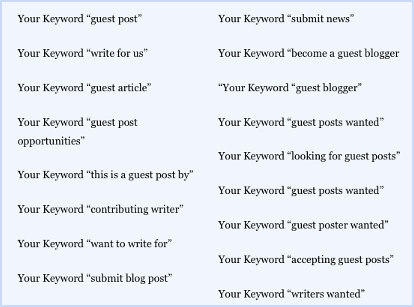 7. Secure pro bono legal support
In 2015, the Windermere Cay apartment complex in Florida decided to include a Social Media Addendum in their lease contracts, which imposed a $10,000 fine for its residents who were caught writing a bad online review about them.
However, little did they know this move would capture the attention of national media – starting from CBS News to Huffington Post – for all the wrong reasons!
Irrespective of industry, legal and PR teams, when working together, can not only ensure that what is said or done by the top company executives is legally permissible but also presents a likable brand image.
The legal team also acts as a sounding board in the decision-making process and plays an essential role in shaping the PR strategy. "If resources are tight, it may be beneficial to identify a law firm that can work with you pro bono. Some law firms will be open to pro bono work with local startups, so your neighborhood is an excellent place to start your search," says Dr. Nick Oberheiden, Founder & Attorney, Oberheiden, P.C.
Summing up
Doing your PR is a long-term commitment and requires hard work, and it offers the best way to draw attention to potential customers and investors – all of which add to your startup's growth.
Brainstorm newsworthy story ideas, identify the right journalists, and pitch them on the right channels, in the right way to maximize your efforts.
Pratik Dholakiya is the Founder of PRmention.com.