Around 68 percent of all online experiences start with a search engine.
What's more?
Nearly 75 percent of consumers judge a company's credibility based on its website.
PR is a competitive industry that focuses on communicating with and engaging the target audience to build a positive brand reputation. To gain a competitive edge and earn authentic leads, PR agencies need to reach the right audience at the right time.
One of the key aspects of boosting online visibility is technical SEO.
Implementing a strong technical SEO strategy can help your PR agency to rank better in SERPs, improve organic traffic, and gain more conversions.
In this post, we will share actionable insights on technical SEO practices that can boost the digital effectiveness of your PR website.
Before that, let's understand what technical SEO is.
What Is Technical SEO?
Technical SEO refers to a set of practices that optimizes your website and helps search engines to crawl and index it for achieving higher rankings in the search results. For PR professionals, technical SEO can help with the following aspects.
Implementing strategies that adhere to the latest search engine algorithms to make your PR website rank better.
Identifying and resolving issues, such as site speed, URLs, meta-tags, hosting, and others to boost your PR website's crawlability.
If your PR website isn't getting crawled by search engines, your online visibility will drop drastically.
To up your technical SEO game, we are sharing JetOctopus-recommended technical SEO hacks for your PR website.
To give you a background, JetOctopus is the fastest, most trusted, and affordable cloud-based SaaS crawler and log analyzer. This comprehensive tool has helped several SEO teams enhance their digital presence.
Ready to take your PR website to the top of Google with JetOctopus-recommended hacks?
Let's get started.
Hack #1: Update Meta Titles and Descriptions
People's perception of your PR services forms their core beliefs about you.
If they perceive you as a beneficial PR firm, they will choose you.
Meta titles and descriptions play a vital role in determining how people perceive you through the SERPs.
The meta descriptions refer to the small blurbs that appear in search results and provide information about your page/website. And meta titles refer to the text that indicates the topic of your webpage in search engine results.
They impact aspects like the click-through rate (CTR), which in return can build a good perception of PR services.
Thus, optimizing the meta titles and descriptions for your website pages is requisite.
Consider the example below, where we searched for 'Best PR agency in the US' in Google.
Observe the page title and meta description of the top search result. It enables the users to understand their offerings at first glance.
Keep the length of the meta title and description around 60 and 160 characters, respectively. Remember – they should align with your PR services and goals, as illustrated in the mentioned example.
To draft appealing meta titles and descriptions for your PR website, you first need to audit the entire site. It will help you in identifying what pages need to be updated.
Instead of manual auditing, go for the JetOctopus tool to crawl your PR site. This cloud-based crawling tool can crawl up to 200 pages per second, giving you instant and accurate results. Look how JetOctopus provides detailed insights on empty/duplicate/long titles and meta descriptions.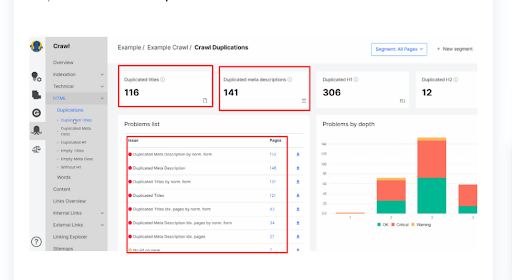 Hack #2: Fixing 404 Errors, Broken Pages, and Redirection Issues
A smooth user experience on your website can act as a positive force for building greater engagement. Imagine a high-profile brand impressed by your meta-description, clicks on Google search results, and lands on your website, but it displays – 404 error 'Page not found!'
The prospect will leave your website due to poor user experience, causing you to lose a valuable client.
The 404 error indicates that you are linking to pages that are not available on your website. Simply put, they are broken links. You might have changed the URLs for such pages or even deleted them.
This will not only leave a negative impression on your user's mind but adversely affect the search engine results. Google doesn't crawl broken pages. Such pages may degrade you're the authority of your PR website – and – thus, your reputation in the market!
In such instances, you need to ensure setting up 301 redirects. It will redirect your users to the new page where they can find the required information.
To find the broken pages on your PR website, you can run a site audit in JetOctopus. All you need to do is enter the URL of your site. It works excellently on a per-page basis and gives you a quick status of your entire website pages.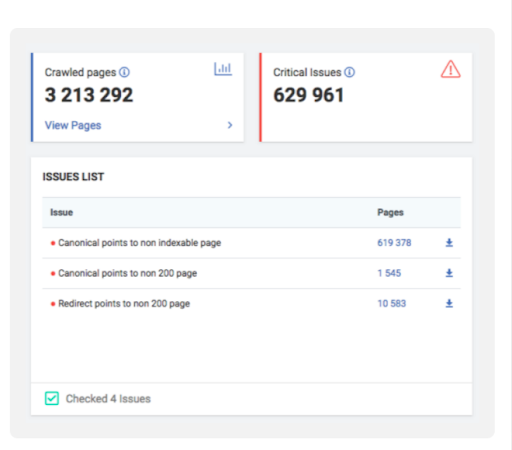 Hack #3: Boosting Crawlability
The success of technical SEO depends on the crawlability of your website.
The more search engine bots crawl your website, the higher are the chances of the pages getting indexed and ranked.
Here's how the search engines crawl your website –
They send bots or crawlers that follow links to your website.
Internal linking enables them to crawl more content.
To guide the robots, you need to use the robots.txt file. If your website's CSS and JS files contained in the robot.txt file get blocked, search engines won't be able to crawl your site.
To prevent such occurrences, check for the access given by the robots.txt file.
Simple audit using the JetOctopus tool integrated with Google Search Console helps you find crawl errors. You can fix the errors by identifying them promptly as follows.
Start the crawl by adding your site's URL. Here, we have crawled PR Mention to explain how it works.

Within seconds, the crawler crawls the website and identifies the underlying issues.
Hack #4: Reducing Website Load Time
Around 40% of people close a website if it takes more than three seconds to load. Being a PR firm, you must optimize your page's loading speed to gain, engage, and retain the leads.
Here's a simple specimen that depicts a fast and a slow loading website.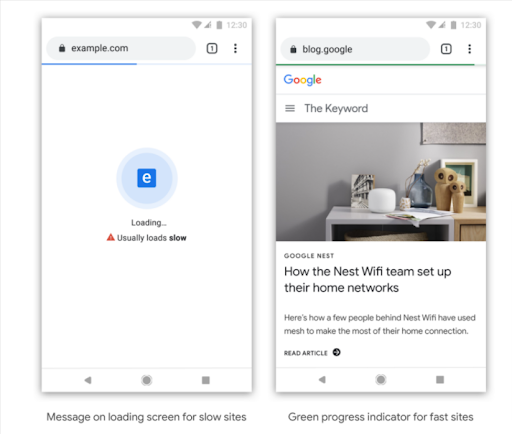 JetOctopus understands that fast loading website is a crucial metric of success for your PR firm. Therefore, it allows you to check the speed of your web pages. Look how we optimized the loading time for PR Mention by finding the slow pages.
Based on the suggestions by JetOctopus, our team –
Optimized the images on our website.
Implemented responsive design.
Reduced unnecessary plugins and widgets.
Optimized the code of several web pages.
You, too, can use this tool for detailed insights on your website.
Hack #5: Go for a Content Audit
The content on your website is the voice of your PR firm!
It reflects your values, vision, offerings, and goals. It is the focal point that increases brand awareness, engages your prospects, and influences their decision.
For optimum effectiveness, your content must be synchronized with your firm's goals.
Technically, the top content issues that may affect your website include –
Pages without Header 1 (H1) and Header 2 (H2) tags make the page look unorganized and reduce its accessibility by search engines.
Pages with mixed content issues that arise when you mitigate your website to HTTPS from HTTP links.
Duplicate content on multiple pages that confuses search engines while giving rankings.
Thin content on pages that lacks depth and doesn't answer the search query of the users.
JetOctopus readily figures out these content issues and enables you to improve your website's performance. Have a look at how swiftly it offers complete content details.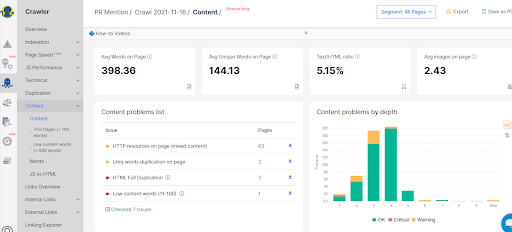 Once you have a list of issues to work off, you can visit the critical pages and resolve the issues.
Hack #6: Disavow Toxic Backlinks
Credibility is a leading attribute that determines the success of PR agencies.
In the digital ecosystem, there are two types of backlinks – the good backlinks and the toxic ones. Good backlinks affirm the credibility of your PR website. Conversely, toxic links are detrimental to your Google rankings.
To get rid of bad backlinks, tools like JetOctopus crawler can crawl your website and give you a comprehensive list of domains that are backlinking to your PR website. You can disavow toxic links that have a score of 50 or above. Simply download the list of toxic links from JetOctopus, and send a request to Google for removing the harmful links on your site.
Here's an example of how Ragan's PR Daily, a top-notch PR agency gained quality backlinks from the website – Meltwater.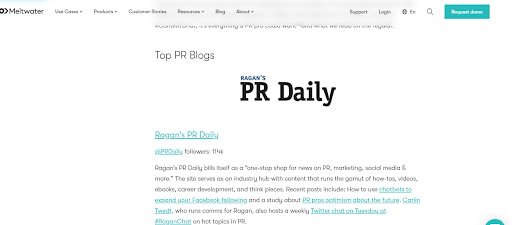 Hack #7: Optimize the Site Structure
In the digital domain, site structure refers to the planning of the website architecture. It refers to the practice of organizing the entire site's content to make it indexable from a technical point of view.
Here's an example of a good site structure that simplifies the content discovery of Google by categorizing the content.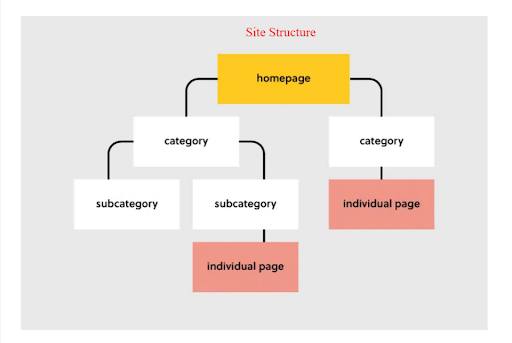 If your website has site structure issues, you should consider adding an XML sitemap.
An XML sitemap can connect the internal content to offer the best website navigation experience.
In technical terms, your website's XML sitemap contains all the information about your website, including, the pages, posts, images, last content modification date, and much more. It directs the search engines to crawl pages on your site by offering a roadmap or plan.
We utilized JetOctopus to identify our website's sitemap issues, and fortunately, there aren't any!
Hack #8: Use Secure Sockets Layer Certificate (SSL)
Trust is the foundation for a productive, successful, and long-lasting client-agency relationship.
So, as a PR agency, you must strive to develop and nurture a sense of trustworthiness among your target audience.
When it comes to creating online credibility and trust, a Secure Socket Layer or SSL certificate is what's going to earn the trust of visitors to your PR website.
Here's how –
SSL certificates protect your visitor's crucial information such as login credentials, SignUp details, and confidential payment information from getting leaked to hackers.
It essentially adds a security protocol – 'HTTPS' that indicates your website is safe and secure to browse.
Besides, the search engine, Google, has made changes to its algorithm. It gives higher rankings to HTTPS-enabled websites over the HTTP ones. From 2018 onwards, Google has even started to project non-HTTPS websites as risky.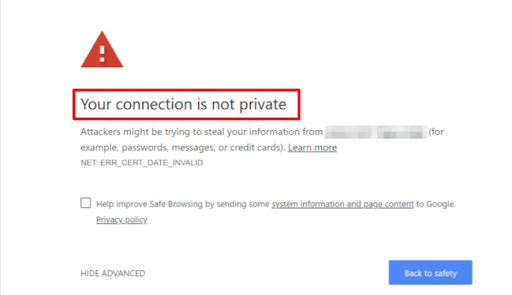 Why would someone visit such an insecure website?
Imagine the loss of traffic and rankings your PR website could suffer without an SSL certificate!
Hence, leverage the benefit of an SSL certificate and migrate to HTTPS on priority.
To Sum Up
As a PR firm aiming at boosting online visibility, you need to keep a tab on various aspects of your website discussed in this post.
To bridge the technical SEO gap efficiently, we encourage you to give JetOctopus a try! It is a robust, all-in-one solution that will help you spot technical SEO-related problems before it's too late.
Hazel Raoult is the Marketing Manager at PRmention, a digital PR agency for SaaS and Tech Businesses.