Today's customers have become much more cognizant. They seek simplified and flawless shopping experiences that are well-optimized to meet their needs. Consequently, an increasing number of eCommerce business owners are implementing CRM eCommerce integration to gratify these customers.
Salesforce Commerce Cloud is an undisputed leader in the domain of CRM products, services, and capabilities. The cloud-based platform is indispensable for every success-oriented organization looking to proffer smart buying experiences across various channels for its customers.
By providing eCommerce as a SaaS solution, Salesforce Commerce Cloud frees your business from its requirement of handling a technical roadmap or even determining how to stand uniquely when it comes to best eCommerce features.
Besides, Salesforce Commerce Cloud evolves constantly and refine the features and functionality to maintain the speed with the fast-paced customization within the eCommerce sector, leaving you with a world-class feature set.
In this article, we will look at the many benefits of implementing Salesforce and eCommerce integration. But first, let's understand what Salesforce Commerce Cloud is all about.
What Does Salesforce Commerce Cloud Do?
Salesforce Commerce Cloud is a groundbreaking cloud-based platform that enables enterprises to offer smart and intuitive shopping experiences to customers across various channels, such as web, mobile, social, store, and more. This is done by harmonizing order and inventory management, AI predictive intelligence, online store, and mobile point-of-sale.
The platform offers a large suite of advanced features and functionalities with the enterprises can easily connect with their customers at every stage of the sales funnel. One of the best things about this platform is that it provides excellent customer support across all channels. It also helps enterprises to leverage omnichannel insights to discover and evaluate user engagement and behavior across the different platforms.
Another one of the greatest reasons for the widespread popularity of Salesforce Commerce Cloud is its feature of built-in predictive intelligence. Salesforce deploys a highly advanced predictive intelligence system –Einstein AI that helps organizations to deliver premium shopping experiences. The system gathers valuable insights on customer's behavior, purchase patterns, etc. to enhance user experience and amplify selling opportunities across different channels.
Salesforce Commerce Cloud B2B & B2C
Salesforce Commerce Cloud does both B2B and B2C. So, whether it is a big-scale organization dealing with other companies or an individual retailer looking to please its customers, Salesforce can help. It offers a myriad of intuitive features, such as order management, inventory management, reporting & analytics, customer service management, and more that help to augment business operations.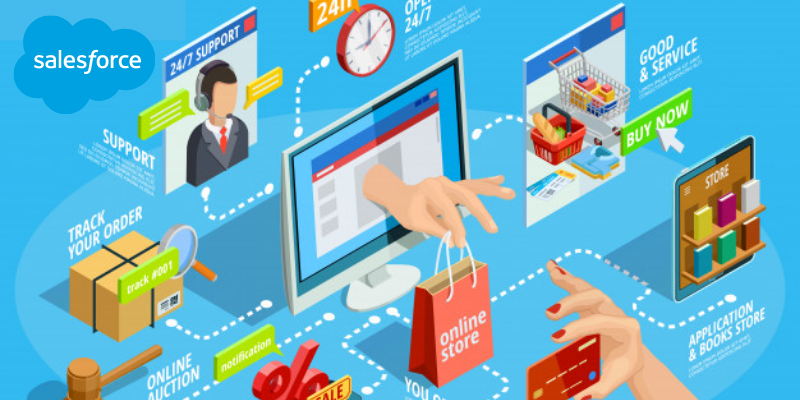 Why Should Companies go for Salesforce eCommerce Integration?

Many eCommerce business owners are still contemplating the use of Salesforce Commerce Cloud. If you are one of them, here are some reasons to persuade you.
1. Improve Customer Experience

Having a robust Customer Relationship Management system in place is the first step to ensure a unified customer experience. Salesforce CRM enables online retailers to streamline business operations and keep the customers informed on the delivery status of their orders.
Additionally, the platform enables online business owners to quickly access information about a client. This enhances response time and improves customer satisfaction.
2. Enhanced Marketing and Promotion

With Salesforce CRM, enterprises can easily have a centralized location to store all their customer data. This enhances the efficacy of marketing campaigns and activities, starting from targeting the right people to implementing the right strategy.
Salesforce Commerce Cloud also makes it easy to improve conversions by learning about the customer's search intent and behavior. It is a one-stop shop for managing everything from email campaigns and paid advertising to reporting and social media management.
Besides, the platform enables business owners to run A/B tests, manage social media profiles, run successful promotions, and recommend the best products for prospects wherever they are in the buyer's journey.
3. Improve Sales Team Performance

As discussed above, the Salesforce CRM provides all the customer data in one place. Thus, the sales representatives or customer service executives can take advantage of this and quickly access all customer details, including current orders, payment details, viewed products, etc. Using this information, they can cross-sell and upsell products much more effectively.
Similarly, the sales team of B2B online stores can negotiate better payment terms and make better decisions by learning the payment history of different clients through the CRM platform.
4. Better Inventory Planning and Forecasting
A CRM software like Salesforce is ideal to find out detailed information about the high-selling products on an eCommerce store. This information can, in turn, be used for better inventory planning and management. The business owner can note if a certain product or material is on the verge of going out of stock. Consequently, he can pre-order to shorten time frames and improve business productivity. Also, it allows him to use real sales data to predict manufacturing, sales purposes, and sources.
Besides, the platform offers a great way to automate processes, such as inventory management, and lower operational costs.
5. Minimizes Losses and Costs

Without any CRM system integration with eCommerce, your eCommerce store may experience various issues related to data entry or type errors. Manual data transfer can often lead to errors that may directly impact sales and customer loyalty. However, with Salesforce eCommerce integration, there is no scope for manual errors. This also ensures a pleasant end-user experience.
6. Omni-Channel Functionalities

One of the most significant reasons for Salesforce eCommerce integration is omnichannel functionalities. The enterprises can easily integrate and manage different channels, including web, mobile, and store from one single platform.
Thus, they can streamline the different business operations, such as sales, order management, customer service, inventory management, and more from one panel. This not just enhances the business efficiency rate but considerably reduces time, effort, and price, all at the same time.
7. Internationalization of Storefronts

A good commerce solution enables enterprises to globalize themselves and expand to markets that are beyond their country's borders.
With Salesforce Commerce Cloud, you can launch and manage different storefronts for different locations across the world from a single platform. You can integrate multiple languages and multiple currencies, based on the country, state, or city, so all your international customers benefit from equally stellar experiences.
8. Rich Mobile Experience

Every day, the number of mobile customers is quickly surging. As a result, it is very important to offer an intuitive and responsive mobile experience that delights the customers. And that's why it is important to integrate Salesforce with eCommerce for an enhanced mobile experience.
With Salesforce mobile commerce, business owners can better serve their shoppers with quicker and easier shopping journeys on the mobile, from discovery to checkout and beyond. Besides, the platform's mobile commerce features include one-to-one product recommendations, personalized searches, one-touch payment options, predictive sorting, innovative conversion experiences, and more.
9. Customer Retention

Salesforce Commerce Cloud promises an excellent shopping experience to all customers. Through smart and personalized recommendations, custom content, relevant search results, accurate product sorting, and automated personalized merchandising, the platform ensure a cohesive customer journey.
All this enhances the store's functionality for the customers and makes them stick with your business for an extended time.
What are the Advantages of Integrating Salesforce and eCommerce Together?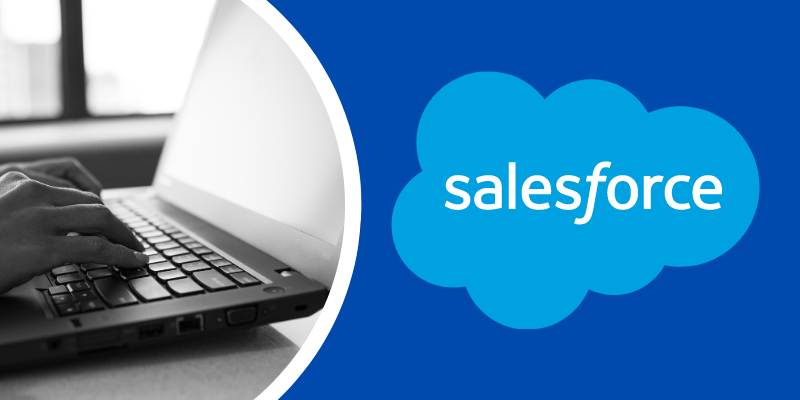 A good commerce solution mandates extensive integration of software solutions within a single, centralized eCommerce platform. This will not just improve customer experience but also provide comprehensive customer profiles to facilitate more valuable sales insights. It also allows for the merging of the various operating systems, devices, servers, and applications inherent in omnichannel sales solutions.
Here, we will look at the many advantages of integrating Salesforce and eCommerce together. Let's begin.
The integration helps to proffer highly personalized and tailored shopping experiences to customers across all channels and platforms
With Salesforce Development and eCommerce integration, website owners can launch new websites in weeks and improve the time to market
The integration makes it easy to roll out a slew of innovation sans any delays or discrepancies
When Salesforce integrates with eCommerce, it helps to streamline business operations and augment productivity by automating tasks and centralizing all eCommerce management
Also, integration of Salesforce and eCommerce offloads all IT operations to a unified cloud that is stable, secure, and scalable
It consolidates digital commerce with other functions, such as store operations, order and inventory management, etc.
Besides, such integration enables enterprises to explore new territories and make their store global within record time
Wrapping Up
To wrap things up, Salesforce eases eCommerce integration. With the ever-changing retail industry, Salesforce eCommerce integration can smoothen eCommerce operations from discovery to meeting the needs, and ahead. Moreover, Salesforce is the world's #1 Customer Relationship Management (CRM) platform that offers 24*7 support to all its merchants that helps them run smoothly the entire year.
Salesforce Commerce Cloud is an exceptional cloud-based platform that ensures a unified customer experience. It enables enterprises to integrate mobile channels and offline stores and use a host of features to improve business efficiency.
If you are convinced about the benefits of Salesforce eCommerce integration, you must get in touch with a reputed service provider today. This will help you take your business to an altogether new level.
Author Bio
Mr. Vivek Khatri, the CEO of Emizentech, holds the expertise in offering varied IT services whether it's Magento Development or other eCommerce development services. Strengthening the roots of this well-recognized company, Emizentech, he is serving his clients from all over the globe. He is a tech-enthusiast who uses the power of advanced tools and technology to serve his clients with their varied IT infrastructures and develop various digital approached to take their business to new heights. He supervises a big team of professional developers, designers, testers, and more.
Besides, Mr. Vivek recognizes and values the trust of his clients in himself and strives hard every day to meet their expectations. He has been leading the IT world being an eCommerce development expert for over 8+ years. The sales of the company are constantly increasing and the company is ranking among the top positions. Whatever be the size of businesses, he is seasoned at helping all-sized enterprises and startups by fulfilling their distinct digital needs.
Ronald Gabriel is the Assistant Editor at Commerce Mentors. He has over 8 years of experience in writing about eCommerce, Retail, Marketing, and Technology. He is also a numbers guy who enjoys his Crossword and Sudoku. When not editing or writing, he can be found watching reruns of Animes and sketching some characters of his own.