First, we will begin with some quick definitions.
What is a plug-in?
A plug-in is basically something you attach to your website to make it perform a function. These functions can vary from serious functions such as an ecommerce plug-in or a security plug-in, to less serious ones, such as a pop-up plug-in or a floating bar plug-in. Think of plug-ins as ornaments, and your website as a house. Get the picture?
Now let's talk about what an integrated SEO plug-in is.
SEO stands for Search Engine Optimization. So, an SEO plug-in is an attachment that optimizes your website, so that search engines (like Google) can find and rank it. It also helps to provide a report on how well: your site is doing, the links that refer to your website, the keywords that bring traffic to your website, the pages that are popular with your readers, and the ones that are not.
Why do sites use SEO plug-ins?
I'll explain this in four points.
1. They want to be found
Owning one of the 1.7 billion existing websites is like being a needle in a haystack. It will take a thorough or specific search to find most websites, no matter how relevant their posts are. For this reason, they use SEO plug-ins to help Google to locate them and the things they are about.
Undoubtedly, it is easier for certain websites, such as the New Yorker or Guardian, because these websites already enjoyed decades of popularity in traditional publishing before going digital. These popular websites have also built a reputation in providing credible information, so it's easier for them to get an authority ranking. But for a horticulture blogger in an Italian village, or an education blogger in an unpopular town in West Africa, the case is likely to be different.
These last two would want to be found on search engines, not only would they want their valuable posts to be read, they would also want to be compensated for their efforts.
2. They want to improve their ranking
The way search engines work is that they create an index by searching through websites and ranking them in order of relevance, expertise, user-friendliness and credibility. Google's search engine for instance will take into account the search words, recent publications and the location of the query. A Google search for shoes in Paris will likely generate results from the most visited online stores in France. Google locates websites, more visitors flock there, and the website's ranking increases. It's all interconnected – the more people visit a website or blog, the higher their relevance and the greater their ranking.
High-ranking websites can use this advantage to build a strong brand reputation in their industry and facilitate other agenda. It's why companies will often make this a priority in their marketing strategies and include website ranking as one of their KPIs (key performance indicators).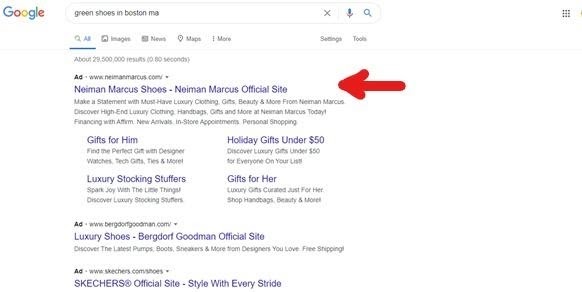 Search result showing ads, via Google.
3. They want to monetize their relevance
With tools like Google AdSense, website owners can get paid for their relevance. Think of the amount of money a website can get paid for millions of ad impressions. Content writers can be hired to provide more content for relevant pages, web designers hired to improve website design and accessibility, videographers hired to produce engaging video content, and SEO specialists hired to analyze big data to improve page optimization and website ranking. It's a chain reaction that makes a lot of people happy.
One can easily see how this ecosystem will improve sales and lead generation. This is why companies use advertising tools like Google AdWords to pay for high-ranking keywords that are related to their businesses. Some of these ads you will see at the top of a search result. Advertising companies can also choose to bypass these tools and advertise on notable websites.
4. They want to boost site traffic
As search engines direct browsers to high-ranking websites, due to their SEO activities, there is an increase in website traffic caused by more returning visitors and new ones. If there are more factors reducing bounce rates, there will be even more traffic as visitors spend time on other pages.
This helps businesses to reach customers who are unlikely to walk into a physical store or office, due to their location or preference. A boost in site traffic is especially useful for virtual products and services. A copyeditor for instance, will find more use for an SEO plug-in that brings traffic to her articles on writing and beta reading, than a carpenter whose work can bring them steady referrals.
The bottom line of SEO plug-ins is that it provides an avenue for your website or your business to boost your brand reputation and revenue. So, if you need to make more sales, generate new leads, or boost your brand awareness and reputation, you should consider using an integrated SEO plug-in.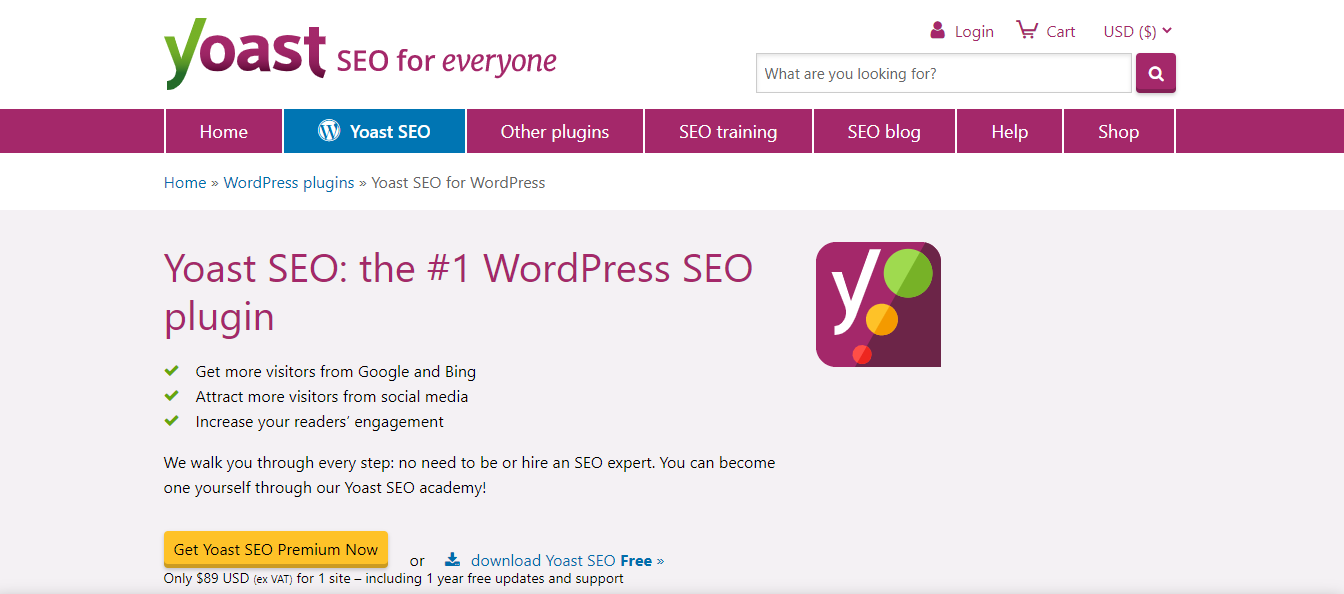 Yoast SEO and RankMath SEO are popular WordPress SEO plug-ins.
What SEO plug-ins exist, and which ones should you use for your WordPress site?
In this article by WordPress, you will find various options (although they recommend that you use just one), including the popular Yoast SEO, SEMRush, Google Search Console, and Google Keyword Planner. Most have free and paid features and plans, and you can choose which one(s) you want to use.
Before you make a choice on which plug-in to deploy, it is imperative to find out about the product, compare it with others and check their ranking for various functions, including: content analysis, key word search, ranking and difficulty, and backlink analytics.
What are the downsides to integrated SEO plug-ins?
If for any reason you are trying to limit the spread of information on your website or prevent visitors from accessing your web content, having a plug-in crawling around and relaying information to search engines will not be in your best interest. The main objective of an integrated SEO plug-in is to find information and send it to search engines.
One of the downsides to using an SEO plug-in is its tendency to slow down your site and increase your bounce rate. But you can fix this in web development by minimizing images, videos, and link redirects on your landing page, and updating plug-ins to the latest, fastest versions.
How should you use SEO plug-ins?
1. Use it to plan content for your website.
Your SEO plug-in can provide you with content analysis that reveals popular posts and searches on your website. That way you can tell whether you should blog more about how to preserve vegetables or recipes for leftover vegetables. In the same vein, you can gain insights to help you create more content that will not only keep regular readers coming, but also attract new ones.
This analysis will also come in handy in your content strategy. For instance, a high search volume for vegetable preservation and not vegetable leftover recipes can determine how often you should blog about preservation, whether you should create explainer videos and start a YouTube marketing campaign, if infographics might attract the attention of a certain demographic, or if you should write a handbook (product creation) on the topic.
2. You can use it to gain more information about your readers.
MonsterInsights for instance, can tell you what countries your readers are connecting from, what devices they are using, what time of the day they visit your website, and other important information on your visitors. This can help you to fine-tune your marketing strategy and approach. If you're trying to reach iPhone users for instance, and most of your visitors are android users, then your content strategy should include content that specifically targets this audience.
You can also use SEO plug-ins to understand how your readers interact with your information. For instance, the average session on your website should help you to structure your content within that timeframe to ensure that you're not posting content that will be skimmed over. Analytics will also reveal how well your visitors are sharing your content. So, you should analyze your data to see what type of content is shared more frequently and why that may be so.
3. Use it to track outbound link clicks to increase revenue from affiliate marketing.
If you cannot tell what posts spur visitors to click on outbound links and use that information to recreate a pattern of success that keeps your affiliates coming back, affiliate marketing will hardly be successful. Remember that one of the reasons why people use integrated SEO plug-ins is to generate revenue.
If for instance, your affiliate is an online furniture store, you can identify and keep creating the type of posts that will motivate people to shop, no matter what time of the year it is.
4. Ensure that your website has useful information or a product that keeps visitors coming back.
As you analyze your big data from your SEO plug-in, you will discover what products you should be selling and the ones that are not viable. You will also discover how effective your communication tools are, e.g. a live chat feature or your contact forms, and understand ways to improve your customer service.
Final thoughts
SEO plug-ins are not an ultimate guarantee of increased traffic, but a step in the right direction. Remember the analogy of SEO plug-ins as an ornament? Yes, it is a useful piece in the house, not the entire building.
Author Bio
Nikola Baldikov is a Digital Marketing Manager at Brosix, specializing in SAAS marketing, SEO, and outreach strategies. Besides his passion for digital marketing, he is an avid fan of football and loves to dance. Connect with him on LinkedIn or Twitter at @baldikovn.
Hazel Raoult is the Marketing Manager at PRmention, a digital PR agency for SaaS and Tech Businesses.